Our Conservation Program
The Association for Public Art (aPA) cares for over thirty outdoor sculptures in Philadelphia each spring, providing annual conservation maintenance and taking on special projects as needed. The work typically involves an inspection of the general condition of the sculptures, removal of any surface grime and graffiti, washing, and renewed application of a special wax coating for the bronze artworks. The aPA's outdoor sculpture conservation program was launched in 1982, and is one of the longest continuously operating programs of its kind in the country.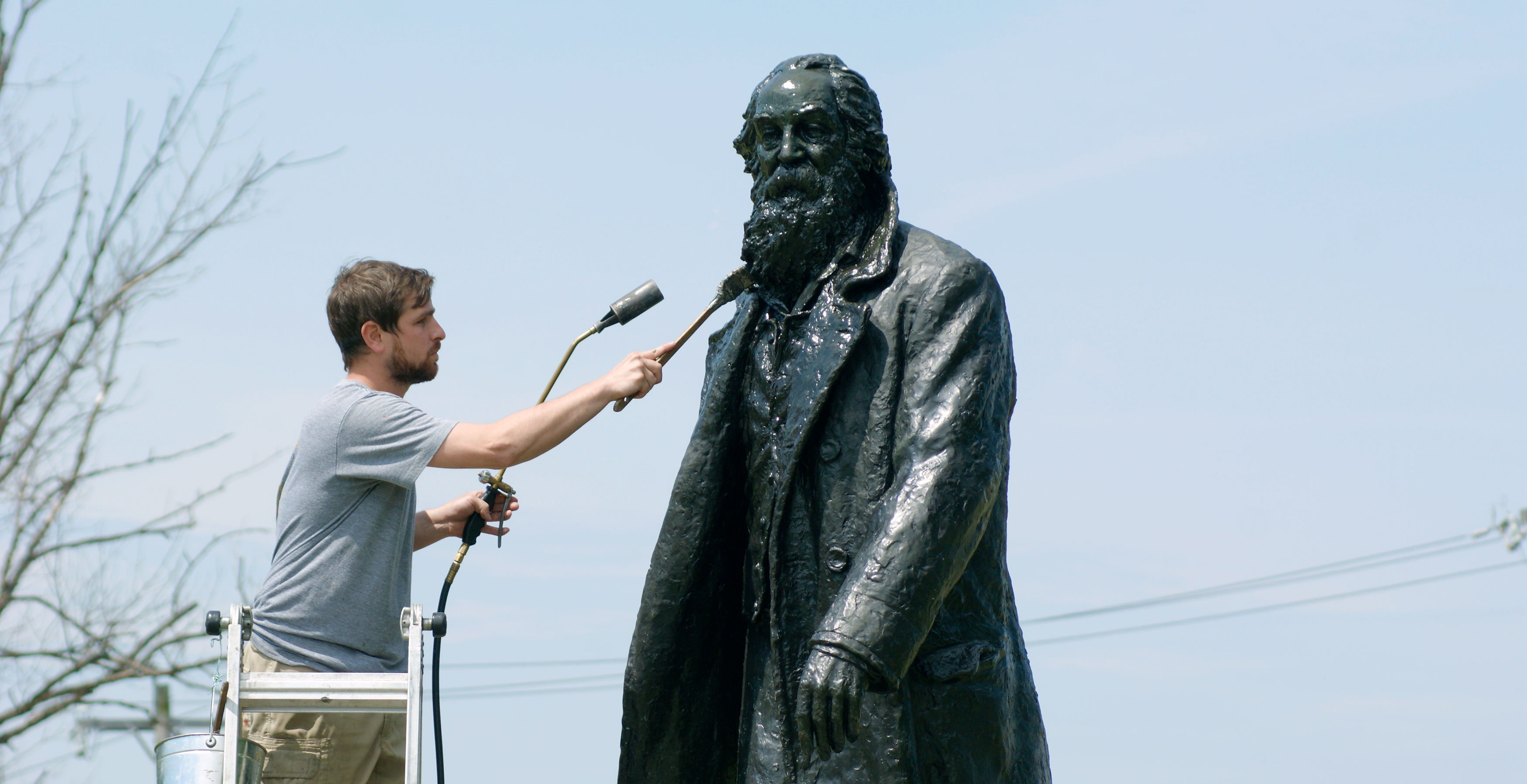 Walt Whitman Conservation for Poet's 200th Birthday
For the regional celebration of Walt Whitman's 200th birthday (see Whitman at 200), the Association for Public Art sent its conservation team, Tatti Conservation, to the Walt Whitman statue in South Philadelphia to give the bronze some special treatment. The sculpture, by artist Jo Davidson, was purchased by the Association as a gift to the city and installed in 1959.
WHYY caught our team on site and interviewed us about the artwork and conservation process:
>> Become a member of The Conservation Society to support our mission, particularly our work to preserve Philadelphia's most beloved public artworks.
Other Works Receiving Treatment
• Sculptures in Rittenhouse Square, including Antoine-Louis Barye's Lion Crushing a Serpent and Paul Manship's Duck Girl
• Sculptures along Kelly Drive, including Fredric Remington's Cowboy, Robert Morris' The Wedges, Randolph Rogers' Abraham Lincoln, Augustus Saint-Gauden's James A. Garfield Monument, Daniel Chester French's General Ulysses S. Grant, and sculptures in the Ellen Phillips Samuel Memorial
• Frank Edwin Elwell's Dickens and Little Nell in West Philadelphia, John Kindness' The Labor Monument in South Philadelphia, Alexander Stirling Calder's Sundial in West Fairmount Park, Jody Pinto's Fingerspan in the Wissahickon, and Diane Pierie's Manayunk Stoops along the Manayunk Canal Towpath.