Poetry has long been an inspiration for visual art (and vice versa). For spring, we compiled a collection of public artworks in Philadelphia that incorporate poetry, have inspired poems, or honor individual poets. While there are many well-known murals in the city with poetry, including A Love Letter For You, We Still Here, and Peace Haiku Song, you may be surprised to learn that poets and poetry have also inspired many outdoor sculptures across Philadelphia.
This is by no means an exhaustive list, but here are a few worth noting:
Poetry in Public Art
LOVE and AMOR by Robert Indiana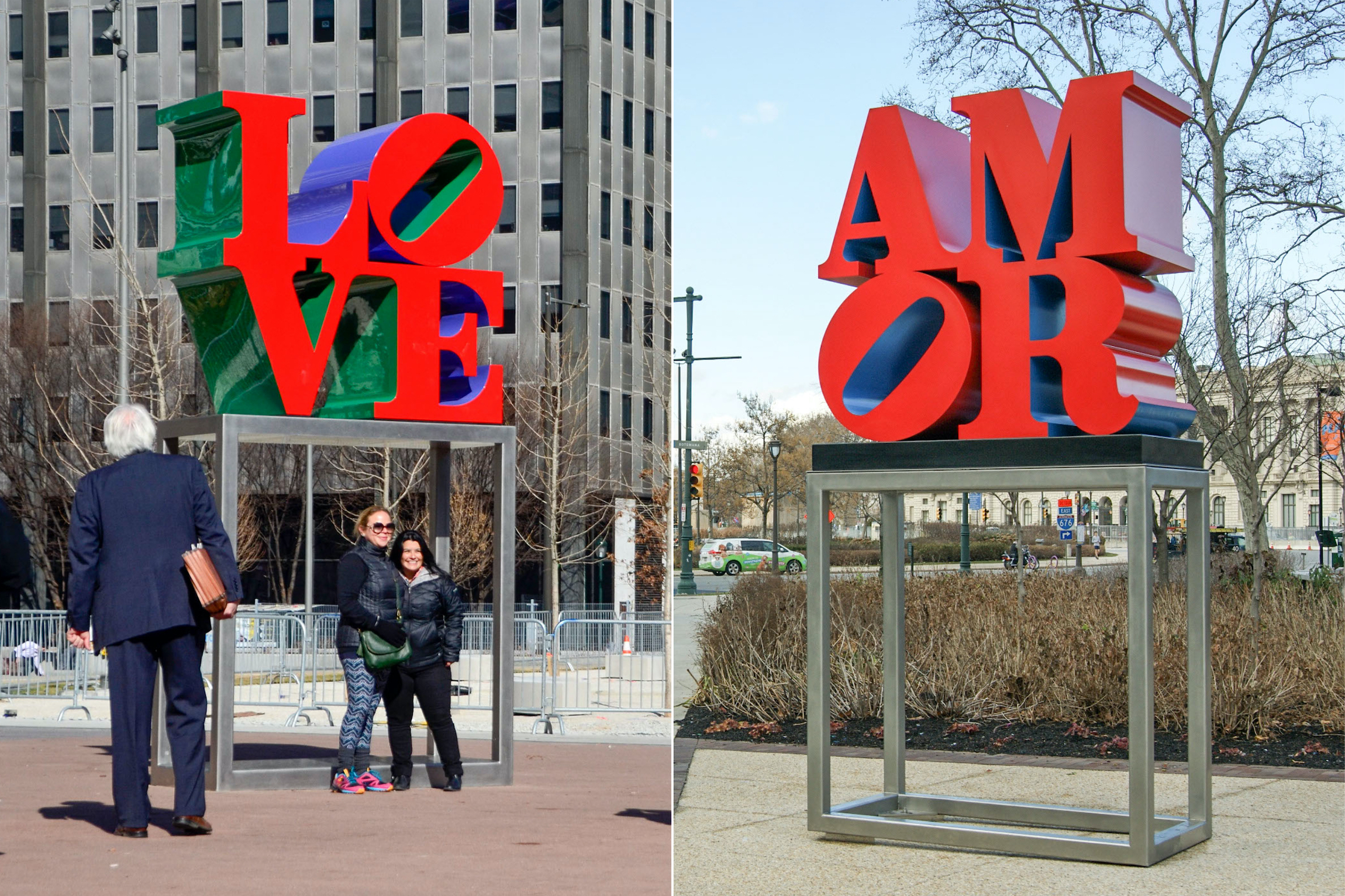 Photos by Alec Rogers for Association for Public Art
You may not think of the LOVE (1976) and AMOR (1998) sculptures as poems, but the artist Robert Indiana himself described LOVE as "a one-sentence poem." This feels like a good time to ask, what is a poem? According to Oxford Languages, a poem is a piece of writing that partakes of the nature of both speech and song that is nearly always rhythmical, usually metaphorical, and often exhibits such formal elements as meter, rhyme, and stanzaic structure.
Whether you think of LOVE and AMOR as poems, just remember, they're definitely sculptures – not statues or signs.
Sleeping Woman by Stephen Berg and Tom Chimes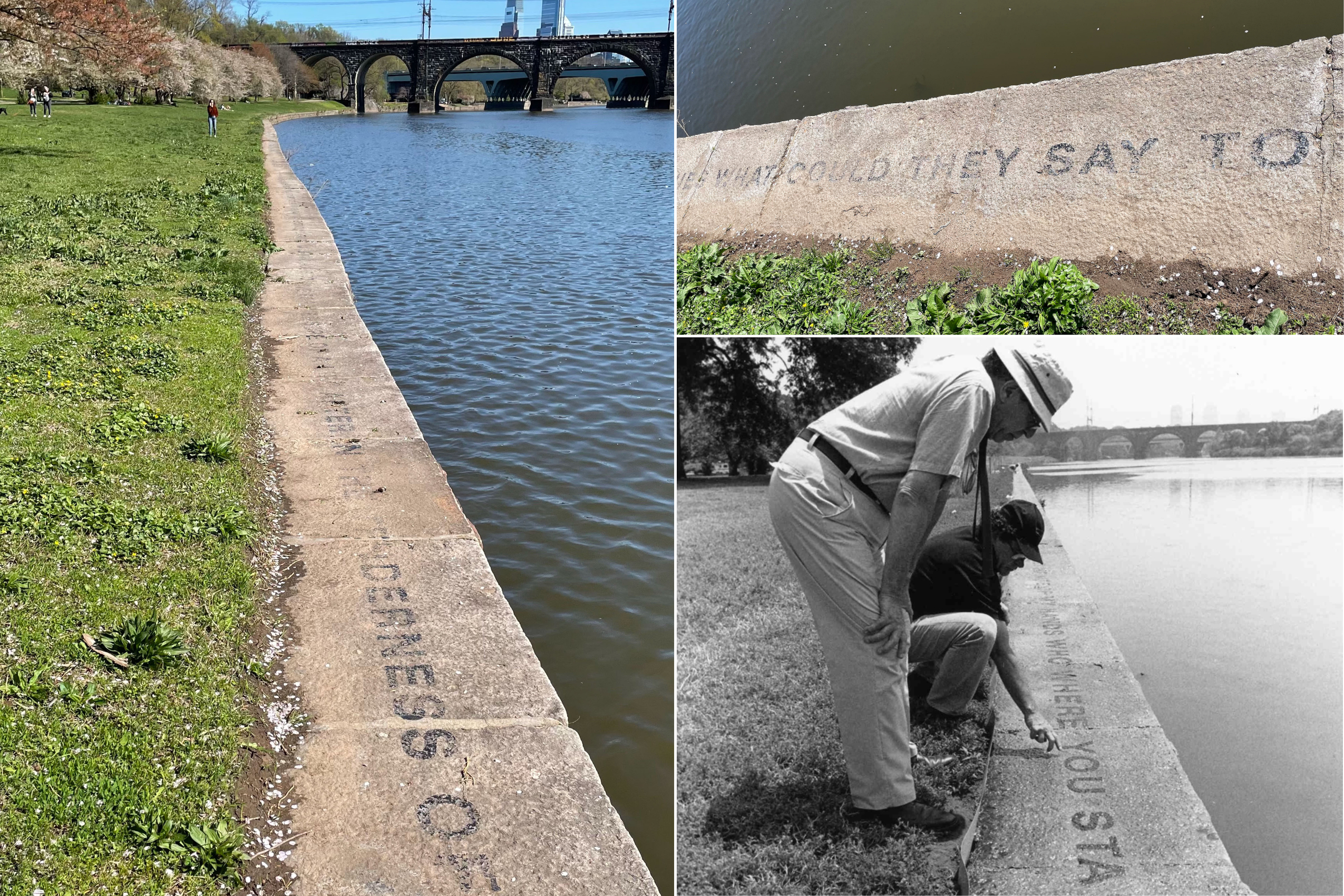 Photos by Ashley Lippolis for Association for Public Art; historic photo of Stephen Berg and Tom Chimes by Gary McKinnis.
Commissioned by the Fairmount Park Art Association (now the Association for Public Art), Sleeping Woman (1991) by poet Stephen Berg and artist Tom Chimes consists of roughly 1,200 lines of painted poetry, without punctuation, on top of the Schuylkill River retaining wall. Berg said the inspiration may have come from watching his mother's face while she was asleep, and the "unconscious language" that emerged from her silence. Chimes described it as a "legible whisper," going on to say that "its surface will mirror the weather…the line will be part of the landscape."
So what is the actual poem? We can't say, because Berg and Chimes requested that the full Sleeping Woman poem never published, so that only by experiencing the work along the river can it be enjoyed. (Note that the artists intended for the work to be impermanent, as in nature, and the text is now faded and worn.) But we can say that Berg incorporated many literary references in the work, including: Sophocles from Oedipus Tyrannus, Thoreau from Walden, Buson's haiku, Yeats's letters, various fragments from Sappho, poems by Emily Dickinson and Wallace Stevens, Buber's Tales from the Hassidic Masters, Pound's Cantos, and calligraphy from the Japanese Teahouse in the Philadelphia Museum of Art.
For Philadelphia by Jenny Holzer
Jenny Holzer is a conceptual artist best known for her text-based works. Holzer's For Philadelphia (2018) lines the ceiling of the Comcast Technology Center's winter garden in the main entrance atrium. Nine electronic screens display written messages and ideas from both local and international writers, poets, and architects, as well as text from Philadelphia schoolchildren. The artwork resembles stock tickers as it scrolls through 17 hours of uninterrupted content, all of which illustrate Philadelphia's rich history and diversity while connecting the city on a global scale. Holzer's other public work in Philadelphia is 125 Years on the University of Pennsylvania campus.
Reclaiming Gurney St. by Marta Sanchez and David Acosta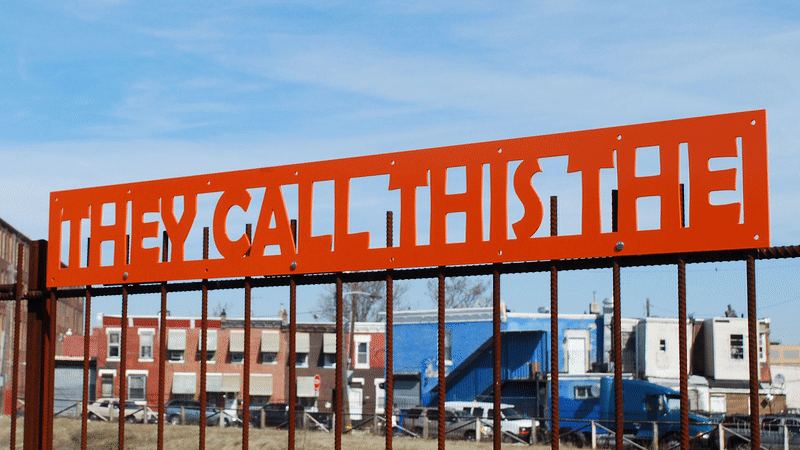 Photos by Ashley Lippolis for Association for Public Art
North Philadelphia-based community development corporation HACE commissioned artist Marta Sanchez to create an artwork for the Conrail tracks along Gurney Street – an area working to move beyond its struggles with the opioid crisis and crime.
Reclaiming Gurney St. (2018) is a line of bright metal sculptures that combines artist Marta Sanchez's imagery with David Acosta's poetry, which is based on interviews with people from the neighborhood. Sanchez discussed the project in an interview for The Philadelphia Inquirer: "I asked [David Acosta] to work with the [local] families to come up with some of their own feelings in a poetic way. I wanted to hear their voices… They wanted to see more progress." The artist hopes the installation will help reclaim the area and honor its inhabitants, past and present.
Dawn Chorus by Brent Wahl and Laynie Browne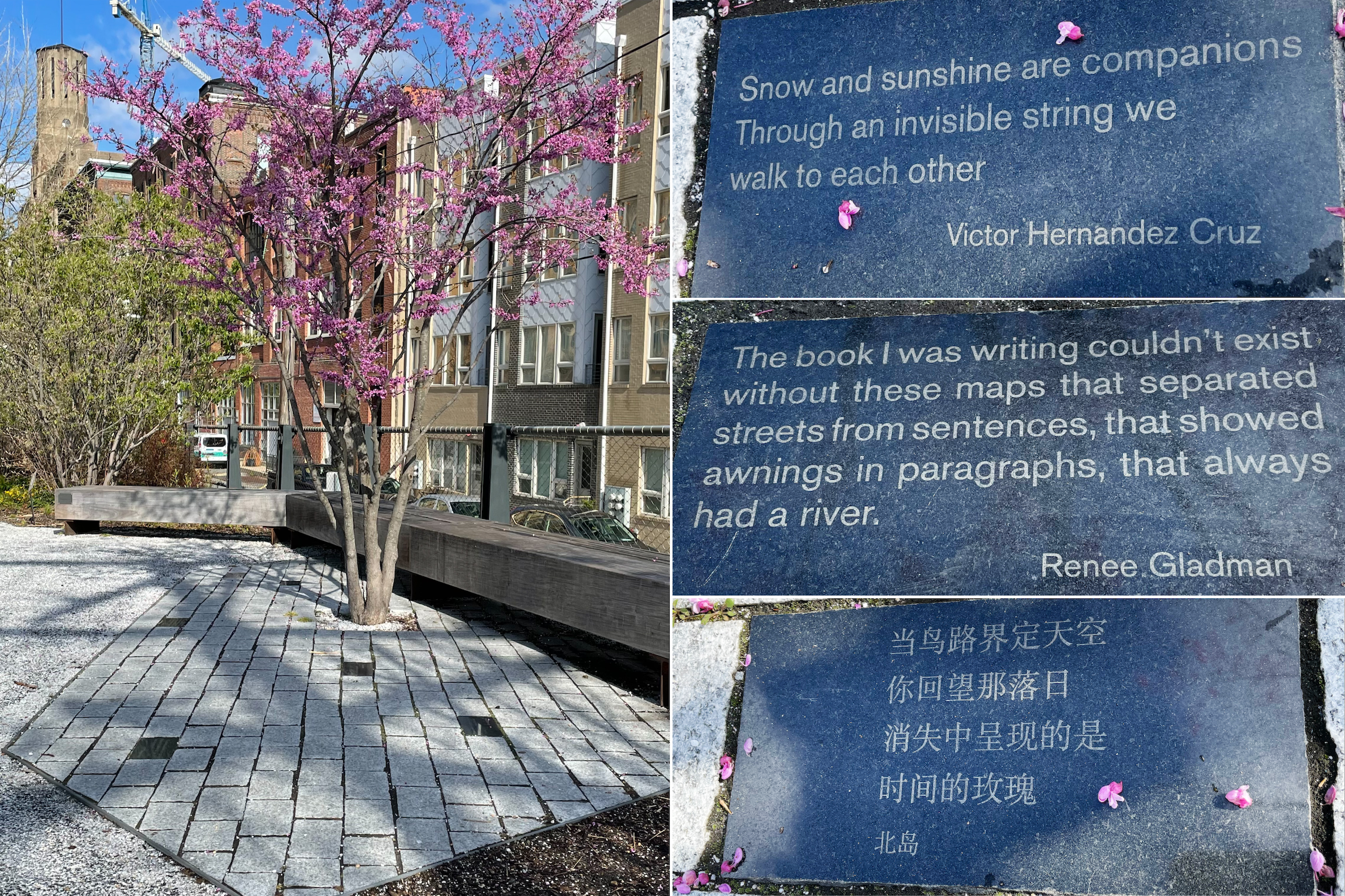 Photos by Ashley Lippolis for Association for Public Art
Commissioned by the City's Percent for Art Program, Dawn Chorus (2018) is a site-specific public artwork along the Rail Park in Philadelphia's Callowhill neighborhood. The work has two elements: a sculpture by Brent Wahl, consisting of a repurposed utility pole with colorful aluminum birds, and poetry excerpts selected by Laynie Browne that are engraved in paver stones. The poems represent thirteen languages and "celebrate communication, rail lines, and the city as a meeting place."
The poets featured are Richard Calmit Adams, Etel Adnan, Anna Akhmatova, Maria Attanasio, Krysztof Kamil Baczyński, Caroline Bergvall, Mei-mei Berssenbrugge, Kamau Brathwaite, Paul Celan, CAConrad, Victor Hernández Cruz, Bei Dao, Renee Gladman, Seamus Heaney, Edmond Jabès, Bernadette Mayer, Dunya Mikhail, Hoa Nguyen, Ladan Osman, Octavio Paz, Alejandra Pizarnik, Chika Sagawa, Sonia Sanchez, Vyomesh Shukla, Gertrude Stein, Ko Un, Cecilia Vicuña, and Ofelia Zepeda.
Poetry Inspired by Sculpture
"Duck Girl on the Occasion of Spring" by poet Major Jackson
Inspired by the Duck Girl (1911) sculpture by Paul Manship in Rittenhouse Square, Major Jackson penned "Duck Girl on the Occasion of Spring" in 1996. The poem was commissioned by the Concerto Soloists (now the Chamber Orchestra of Philadelphia) and set to music. Jackson's poem captures the joy of spring, evoking a moment when Manship's sculpture seems to be stepping off her pedestal to join the poet's silent waltz through the foxgloves and daylilies. Major Jackson, who hails from Philadelphia, PA, serves as the Poetry Editor of The Harvard Review, and has published poems and essays in American Poetry Review, The New Yorker, Orion Magazine, Paris Review, Ploughshares, Poetry, Poetry London, and Zyzzva.
Duck Girl was purchased by our organization in 1916 and we continue to care for the sculpture through our conservation program.
Poets as Statues
Goethe and Schiller by Heinrich Carl Johann Manger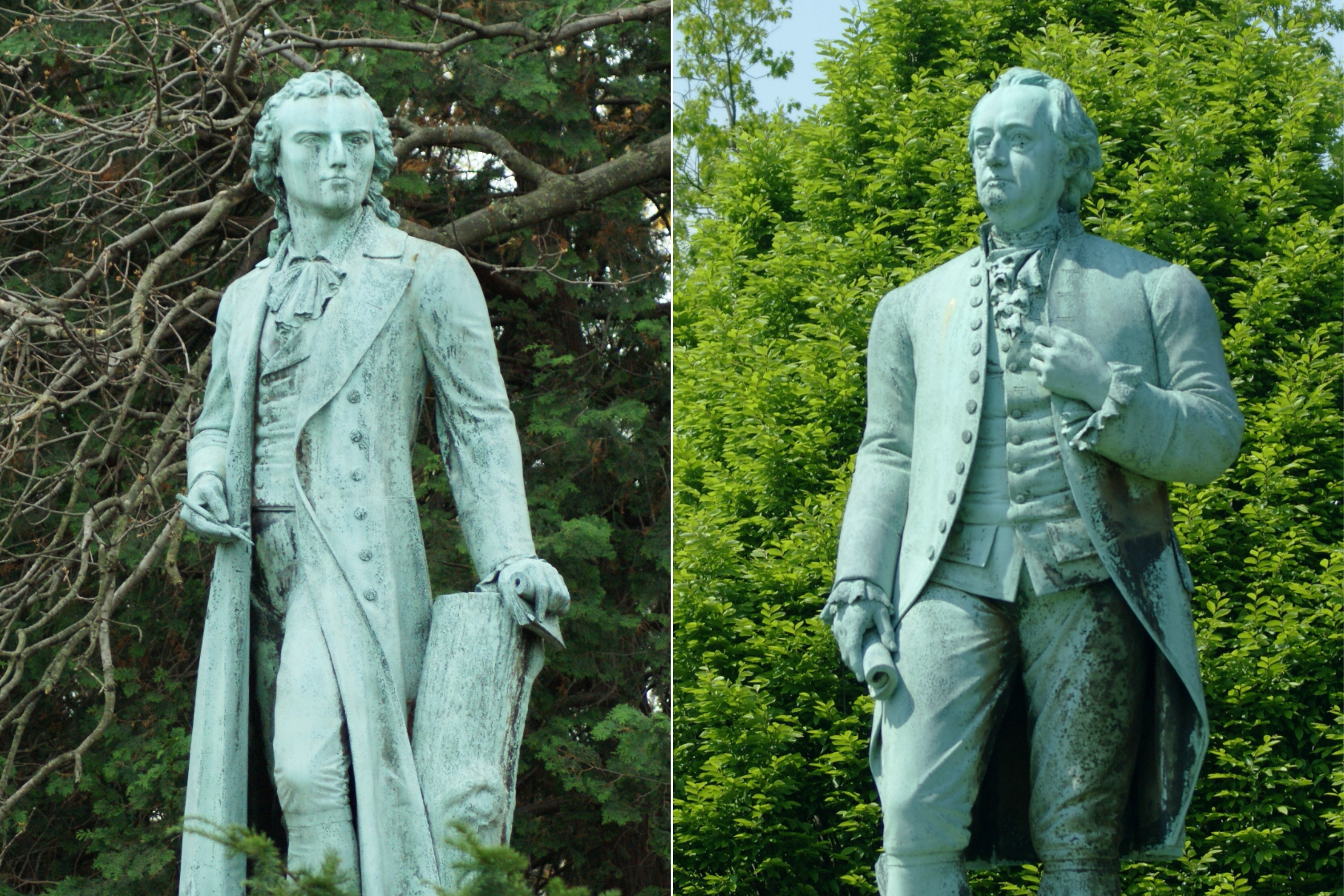 Photos by Caitlin Martin for Association for Public Art
These bronze companion statues at Horticulture Center in West Fairmount Park – Goethe (1890) and Schiller (1885) by Heinrich Carl Johann Manger – were commissioned by a local German-American organization, Canstatter Volksfest-Verein.
They honor Germany's great men of letters, Johann Wolfgang von Goethe (1749-1832) and Friedrich Schiller (1759-1805), who were friends and frequent collaborators. Goethe excelled in literature, drama, theology, and science, and is most well-known for his dramatic tragedy Faust. Schiller was a poet, philosopher, historian, and dramatist, and his works include the poem An die Freude ("Ode to Joy"), set to music by Ludwig van Beethoven.
Here are some poems by Goethe and Schiller that evoke spring with imagery drawn from nature and the changing seasons:
"Song of the traveller at Evening"
Over all the hills now,
Repose.
In all the trees now
Shows
Barely a breath. Birds are through
That sang in their wood to the west.
Only wait, traveller. Rest
Soon for you too.
– Goethe
"Hope"
We speak with the lip, and we dream in the soul,
Of some better and fairer day;
And our days, the meanwhile, to that golden goal
Are gliding and sliding away.
Now the world becomes old, now again it is young,
But "The better" 's forever the word on the tongue.
At the threshold of life hope leads us in–
Hope plays round the mirthful boy;
Though the best of its charms may with youth begin,
Yet for age it reserves its toy.
– Friedrich Schiller
Walt Whitman by Jo Davidson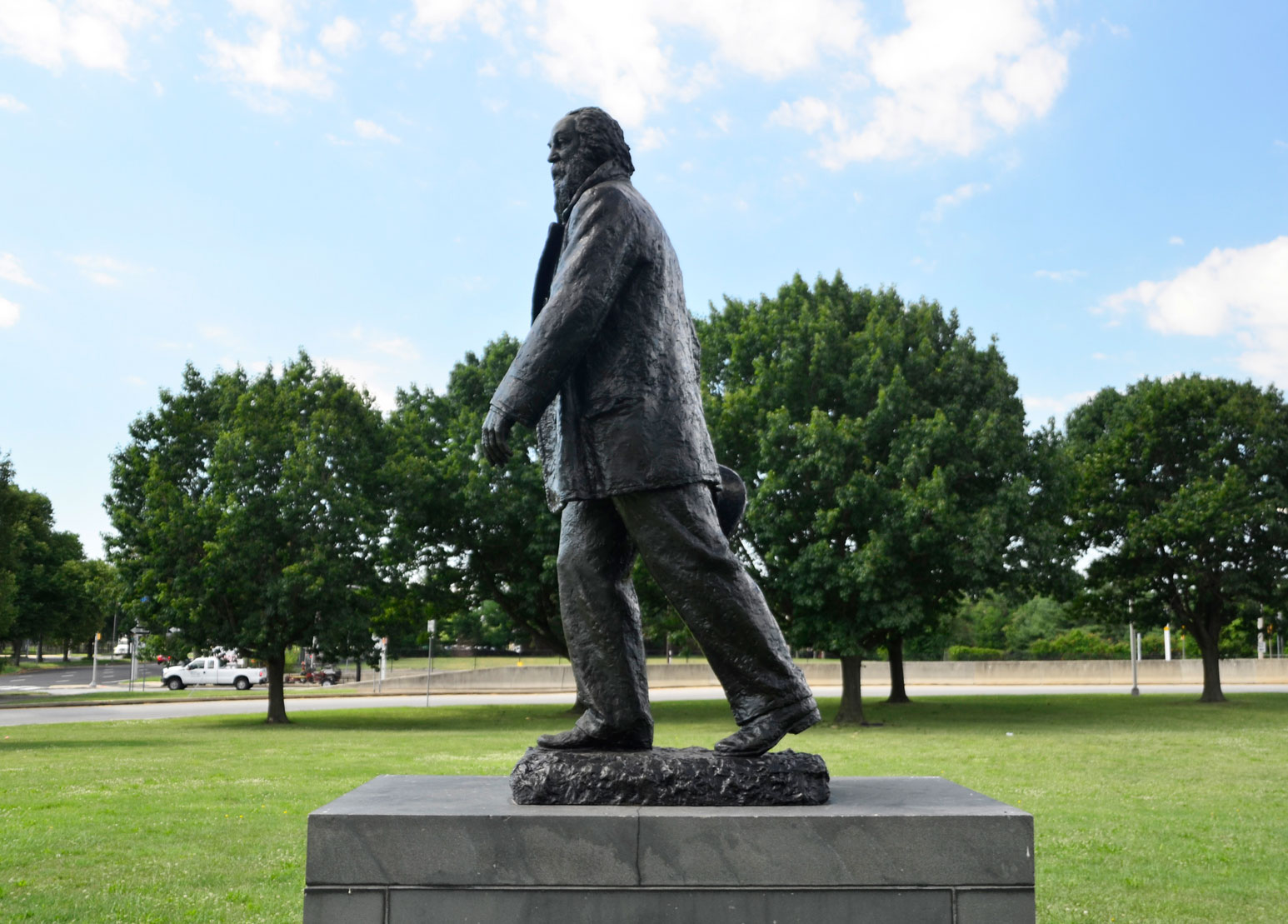 Photo by Alec Rogers for Association for Public Art
Excerpt from "Song of the Open Road"
Afoot and light-hearted I take to the open road,
Healthy, free, the world before me,
The long brown path before me leading wherever I choose.
Henceforth I ask not good-fortune, I myself am good-fortune,
Henceforth I whimper no more, postpone no more, need nothing,
Done with indoor complaints, libraries, querulous criticisms,
Strong and content I travel the open road.
– Walt Whitman
Standing at the intersection of Broad and Packer Avenues, Walt Whitman (1939, cast 1957) by Jo Davidson, captures the spirit of the free-striding American bard. In the sculptor's autobiography, he wrote: "[Whitman's] Leaves of Grass was my constant companion. I carried it in my pocket wherever I went. I wanted Walt afoot and light-hearted . . .  nothing in my statue of Walt Whitman could be static and finally, I got the rhythm I was looking for." The statue, which is located only a few miles from the home in Camden where the poet spent his last years, was purchased by the Fairmount Park Art Association (now the Association for Public Art) as a gift to the City of Philadelphia.