At A Glance
Commissioned by a local community development organization to beautify and reclaim a train yard area that has struggled with the opioid crisis and crime

Sanchez is a Chicana painter in Philadelphia who draws inspiration from traditional Mexican folk art

The bright metal sculptures incorporate poetry from David Acosta based on neighborhood interviews

Sanchez has a history of installing art along rail tracks and making works inspired by train yards
North Philadelphia-based community development corporation HACE commissioned local artist Marta Sanchez to create a public artwork for the Conrail tracks along Gurney Street – an area working to move beyond its struggles with the opioid crisis and crime.
Born and raised in San Antonio, Texas, Marta Sanchez is a Chicana painter in Philadelphia whose work is inspired by traditional Mexican folk art expressions. Her paintings are often done on tin or corrugated industrial metal, and she notes that working on metal surfaces keeps her connected to her love for Mexican retablos – small devotional paintings often created on inexpensive materials.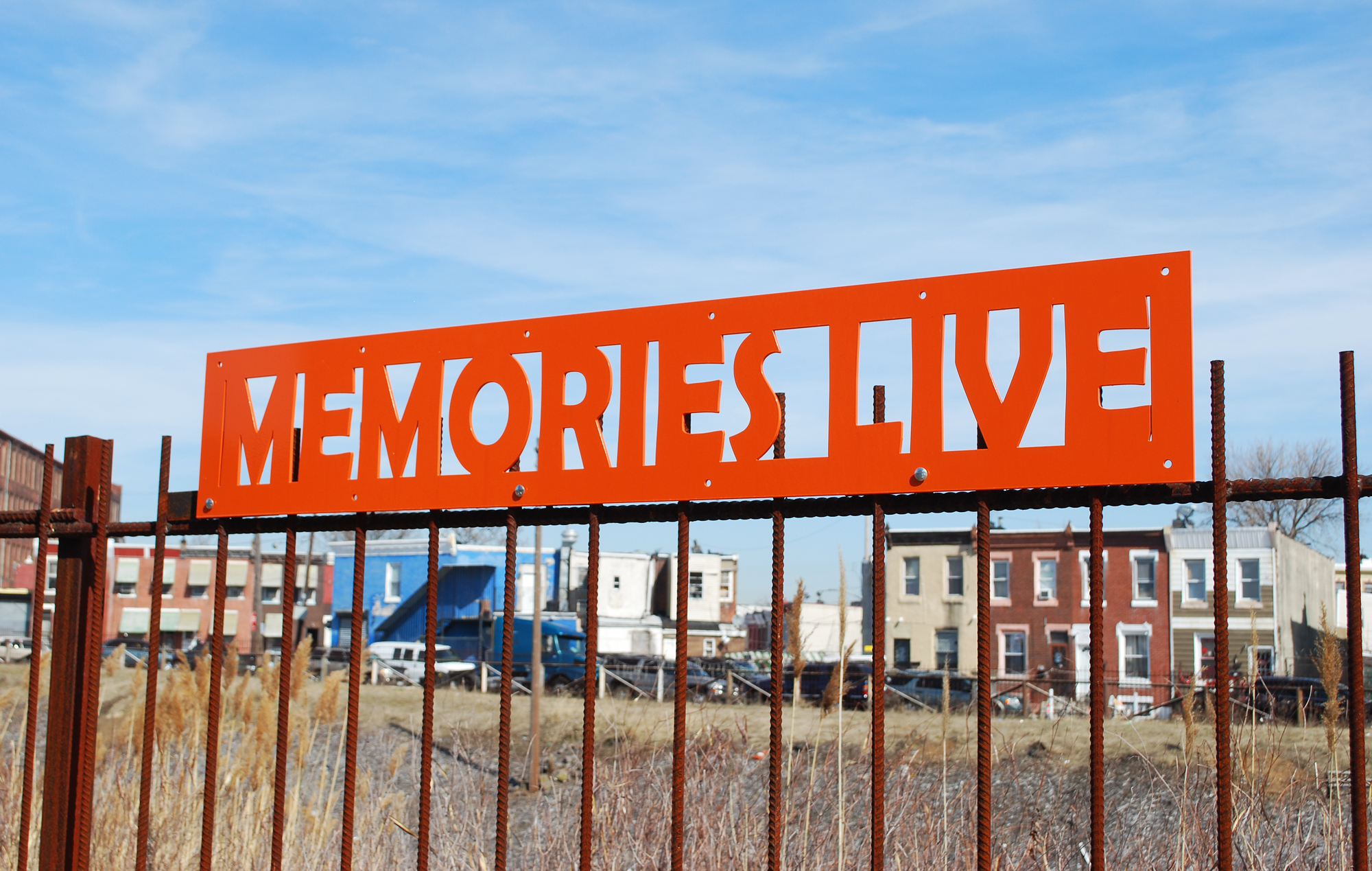 Fabricated at NextFab using a Water Jet cutting machine, Sanchez's bright metal sculptures combine the artist's imagery with David Acosta's poetry, which is based on interviews with people from the neighborhood. The text reads, in sections: "They call this the | badlands but this | is where my | memories live | mami, singing | in the kitchen, | abuelo playing | dominoes. | return love | alma | vida | late, late afternoons | waiting on the | stoop for trains | far away whistle, | bringing father home" Sanchez discusses the project in an interview for The Philadelphia Inquirer: "I asked [David Acosta] to work with the [local] families to come up with some of their own feelings in a poetic way. I wanted to hear their voices… They wanted to see more progress." The artist hopes the installation helps reclaim the area and honor those who live and have lived in the neighborhood.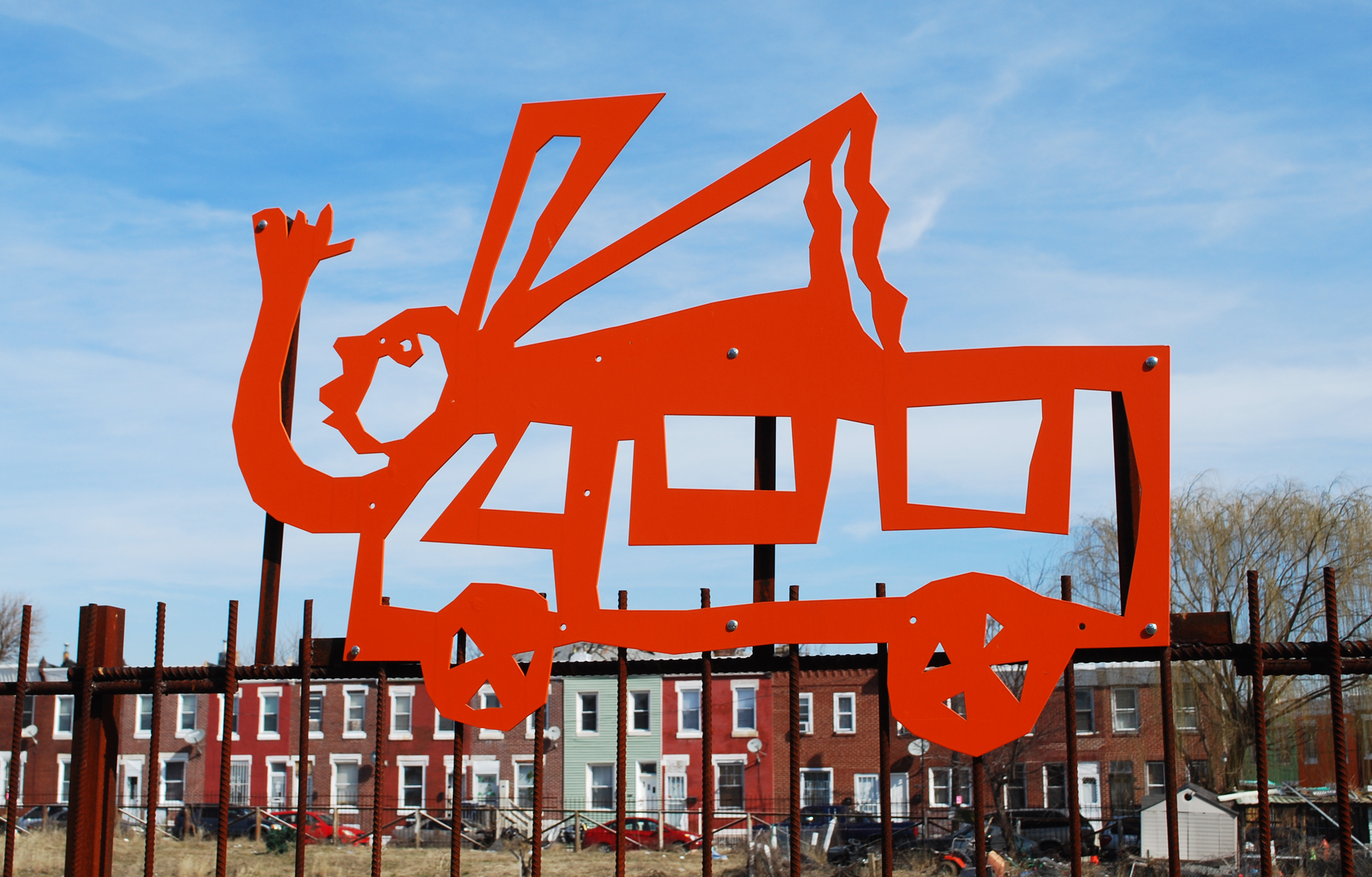 Sanchez was chosen for the commission because of her cultural connection to the neighborhood and history of installing artworks along rail tracks. Many of Sanchez's paintings are also deeply inspired by train yards. "Train yards are my connection to my home and memories of looking toward the future," she says. "While it once just related to what I saw as a child across from my parents home, it developed into the history of that particular landscape. It offered me an opportunity to record the Mexican experience as well as the American saga of the train yards."
Sanchez's work can be found in the collections of the Philadelphia Museum of Art, The McNay Art Museum, and The National Museum of Mexican Art in Chicago, among others. She has an MFA in painting from the Temple University's Tyler School of Art and a BFA in painting from the University of Texas at Austin. She taught for almost two decades at the Philadelphia Museum of Art, and currently teaches at St. Joseph's University.
RESOURCES: