At A Glance
Commissioned by SEPTA Art in Transit for a curbed interior wall at the new 46th Street subway station

Artists were asked to explore dance as inspiration because of station's proximity to the American Bandstand studio

Barbara Bullock is a native Philadelphia artist whose work is inspired by African culture and mythology
Commuters making their way through SEPTA's 46th Street Station in West Philadelphia are greeted by a series of colorful dancing figures along the wall by local artist Barbara Bullock. In 2008, SEPTA's Art in Transit program, which commissions permanent art for SEPTA stations and facilities, selected Bullock to create an artwork for the curbed interior wall of porcelain enamel panels at the new subway station. The program wanted artists to explore the theme of dance as inspiration, as the station is in close proximity to the original American Bandstand studio.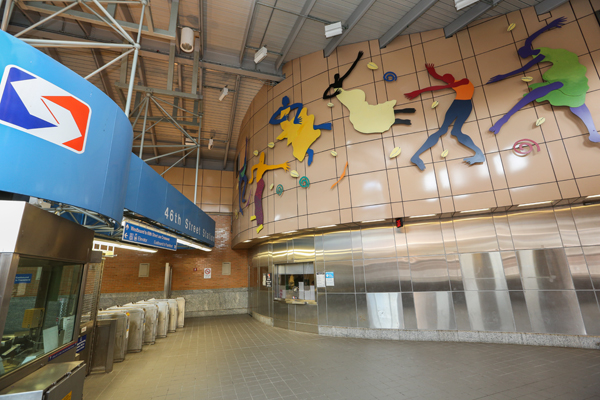 Born and raised in North Philadelphia and Germantown, Barbara Bullock's work is inspired by African culture and mythology. She writes that her art "embodies research identity and the gathering of elements of African American retentions, evoking residues of dreams, images, and intuitive memories, creating visual stories that reach back into ancestral histories, and stories that impact the here and now." Her stainless steel El Dancers embody the energy of jazz, soul, blues, and praise music, and evoke language, memory, and joy.
Bullock was trained at the Fleisher Art Memorial, the Hussian School of Art, and the Pennsylvania Academy of the Fine Arts, and has taught in a variety of settings, including museums, schools, and prisons. Her work is featured in the permanent collections of the African American Museum in Philadelphia, the Pennsylvania Academy of Fine Arts, and the Philadelphia International Airport, among others. Notably, she has received a Distinguished Teaching Artist Award by the New Jersey State Council on the Arts, a Pew Fellowship in the Arts, a Mid Atlantic Arts Foundation Visual Arts Residency Grant, and a Leeway Foundation Bessie Berman Grant.