At A Glance
Celebration is the first of many public commissions for Philadelphia artist Charles Searles, including his bronze Striving sculpture in West Philadelphia

Commissioned by the GSA's Art in Architecture Program, the 27-foot mural is based on a street festival in Philadelphia and influenced by Searles' studies in Nigeria in the 1970s

Searles attended the Pennsylvania Academy of the Fine Arts, and taught at the University of the Arts and the Ile-Ife Black Humanitarian Center

The artist was also known for his boldly painted wood sculptures
At a street festival in North Philadelphia in 1970, a young artist named Charles Searles displayed his watercolors. Dancers and drummers performed on an outdoor stage. Merchants sold food, children played, and the crowd basked in the sun. Struck with the idea of painting the event, Searles took photographs for future reference. The next year, as a student at the Pennsylvania Academy of Fine Arts, he received a Cresson Scholarship for study in Europe. In 1972 he went to Nigeria, where he painted street traders and continued to ponder the theme of the festival.

His opportunity to realize the idea on a large scale came after his return to Philadelphia, when he was commissioned in 1974 to produce a mural for the newly constructed William J. Green, Jr. Federal Building through the U.S. General Services Administration's Art in Architecture Program. The 27-foot Celebration – Searles' first mural commission – combines the energy of that Philadelphia street festival with his experiences in Nigeria. The painting presents drummers and dancers in vivid colors with complex, interlocking geometric patterns clearly influenced by his studies of African art. The Smithsonian American Art Museum notes that toward the bottom of the painting in the center is a child, which is a tribute to Searles' young daughter who passed away in 1971.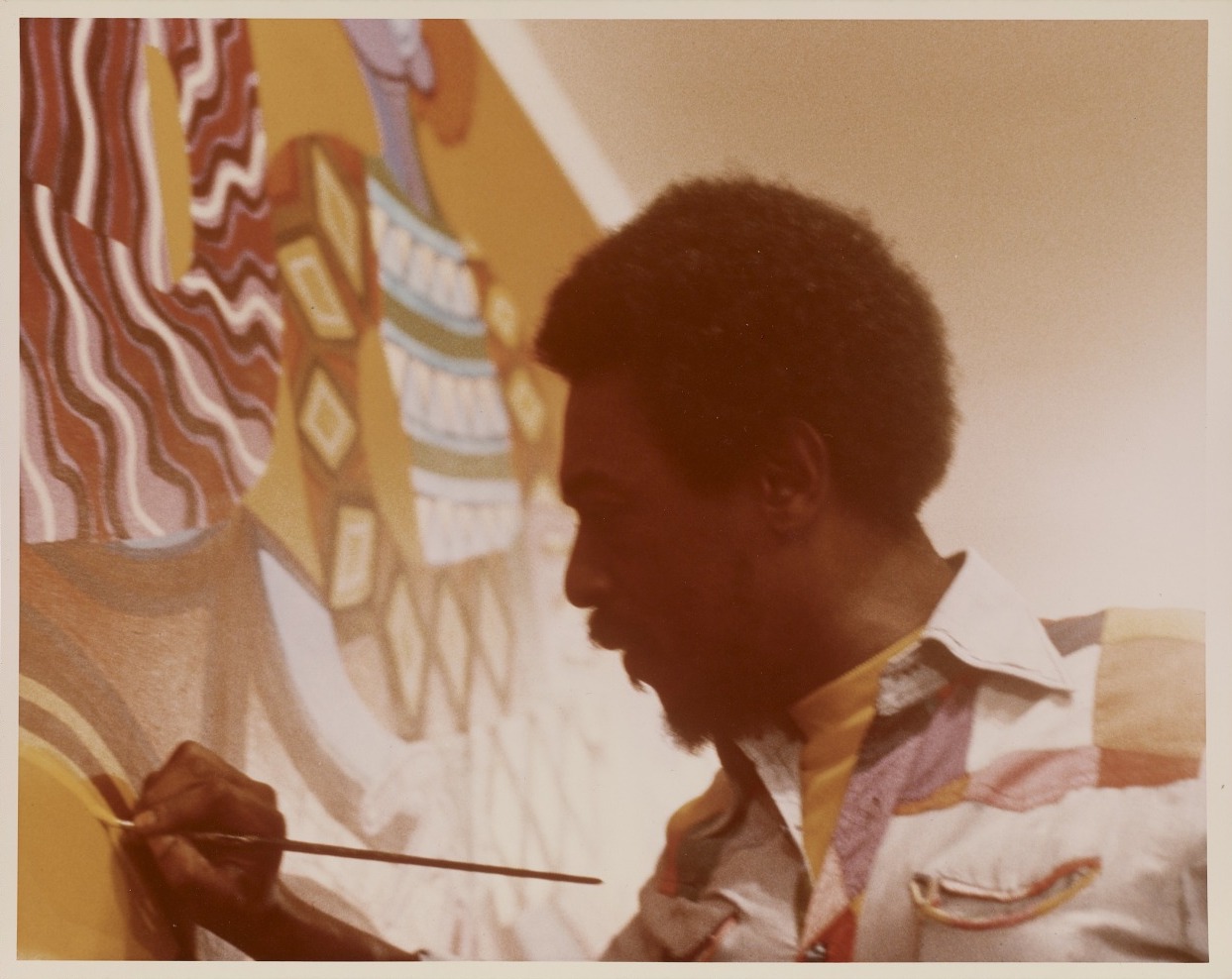 Decades later, Searles's friend Moe Brooker (1940-2022) – a fellow painter, teacher, and Black artist in Philadelphia – was also commissioned by the GSA's Art in Architecture Program to create a mural for the same building. Brooker's painting, The Fruit of the Spirit (2018-2020), was in part inspired by Celebration, and the two paintings are now installed adjacent to one another.
Searles was also known for his sculptures, especially his boldly painted wood ones. One of his first public sculptures in bronze, Striving (1995), stands in front of First District Plaza in West Philadelphia.
Adapted from Public Art in Philadelphia by Penny Balkin Bach (Temple University Press, Philadelphia, 1992).
RESOURCES: