As part of the city-wide celebration of Harriet Tubman's 200th birthday, Philadelphia recently welcomed a touring bronze statue of the renowned abolitionist by artist Wesley Wofford – Harriet Tubman – The Journey to Freedom – on view at City Hall through March 31, 2022. The City's Office of Arts, Culture and the Creative Economy (OACCE) is hosting the installation, and announced a full calendar of more than 30 programs that celebrate Tubman's legacy.
This sculpture's big moment in Philadelphia inspired us to reflect on other monuments dedicated to women in the city, including the planned addition of a commemorative Marian Anderson statue. The list is short, but there are a handful of permanent monuments to female figures in Philadelphia, and they were all put in place by our organization, the Association for Public Art (formerly the Fairmount Park Art Association). Founded in 1872, we have a long history of working with communities to install monuments and memorials across the city. We want to highlight our pioneering work to make female representation part of public art in Philadelphia, even as we consider the work still to be done to make civic spaces reflect the diversity of our society.
Here's a look at some of the existing monuments and memorials to women in Philadelphia and their backstories: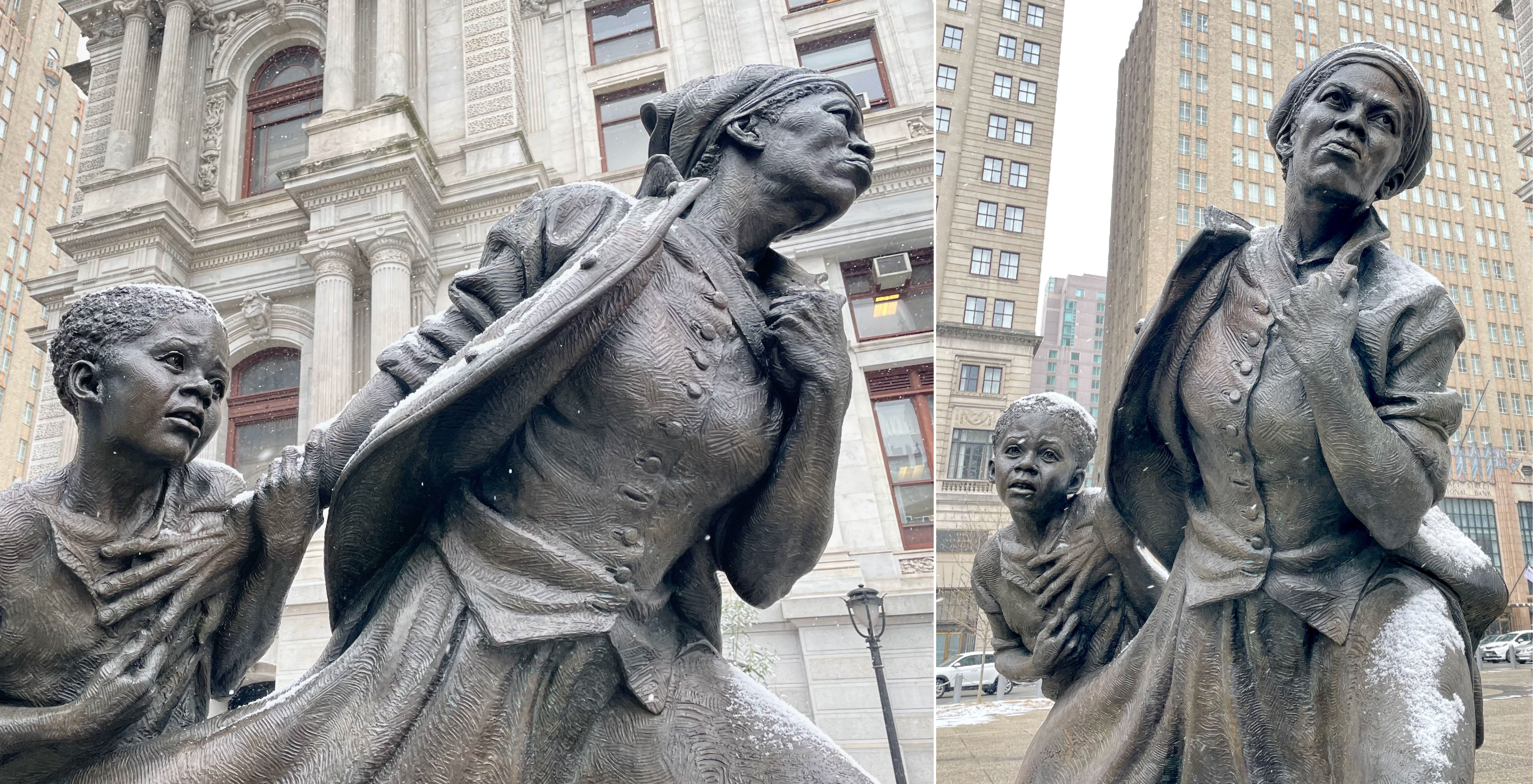 Photos by Ashley Lippolis
This monument to the famous abolitionist Harriet Tubman (c. 1822 – 1913) represents the many enslaved people she freed in the American South through the Underground Railroad – a secret network that helped them escape to the North and Canada. Tubman escaped her own enslavement in Maryland in 1849 through the Underground Railroad, traveling 90 miles north to Pennsylvania and settling in Philadelphia where she found freedom and work as a housekeeper. But Tubman wanted everyone to be free, including family back in Maryland, and soon began a series of perilous trips to rescue others who were still enslaved.
Harriet Tubman also played an important role in the Civil War. She worked as a cook, nurse, scout and spy for the Union Army, and became the first woman to lead a military operation in the U.S. She also made significant contributions to the women's suffrage movement in the 1890s. See a timeline of Harriet Tubman's life ››
Presented by the City's Office of Arts, Culture and the Creative Economy, the sculpture will remain on view through the end of March 2022. The statue will then travel to New York, making stops at White Plains, Auburn, Rochester, and Kingston.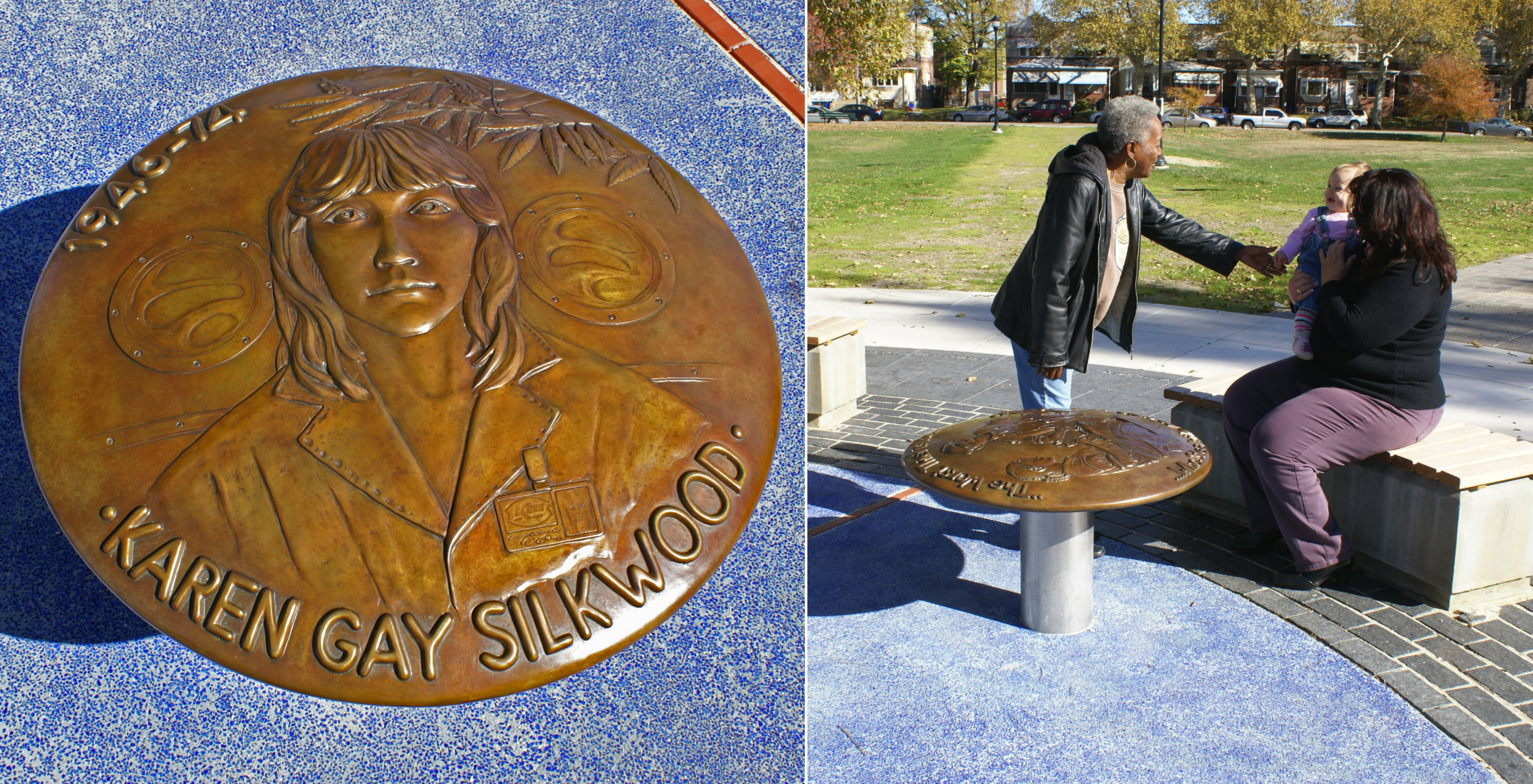 Photos by Caitlin Martin
The courageous life and untimely death of Karen Gay Silkwood (1946-1974) stimulated reforms for safety in the workplace and protection for whistleblowers. She was an employee at a nuclear fuel processing plant in Oklahoma when she discovered evidence of unexplained leaks and spills that posed threats to the workers' health. She was killed in a suspicious car accident on her way to discuss her findings with a reporter and an Atomic Energy Commission official.
This bronze relief sculpture is one of seven "work button tables" of The Labor Monument: Philadelphia's Tribute to the American Worker in Southwest Philadelphia's Elmwood Park, which commemorates the contributions of organized labor nationwide and Philadelphia's unique role in the labor movement. Workers of earlier generations often wore blue denim clothing with metal buttons that bore a variety of images and slogans, and each "button" in this monument represents an important event in labor history. Karen Silkwood's button represents worker and occupational safety. 
The Labor Monument was commissioned by the Association for Public Art as part of our New•Land•Marks program.
Joan of Arc (1890), Emmanuel Frémiet
Photos by Alec Rogers and Ashley Lippolis
Joan of Arc (c. 1412–1431) was a French peasant girl who, believing she had been chosen by God, led France to victory during the Hundred Years War. She began to hear the voices of saints, "and those voices told her to lead France against the English, who had been occupying it and tearing it down and isolating it from the rest of the world for over a hundred years," says art historian Suzanne Lindsay. "She earned one supporter after another, and she finally grew to lead the King's own troops against the English." She was ultimately captured, convicted of heresy and burned at the stake.
This equestrian statue of the French heroine was the first monument to a historic female figure installed in Philadelphia. It was commissioned by the Fairmount Park Art Association (now the Association for Public Art) with Philadelphia's French community to commemorate their centennial, the anniversary of the fall of the Bastille and the outbreak of the French Revolution. The sculpture was unveiled in 1890 near the Girard Avenue Bridge in Fairmount Park, and relocated to its current site near the Philadelphia Museum of Art in 1948. There are several casts in existence, including in Paris, France, New Orleans, Louisiana and Portland, Oregon.
The City of Philadelphia had the sculpture re-gilded in 2010, giving it a strikingly gold appearance. "That gilding is visually spectacular," says Lindsay, "but it also, for many people, is a symbol of her very specialness, and some would read this as part of her saintliness – others of just her exceptional qualities in history."
Mary Dyer (1960, cast 1975), Sylvia Shaw Judson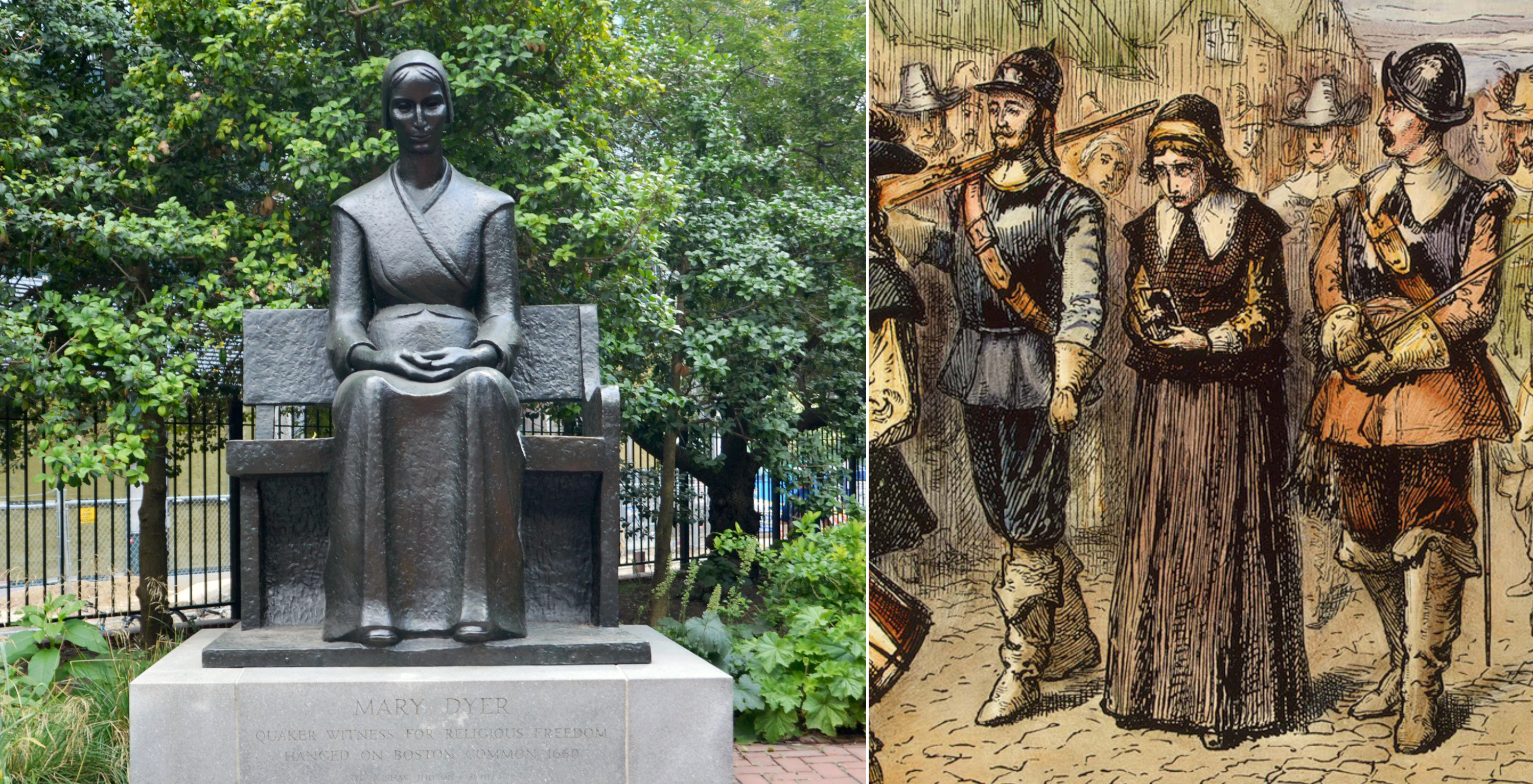 Photo by Alec Roger and hand-colored woodcut of a 19th-century illustration of Mary Dyer by unknown artist.
Mary Dyer (c. 1611 – 1660) was an English Puritan-turned-Quaker who became a martyr in colonial Massachusetts when she was executed for her Quaker belief in freedom of religion. She was hanged by Puritans in Boston in 1660 for continuing to return to the city even though they had exiled her from the colony. Her execution caused such an uproar that King Charles II of England forbade the Massachusetts Bay Colony from persecuting Quakers.
This sculpture of Mary Dyer by artist Sylvia Shaw Judson (1897-1978) – a Quaker herself – depicts her in a quiet moment, sitting on a bench during a Meeting for Worship, her hands in her lap and her head lowered. Judson conveys Mary's qualities of "courage, compassion, and peace" through the simplicity and stillness of her pose.
Philadelphia's Mary Dyer sculpture is a cast of the original in Boston, which was commissioned by the Commonwealth of Massachusetts through the bequest of a descendant of Mary Dyer. The Association for Public Art (aPA) purchased a cast of the work in 1960 to place in Philadelphia, but the artwork was put in storage. The sculpture was finally installed in 1975 at the new Friends Center, a hub for Quaker activity in Philadelphia at 15th and Cherry Streets, as part of the Redevelopment Authority's Percent for Art Program. The sculpture is still on long-term loan to the Friends Center and aPA continues to conserve it annually.
Coming Soon: Marian Anderson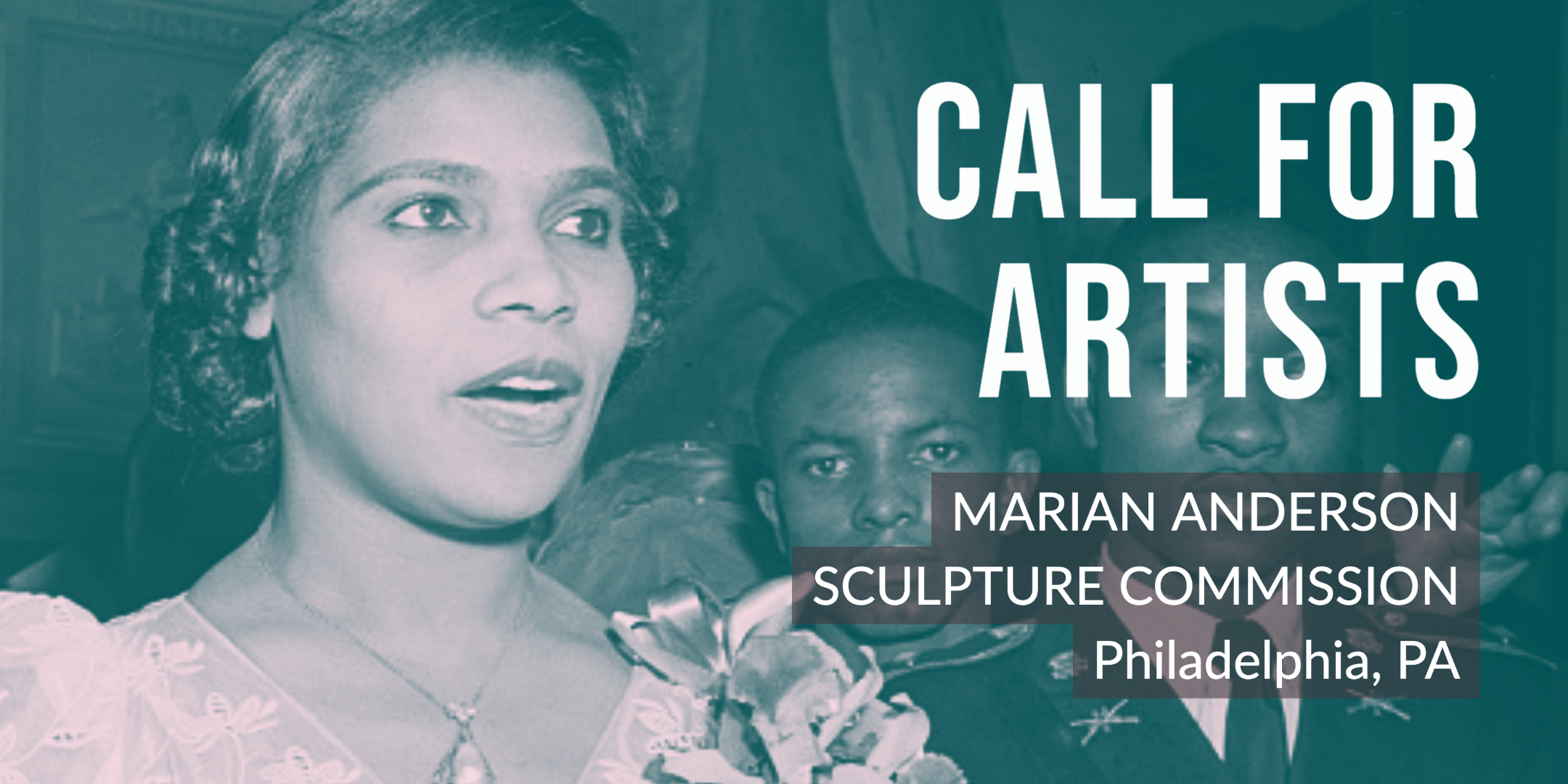 Not only will the Marian Anderson statue expand Philadelphia's limited collection of sculptural memorials to women, but it will be the city's first permanent statue of a historic Black female figure.
In August 2021, the Association for Public Art (aPA) joined a task force of arts and civic leaders to announce that plans will proceed for the creation of a sculpture commemorating the famous singer and civil rights figure, Marian Anderson. The committee just announced that it is currently seeking an artist for the commission. According to the RFQ, the goals of the commission are to "display a strong likeness of Marian Anderson, capture the powerful and gifted spirit of the contralto, as well as her energy as a civil rights trailblazer, and her dignity in the face of injustice."
Born and raised in Philadelphia, Anderson became a symbol of the civil rights movement in 1939 when she was denied a performance opportunity in Washington, D.C. due to her race. In response, a concert was arranged with the help of Eleanor Roosevelt for Anderson to sing at the Lincoln Memorial, where she performed in front of 75,000+ people.
The sculpture will be installed on the steps of the Academy of Music – a site where Anderson performed a number of concerts. The task force is currently developing the curatorial and programmatic plans for the sculpture as well as fundraising for the monumental artwork. $300,000 of the $1.4 million needed for the project has already been raised, and a portion of those funds will go toward an endowment for the National Marian Anderson Museum in South Philadelphia.
Donations can be made via the Philadelphia Foundation to the Marian Anderson Memorial Fund: www.philafound.org/give-now