At A Glance
Mary Dyer was hanged in Boston in 1660, a deliberate martyr to her Quaker belief in freedom of religion

In 1945 the government of Massachusetts accepted a bequest from Zenos H. Ellis to support a memorial to his ancestor

Sylvia Shaw Judson, a Quaker sculptor who had trained at the Art Institute of Chicago and studied in Paris, received the commission
Mary Dyer, a "Comely, Grave woman, and of a good Personage," was hanged in Boston in 1660, a deliberate martyr to her Quaker belief in freedom of religion. Her execution created sufficient uproar that King Charles II of England ordered the Massachusetts Bay Colony to cease its persecution of Quakers. In 1945 the government of Massachusetts accepted a bequest of $12,000 from a Vermont banker, Zenos H. Ellis, to support a memorial to his ancestor, Mary Dyer.
Judson portrays Mary Dyer in a quiet moment, sitting on a bench during a Meeting for Worship
For years the design competition announced by the Fine Arts Commission of Massachusetts brought no suitable entries. At last Sylvia Shaw Judson, a Quaker sculptor who had trained at the Art Institute of Chicago and studied in Paris, was invited to submit a proposal. She quickly received the commission, and the memorial was unveiled in Boston in 1959. The following year, Judson arranged with the Fairmount Park Art Association (now the Association for Public Art) for a second cast to be placed in Philadelphia. In 1975 the sculpture, then in storage, came to the attention of H. Mather Lippincott, architect of the new addition to the Society of Friends complex. Placed on long-term loan to the Friends Center by the Association, the work was installed as part of the Redevelopment Authority's Percent for Art Program.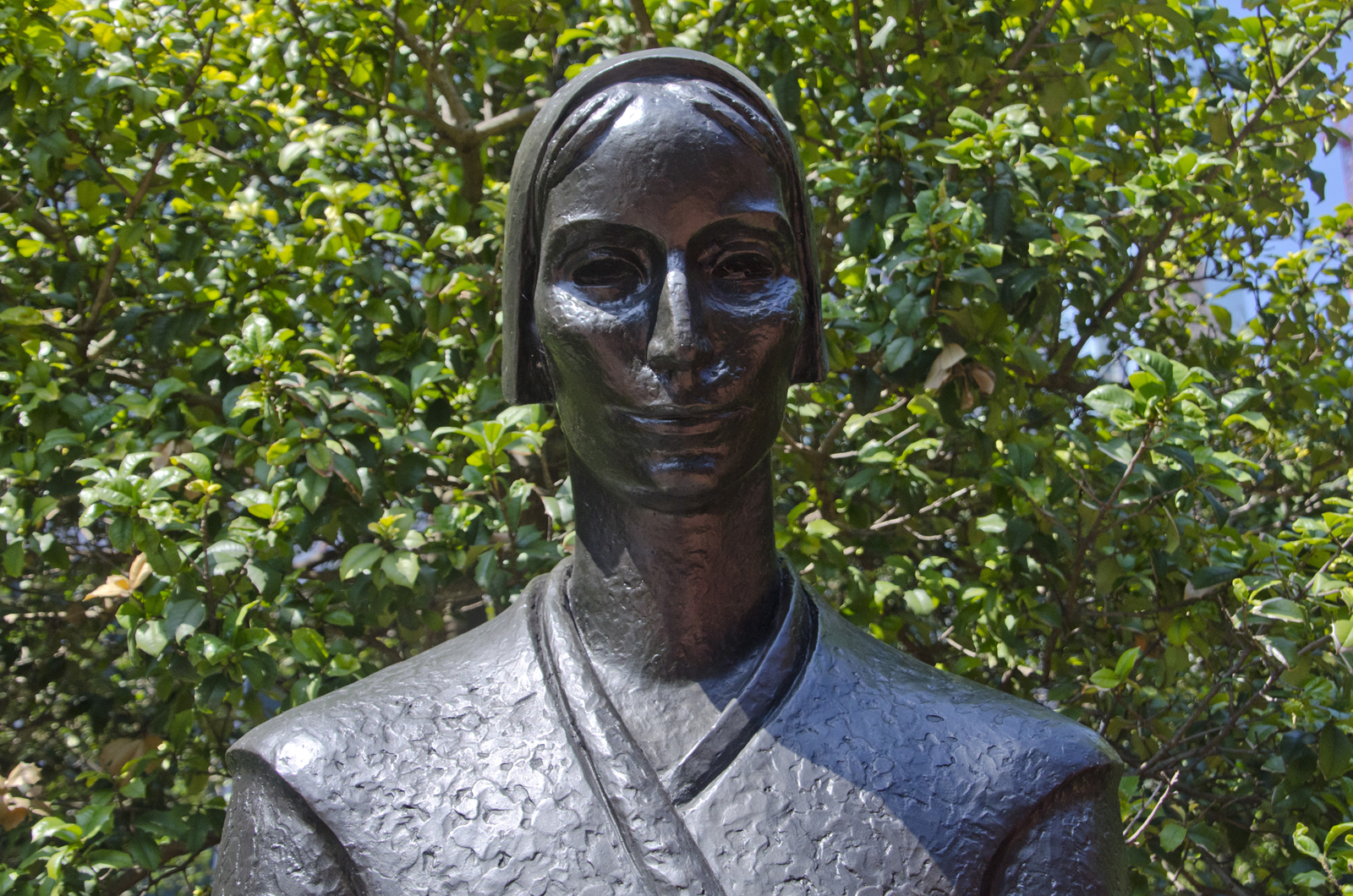 Judson portrays Mary Dyer in a quiet moment, sitting on a bench during a Meeting for Worship, her hands in her lap and her head lowered. "Courage, compassion, and peace" are the qualities Judson intended to convey, and the simplicity of style reinforces the aura of quiet determination. Judson noted that the figure should seem to be "solitary and exposed, as though the only safety was within."
Adapted from Public Art in Philadelphia by Penny Balkin Bach (Temple University Press, Philadelphia, 1992).
RESOURCES