At A Glance
Part of the Museum Without Walls: AUDIO program

Joan of Arc was a Catholic saint and the French heroine of the Hundred Years War

Philadelphia's French community sought the aid of the Fairmount Park Art Association (now the Association for Public Art) to commemorate their centennial

The work was unveiled near the eastern approach to the Girard Avenue Bridge in 1890 and relocated to a site near the Philadelphia Museum of Art in 1948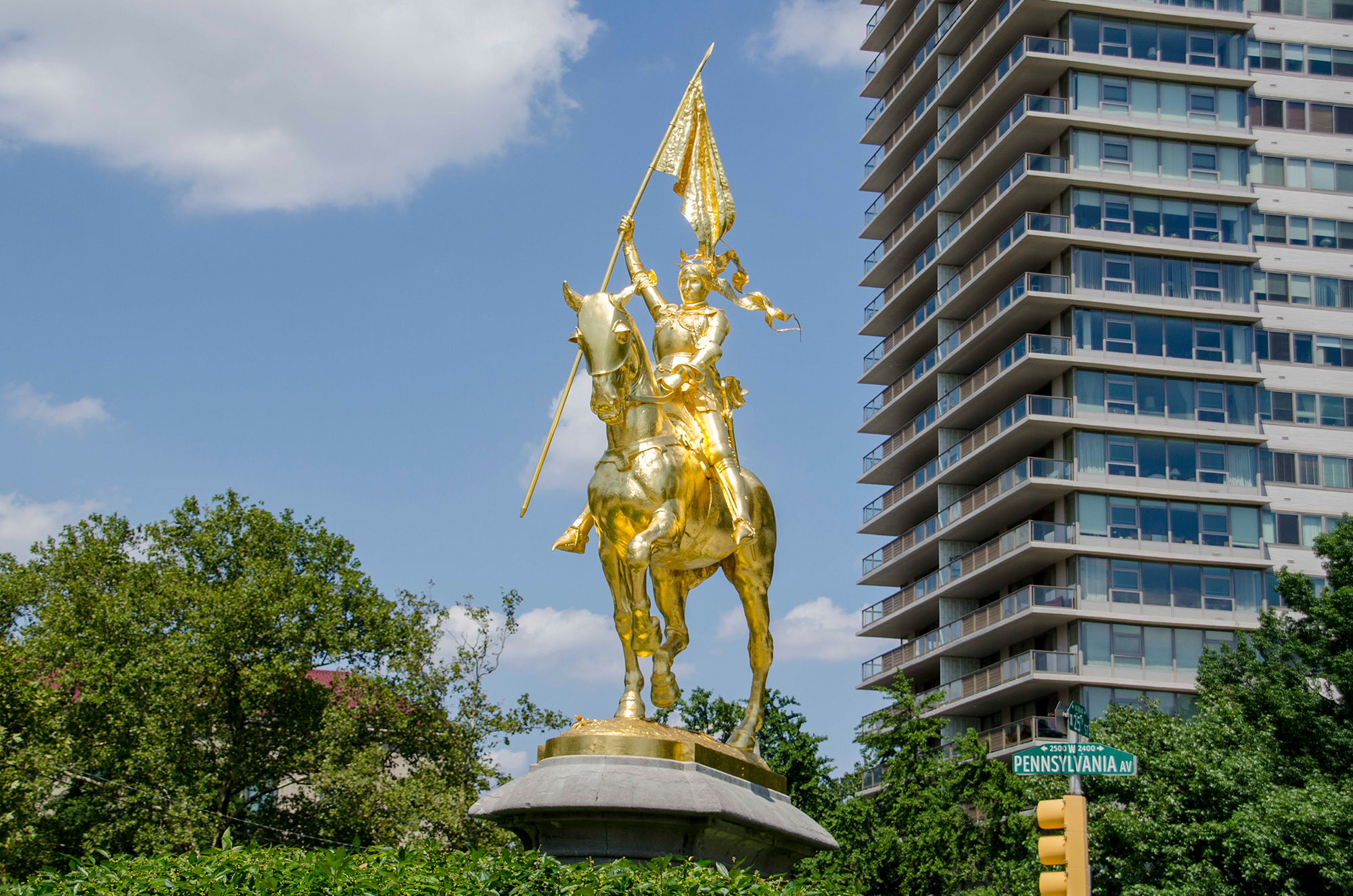 Amid the ruins of the Franco-Prussian War, the French government commissioned Emmanuel Frémiet in 1872 to design a monument to Joan of Arc for the Place des Pyramides in Paris. Frémiet had earned a reputation for his work incorporating human and animal motifs in the neo-realistic manner.
To develop the memorial to the French heroine, Frémiet studied the design of fifteenth-century French armor and dress in order to convey the figure within her historical context.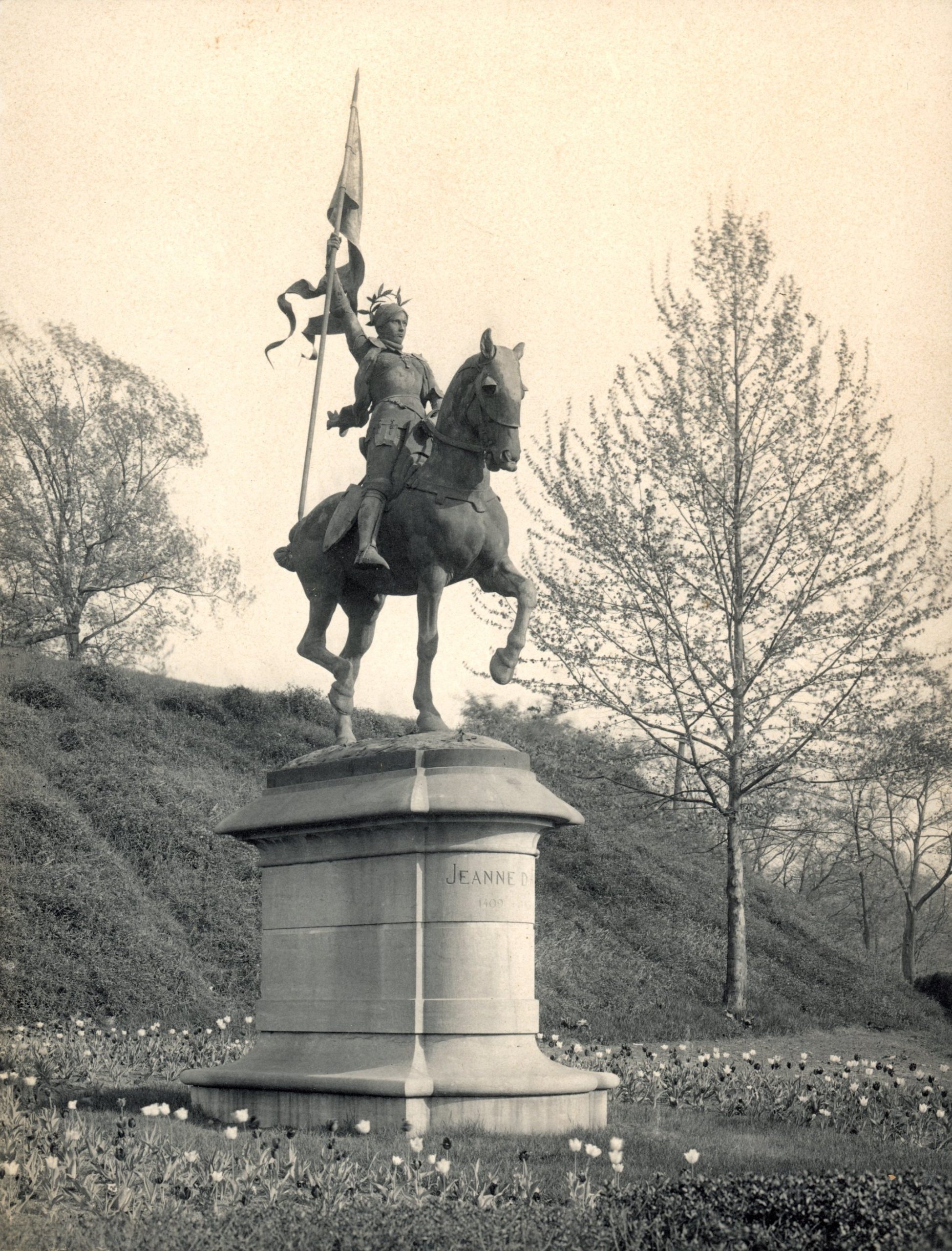 In 1889 members of the French community in Philadelphia sought the aid of the Fairmount Park Art Association (now the Association for Public Art) to commemorate their centennial by purchasing a statue of Joan of Arc from Frémiet. Frémiet submitted an "improved" model of his monument, though Thomas Hockley of the Association observed little change in it, save for the "figure, which is heightened about 4 or 5 inches."
The contract with the sculptor stipulated that there would be only three editions of the statue: the one in the Place des Pyramides, one in Philadelphia, and one in Nancy. A site was selected on the eastern approach to the Girard Avenue Bridge, and on November 15, 1890, the work was unveiled in Philadelphia with extensive fanfare. In 1948 the Association relocated the sculpture to its present site near the Philadelphia Museum of Art and gilded it in 1960.
Adapted from Public Art in Philadelphia by Penny Balkin Bach (Temple University Press, Philadelphia, 1992).
RESOURCES:

Voices heard in the program:
Suzanne Lindsay is an art historian who specializes in 19th century French sculpture. She teaches at the University of Pennsylvania and has a special interest in Frémiet's Joan of Arc.
Diana Regan was President of the Alliance Française de Philadelphia, which promotes the study of French language and culture, and fosters friendly relations between France and the United States.
Judith Shea is an artist whose work explores issues related to monumentality. Born in Philadelphia, her equestrian sculpture No More Monument is part of the art collection of the Pennsylvania Convention Center.
Segment Producer: Jonathan Mitchell
A program of the Association for Public Art (formerly the Fairmount Park Art Association), Museum Without Walls: AUDIO is an innovative and accessible outdoor sculpture audio program for Philadelphia's preeminent collection of public art.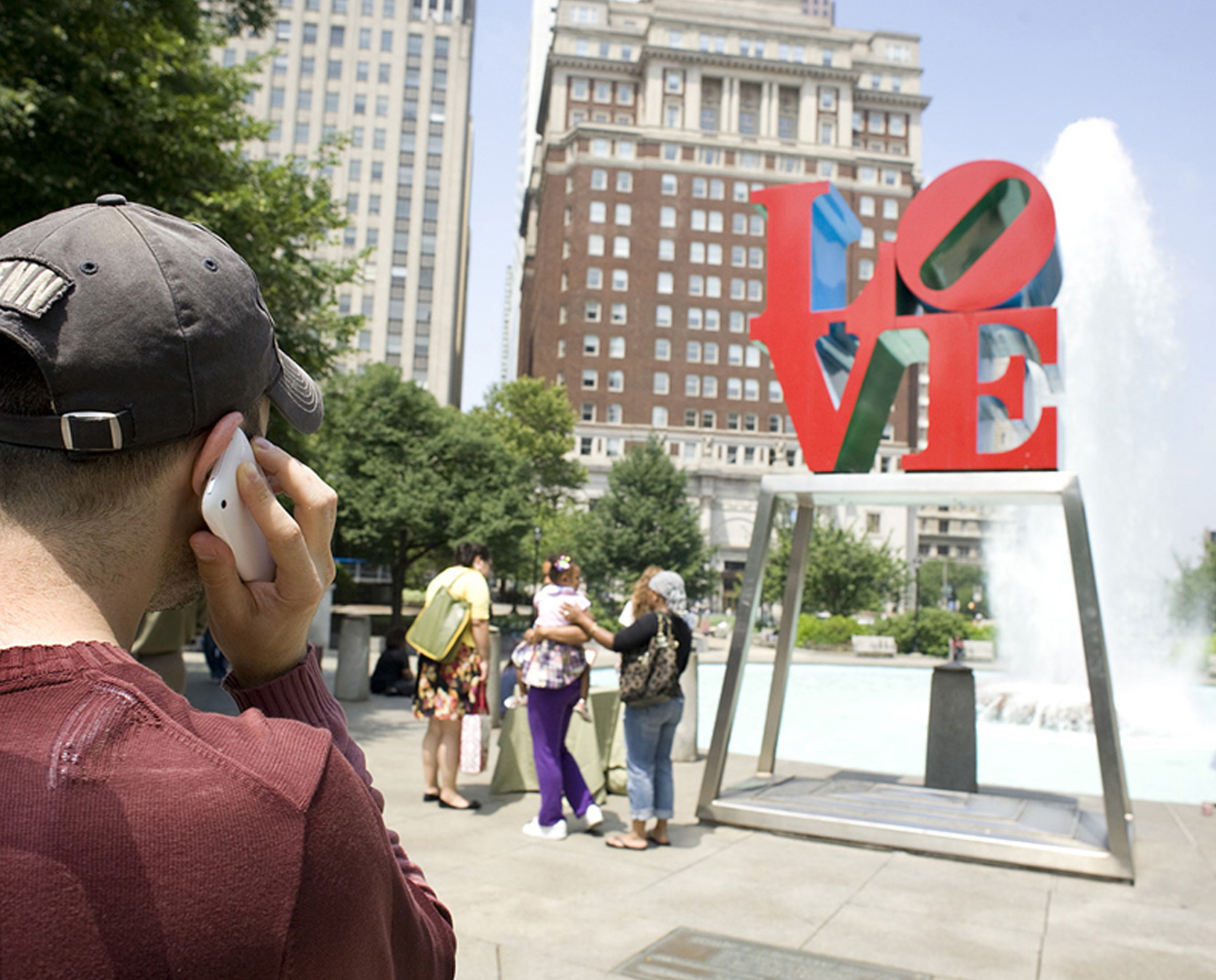 A "multi-platform" interactive audio experience – available for free by cell phone, mobile app, or on our website – Museum Without Walls: AUDIO offers the unique histories that are not typically expressed on outdoor permanent signage.
Unlike audio tours that have a single authoritative guide or narrator, each speaker featured in Museum Without Walls: AUDIO is an "authentic voice" – someone who is connected to the sculpture by knowledge, experience, or affiliation.
Over 150 unique voices are featured, including artists, educators, scientists, writers, curators, civic leaders, and historians.
This artwork is part of the Along Kelly Drive tour, and the Around the Philadelphia Museum of Art tour.