At A Glance
Part of the Museum Without Walls: AUDIO program

Hand-fabricated from thousands of pieces of stainless steel pipe, plate and rods

Rises 34 feet high and weighs more than 3.5 tons

Part of Paine's "Dendroid" series
In 2015, the Association for Public Art received a grant from the Daniel W. Dietrich II Trust, Inc. to acquire Symbiosis, a masterwork by internationally acclaimed artist Roxy Paine. The shimmering monumental sculpture had been on temporary display in Iroquois Park on the Benjamin Franklin Parkway since June 2014, courtesy of the artist and Marianne Boesky Gallery and with the cooperation of Philadelphia's Department of Parks & Recreation and the City's Art Commission. The acquisition enables Symbiosis to remain in Philadelphia and join other significant public artworks.
Hand-fabricated from thousands of pieces of stainless steel pipe, plate, and rods, Symbiosis suggests both ecological and anatomical branching systems.
They evoke arboreal structures, vascular systems, synaptic networks, and industrial pipelines
Rising 34 feet high, the more than 3.5 ton sculpture was created from standard industrial piping that was welded, formed, and polished in the artist's studio to create two shimmering, interrelated organic forms that both buttress and weigh on one another, referencing the darker aspects of nature and the fierceness of its laws. Symbiosis represents the collision of two dendroids that result in stasis, a questionable relationship that teeters between support and detriment.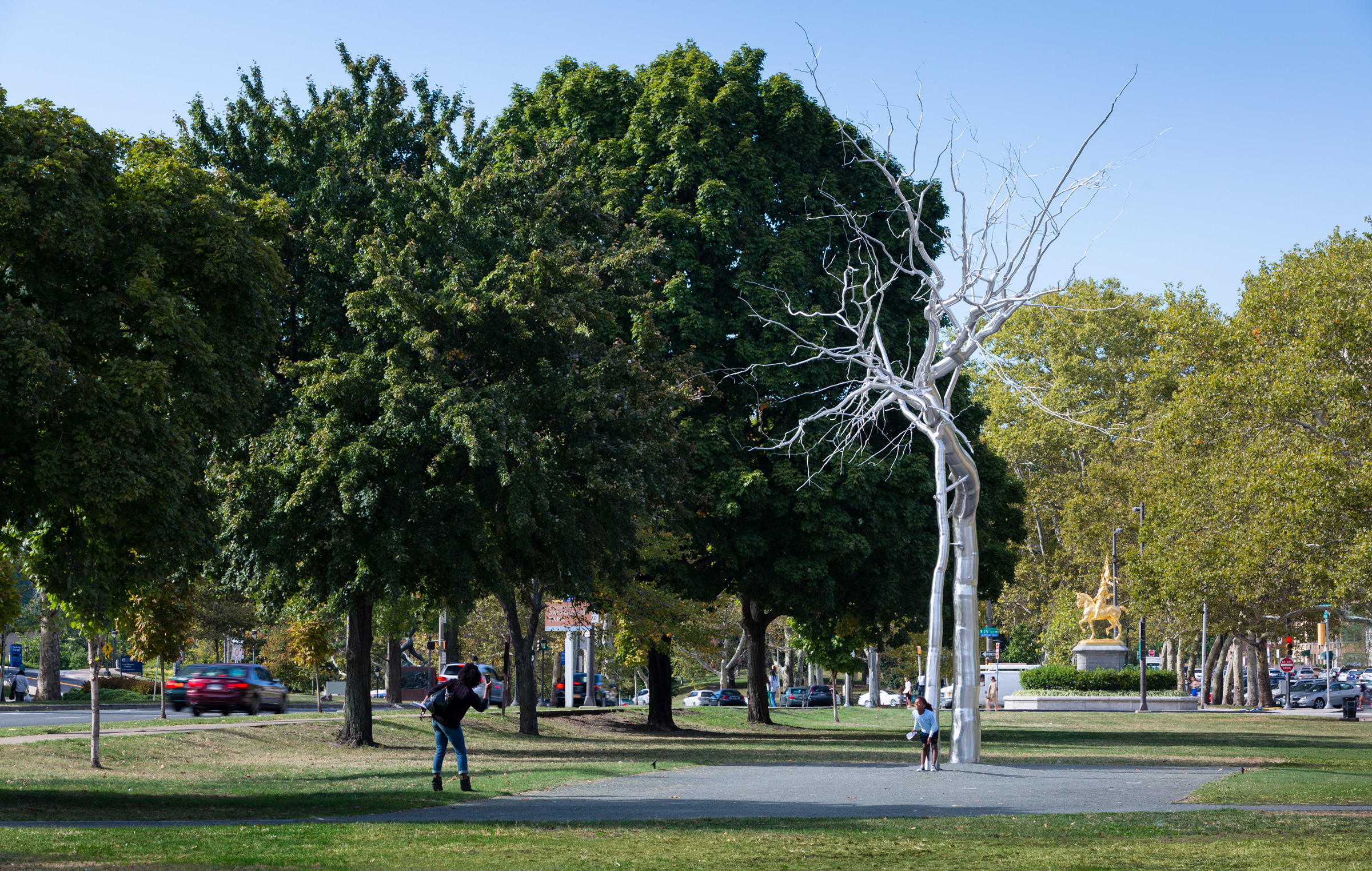 Roxy Paine's work consistently blurs the lines between the natural and artificial. He is known for work that explores the collision of industry and nature, and his series of stainless steel "Dendroid" sculptures are exemplary manifestations of this practice. The "Dendroids," a term combining "dendron" (Greek for "tree") and -oid (a suffix meaning "form"), are monumental structures that convey a fusion of industrial and organic forms. They evoke arboreal structures, vascular systems, synaptic networks, and industrial pipelines, interpreting the natural world through a man-made lens. The structures represent search, growth, and the branching of systems that suggest dormant energy and potential, a theme Paine has explored in his work for the last 15 years.
RESOURCES:
Roxy Paine was born in 1966 in New York and studied at both the College of Santa Fe in New Mexico and the Pratt Institute in New York. Since 1990, his work has been internationally exhibited and is included in major collections such as De Pont Museum of Contemporary Art, Tilburg, The Netherlands; Hirshhorn Museum and Sculpture Garden, Washington, D.C.; Israel Museum, Jerusalem; Museum of Modern Art, New York, NY; San Francisco Museum of Modern Art, CA; and the Whitney Museum of American Art, New York, NY.
Paine's dendroid sculptures can be found at various museums including the Olympic Sculpture Park, Seattle, WA; Montenmedio Arte Contemporaneo NMAC, Cadiz, Spain; the St. Louis Museum of Art, St. Louis, MO; The Modern Art Museum of Fort Worth, Fort Worth, TX; and Crystal Bridges Museum of American Art, Bentonville, AR.
The artist has also completed temporary installations of his artwork, including on the Cantor Roof Garden at the Metropolitan Museum of Art, Central Park, and Madison Square Park, New York, NY. Roxy Paine lives and works in Brooklyn and Treadwell, NY and is represented by Marianne Boesky Gallery in New York, NY and Kavi Gupta in Chicago, IL.
For more information on the artist visit www.roxypaine.com.

Voices heard in the program:
Roxy Paine is the artist who created Symbiosis. He is known for work that explores the collision of industry and nature.
Tod Williams and Billie Tsien are the architects of the Barnes Foundation on the Benjamin Franklin Parkway in Philadelphia.
Segment Producer: Jenny Lawton
Video by Alec Rogers, Ashley Lippolis, and Caitlin Martin
Artist Roxy Paine discussed his work and his sculpture Symbiosis with Tom Eccles, Executive Director of the Center for Curatorial Studies at Bard College and former Director of the Public Art Fund in New York City.
Association for Public Art (aPA) 143rd Annual Meeting
Monday, April 27, 2015, 5:00PM
RECEPTION TO FOLLOW
Philadelphia Museum of Art Van Pelt Auditorium 26th and the Parkway
Register for the Event Online
(Free for aPA members, artists, and students!)
Questions? Email apa@associationforpublicart.org or call 215-546-7550.
Frequently Asked Questions
What are the dimensions and weight of Symbiosis?

At its highest point, Symbiosis is approximately 34'-0" tall. The sculpture weighs over 3.5 tons.
What exactly is the metal material that forms Symbiosis?
Symbiosis was hand-fabricated from standard industrial pipe, plate and rods that were welded, formed and polished in the artist's studio. All material is 3/8" thick 304/304L stainless steel or schedule 40 pipe depending on diameter.
Why was a site along the Benjamin Franklin Parkway (Iroquois Park) selected?
The Parkway is home to some of the most impressive examples of public art that parallel the history of American sculpture. Paine's Symbiosis continues that tradition, as it is an important work of the 21st century created by a significant contemporary artist.
How can I learn more about Symbiosis?
You can dial Museum Without Walls™: AUDIO at 215.399.9000 (Stop # 40) to hear the artist and Tod Williams and Billie Tsien (architects of the nearby Barnes Foundation) talk about the sculpture and his work. You can also experience the audio program as a slideshow.
What is the Association for Public Art (aPA)?
The Association for Public Art (aPA), formerly the Fairmount Park Art Association) was established in 1872 and is the nation's first private, nonprofit civic organization dedicated to creating a Museum Without Walls™ by integrating public art and urban planning. The aPA commissions, preserves, promotes and interprets public art in Philadelphia.
Is the Association for Public Art a city agency?
The Association for Public Art (aPA) is a private nonprofit organization that works closely with the city of Philadelphia, including Parks & Recreation and the Office of Arts, Culture and the Creative Economy. To learn more about aPA's mission and history, click here.
This artwork is part of the Along the Benjamin Franklin Parkway tour, and the Around the Philadelphia Museum of Art tour.