An aPA membership supports Philadelphia's growing collection of exceptional outdoor sculpture. From conserving our long-held treasures to bringing the best contemporary public art to the city, aPA promotes Art for Everyone, Anytime.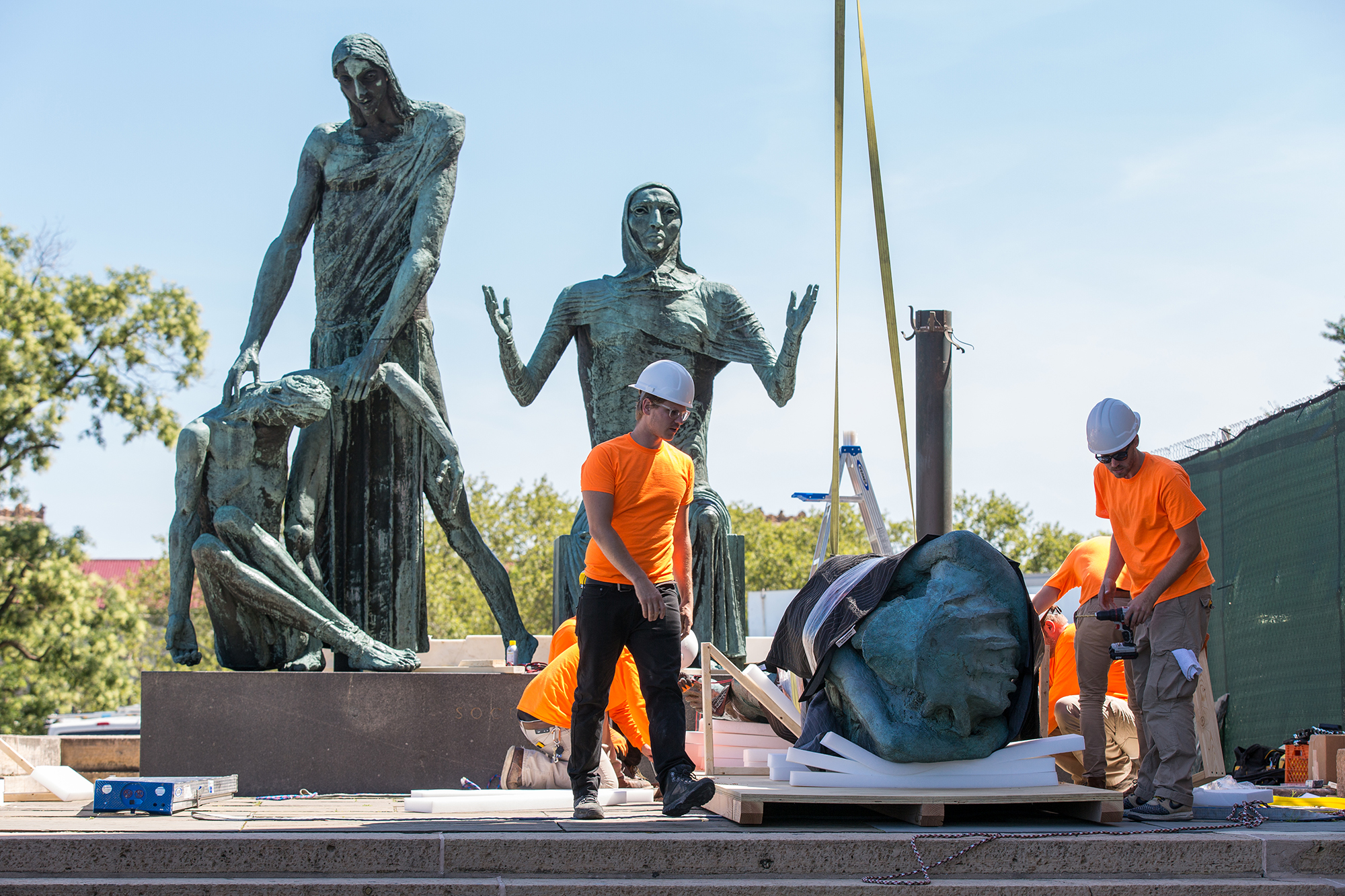 aPA's Nevelson and Epstein Sculptures to Penn
This summer, aPA placed two monumental works on long-term loan to Penn: Atmosphere and Environment XII (1970) by Louise Nevelson and Social Consciousness (1954) by Sir Jacob Epstein. Both sculptures were moved from the West Terrace of the Philadelphia Museum of Art to Shoemaker Green and the Memorial Garden Walkway, respectively. Penny Balkin Bach, Executive Director & Chief Curator of aPA summarized the relocations as optimal sites where the works "can be viewed and appreciated by new audiences" and "revisited by existing fans." Curator & Executive Director of Penn's Arthur Ross Gallery, Lynn Marsden-Atlass, agrees that the sculptures will "become integral to experiencing Penn's campus." »More on the relocation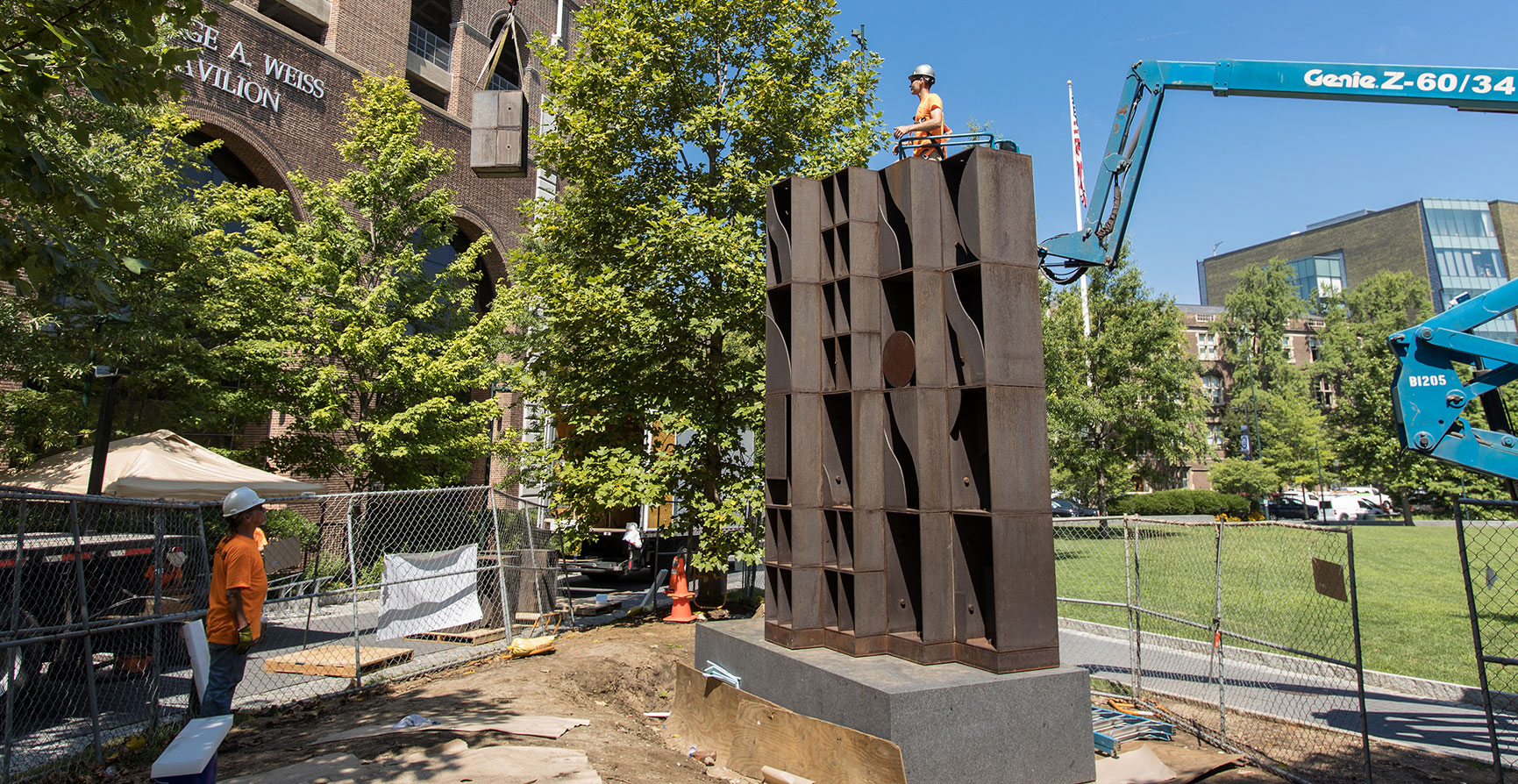 Did You Know? Established in 1872, the Fairmount Park Art Association, now the Association for Public Art, is the first non-profit public art organization in the U.S. In 2022, aPA will celebrate our 150th anniversary. »See our timeline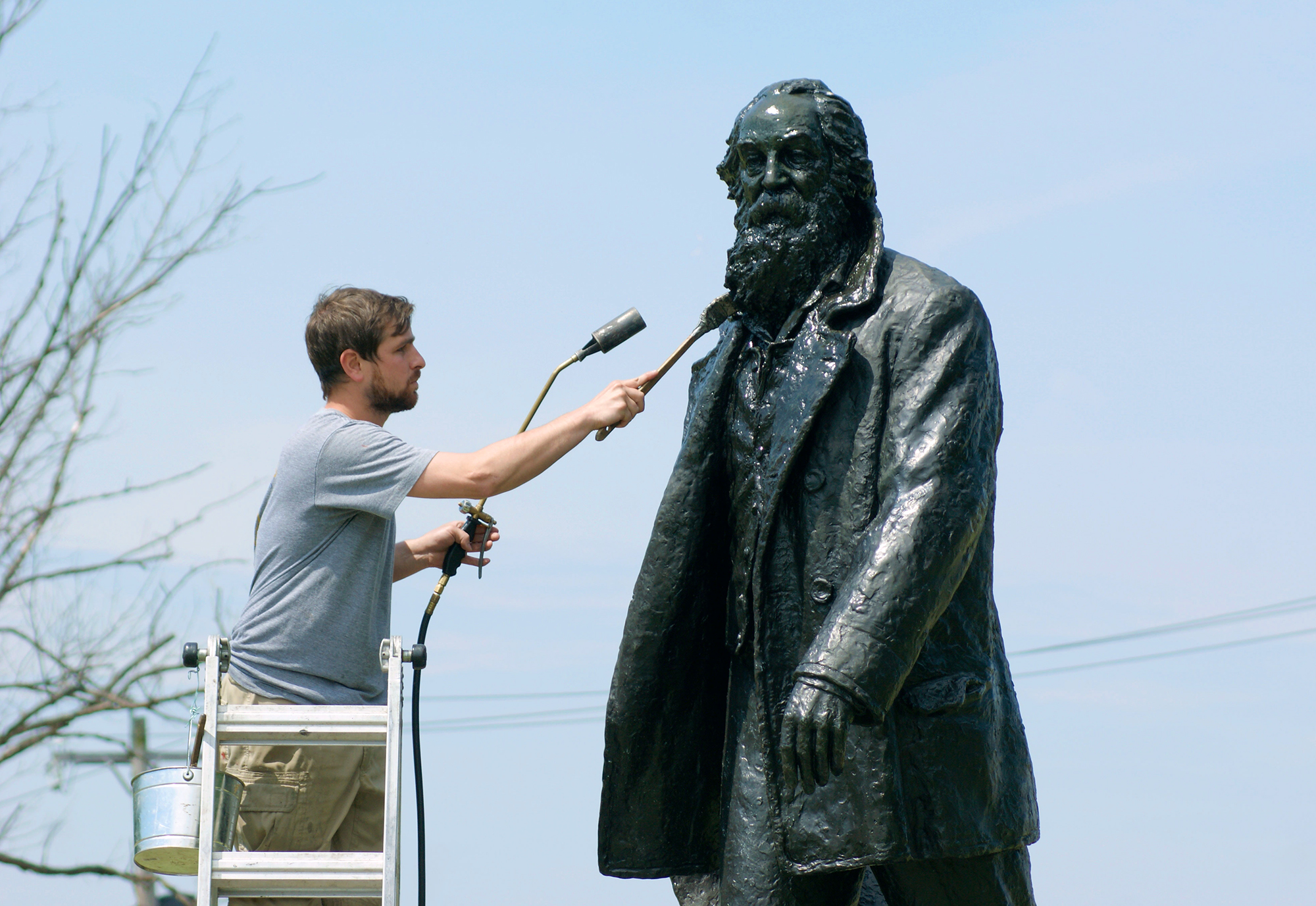 Walt Whitman Conserved for 200th Birthday
The aPA sent our conservators from Tatti Conservation to give the Walt Whitman statue in South Philadelphia some special treatment for the regional celebration of the poet's 200th birthday. The sculpture, by artist Jo Davidson, was cast in 1957 and purchased and installed by the Fairmount Park Art Association (now the Association for Public Art) in 1959. The aPA cares for over 30 outdoor sculptures in Philadelphia each spring, providing annual conservation maintenance and taking on special projects as needed. »Artworks treated in 2019
Did You Know? Our conservation program was launched in 1982, and is one of the longest continuously-operating programs of its kind in the United States. »Learn more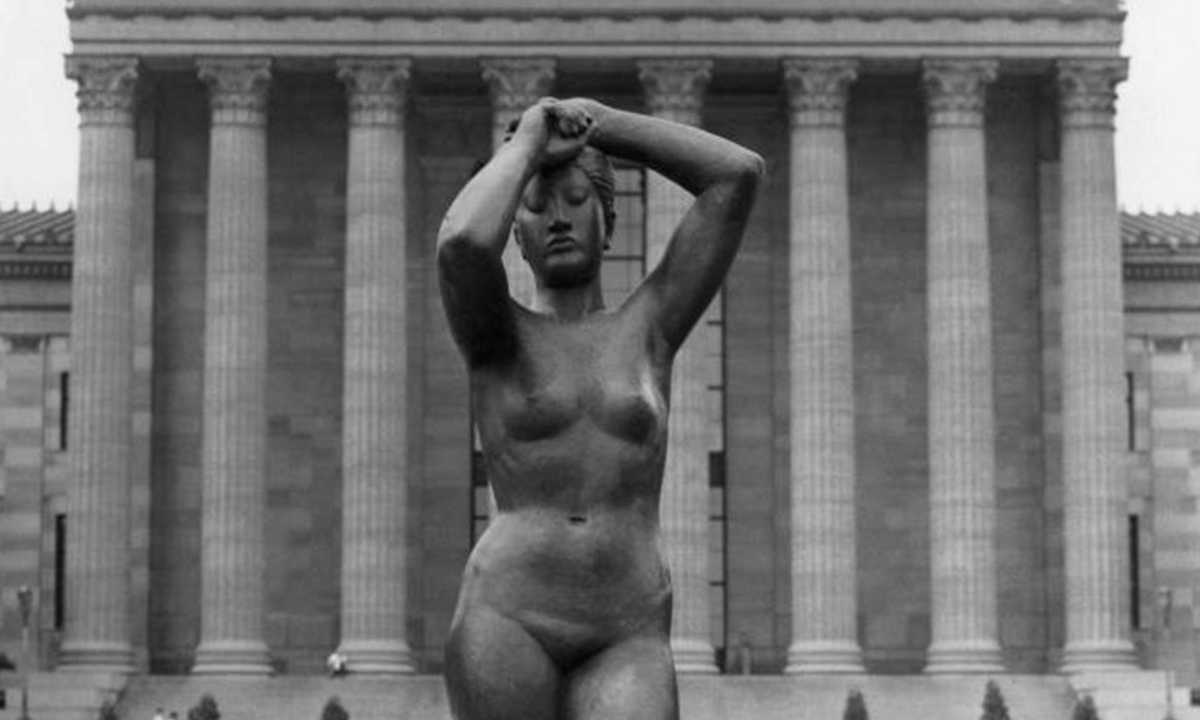 Maja Sculpture and Park Announcement
In March, aPA announced that we'll be installing our Maja (1942) sculpture by artist Gerhard Marcks (1889-1981) in "Maja Park" – a newly planned park that broke ground in October for the Benjamin Franklin Parkway, located in front of the Park Towne Place Museum District Residences. The sculpture has been tucked away in storage for more than 25 years, but it once stood on the East Terrace of the Philadelphia Museum of Art for decades. »More on the announcement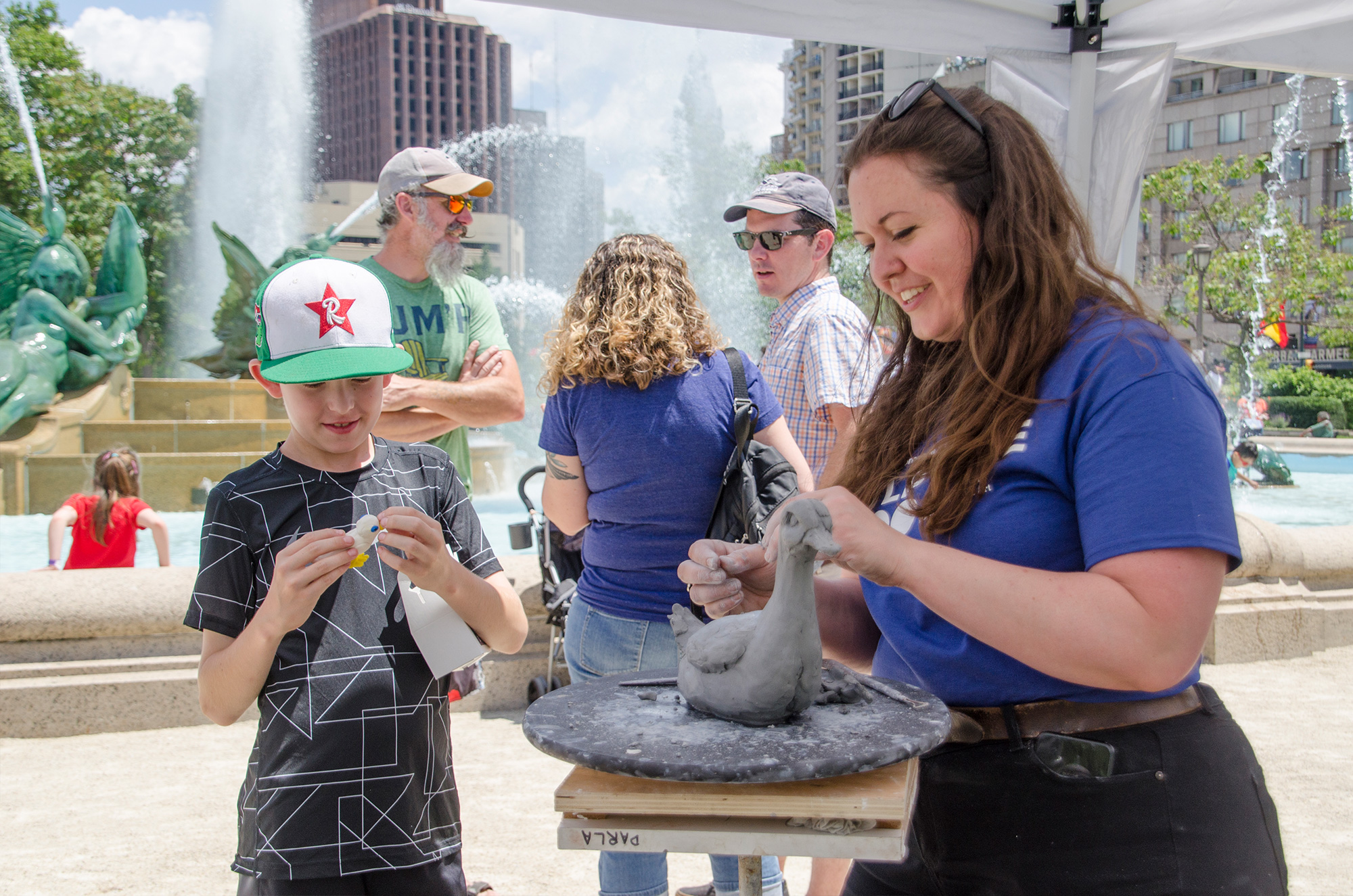 Sculpture Zoo in Logan Circle
More than 1,200 visitors saw public art come to life at aPA's free and family friendly Sculpture Zoo in Logan Circle event in June. Live turtles, toads, and ducks enlivened Alexander Stirling Calder's Swann Memorial Fountain (1924) while participants enjoyed sculpture-making workshops and demonstrations by Philadelphia-based artists. The sweetest part? Free ice cream samples from our event partner Culture Republick, who joins our growing list of Partners for Public Art. »More on Partners for Public Art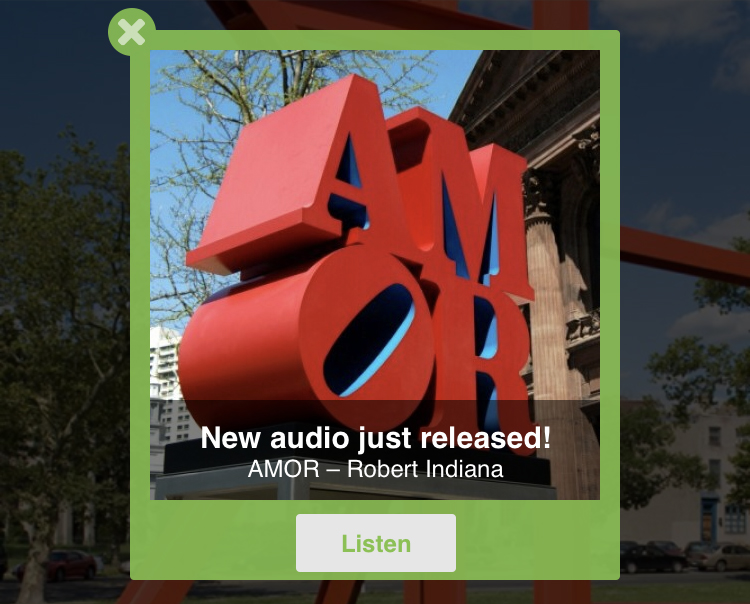 Bilingual AMOR Audio Program
The aPA announced the latest audio in its ever-expanding Museum Without Walls™: AUDIO program – and it's available in English and Spanish! The audio for Robert Indiana's AMOR (1998) is now one of 79 audio programs for outdoor sculptures in Philadelphia, accessible for free by phone, mobile app, or online streaming and video. The bilingual audio features never-before-heard audio from our interview with Robert Indiana (1928-2018), and other real voices with a connection to the artwork. »Watch and listen in English or Spanish
Already support public art in Philadelphia? Share our membership information with a friend, neighbor, colleague, or anyone who values art in public spaces.