It's here! Robert Indiana's AMOR sculpture on the Benjamin Franklin Parkway joins the 75+ public artworks in Philadelphia that have their very own Museum Without Walls: AUDIO program. Hear the story behind this Latin/Spanish version of the artist's iconic LOVE sculpture, told by real voices with a connection to the artwork and featuring never-before-heard audio from our interview with Robert Indiana (1928-2018). Watch and listen below in English or Spanish!
>>PRESS RELEASE: New Audio Program Released for Robert Indiana's AMOR Sculpture
>>Inquirer: Here are three bilingual art initiatives that connect with Spanish-speaking Philadelphians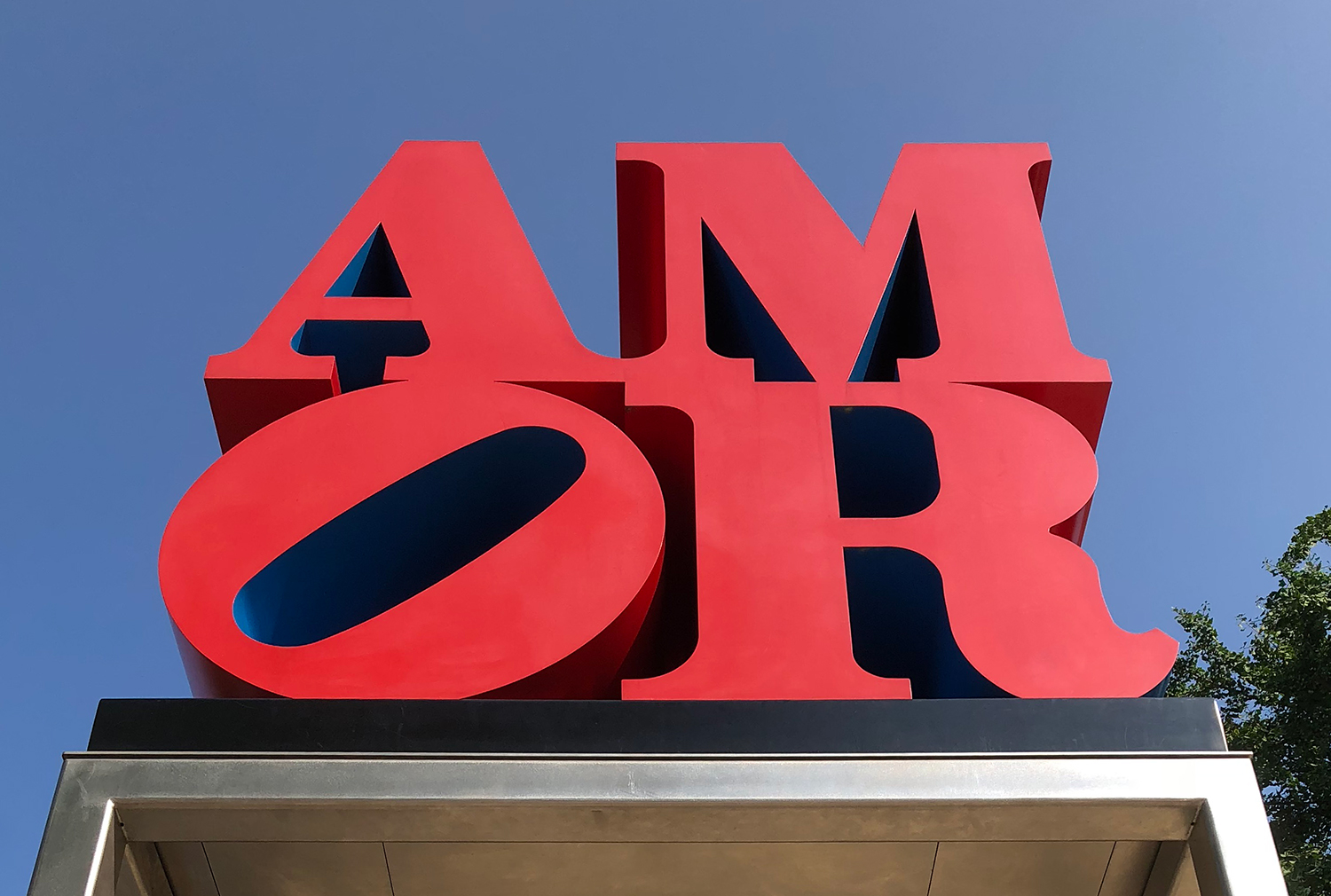 VOICES heard in the program:
Robert Indiana (1928-2018), heard on archival recording, is the American painter, sculptor, and graphic artist who created AMOR. Indiana was a leading exponent of Pop Art, and his famous LOVE image became a universal icon.
Margot Berg is the former Public Art Director for the City of Philadelphia's Office of Arts, Culture and the Creative Economy, which owns AMOR and helped acquire the sculpture for the city's permanent collection.
Father Dennis Gill is Rector and Pastor of the Cathedral Basilica of Saints Peter and Paul, which is located directly across from AMOR. He is also the Director of the Office for Divine Worship for the Archdiocese.
Fernando Mendez is a longtime Philadelphian who was born in Bogota, Columbia. A journalist and a teacher, he is Senior Editor at El Sol Latino and a founding member of the Greater Philadelphia Hispanic Chamber of Commerce and Mexican Cultural Center.
LISTEN by phone, app or online:
•  Call 215-399-9000: Enter 63 for English, 64 for Spanish
•  Download the free Museum Without Walls: AUDIO app
•  Enjoy online as audio slideshows:
The audio program for AMOR was produced by Anne Hoffman. It was made possible through a generous grant from the Connelly Foundation, with in-kind support from We Film Philly. The permanent installation of AMOR was made possible through the generosity of the City of Philadelphia, the Morgan Art Foundation, the Philadelphia Museum of Art, Mrs. Edith R. Dixon, and the Association for Public Art.
Museum Without Walls: AUDIO is the Association for Public Art's award-winning audio program for Philadelphia's outdoor sculpture. The program features over 75 public artworks and 160 voices from all walks of life, including artists, educators, civic leaders, and those with personal connections to the artworks. Each audio tells the distinct story, civic effort, and creative expression behind each sculpture in a conversational style. Go at your own pace, listen to one stop at a time, and create your own sequence. Experience public art in a new light! Discover other artworks with audio programs >>