Students returning to the University of Pennsylvania (Penn) this fall were greeted by two new large-scale works of art on campus, made possible by a collaboration between the Association for Public Art (aPA) and Penn.
Sir Jacob Epstein's Social Consciousness (1954) and Louise Nevelson's Atmosphere and Environment XII (1970) – both owned by aPA – were successfully relocated to their new sites on Penn's campus over the summer. The monumental sculptures have stood at the Philadelphia Museum of Art's West Entrance for decades, and were relocated to accommodate the next phase of major renovations at the Museum. The sculptures are now on a 99-year loan to Penn from aPA.
>>aPA to Relocate Epstein and Nevelson Sculptures to Penn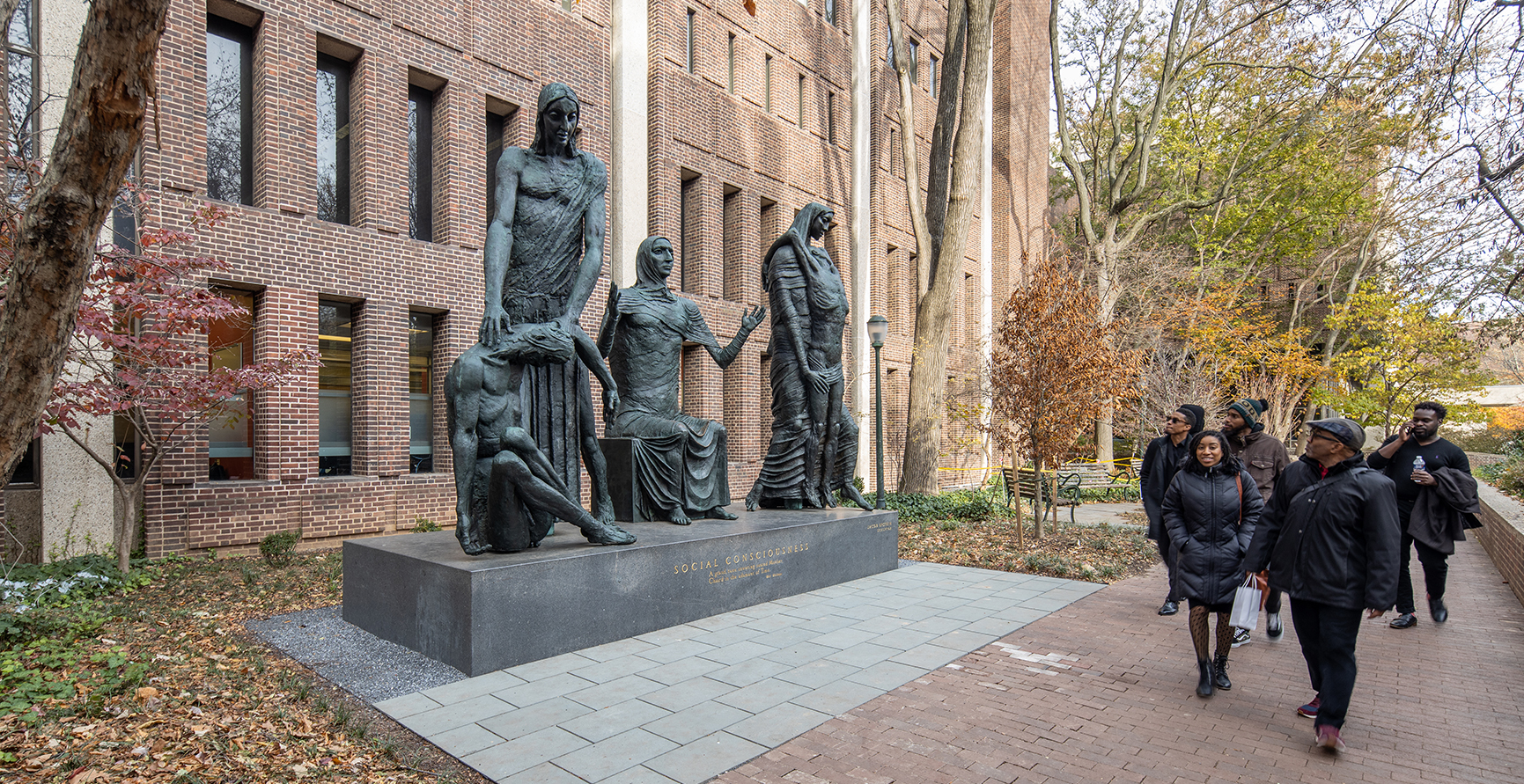 Epstein's Social Consciousness was installed along the Memorial Garden Walkway near Penn's Van Pelt Library – a more contemplative site than its previous location, consistent with the artist's intentions. On Penn's campus, Social Consciousness is now situated near sculptures by Alexander Archipenko, Robert Indiana, John J. Boyle, Claes Oldenburg, and Robinson Fredenthal, among others. The sculpture also received special conservation treatment, including the removal of surface grime, application of a special wax coating, and regilding of the lettering on its base.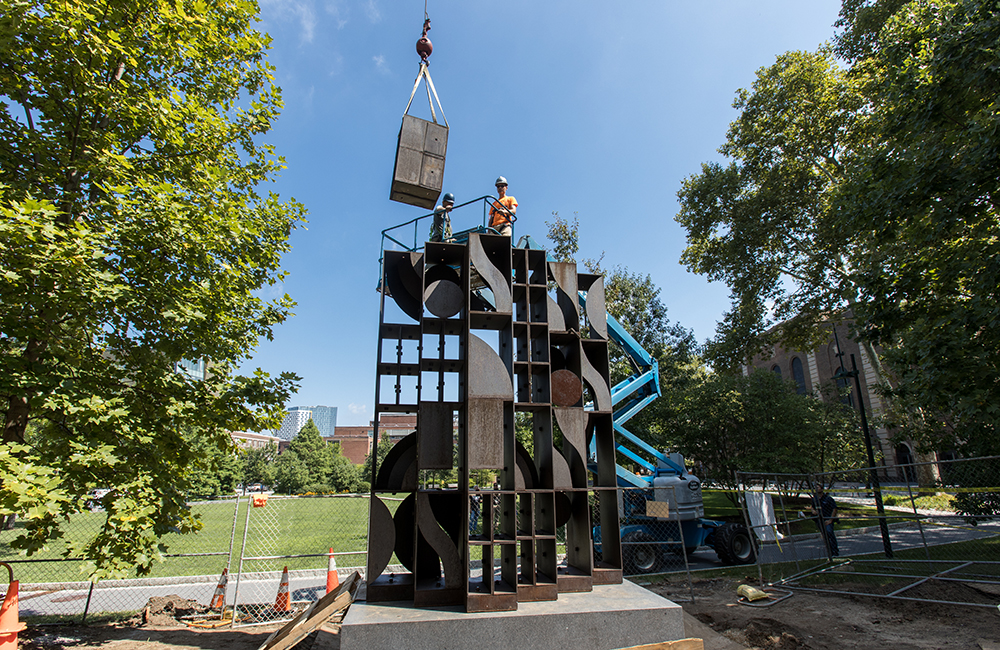 Nevelson's Atmosphere and Environment XII was installed on Shoemaker Green – a landscaped area near the Palestra arena where the artwork can be viewed in the round, providing strong silhouettes of the work in both directions. The sculpture only needed minor attention from conservators, as the work had undergone a comprehensive conservation treatment in 2007 through the Philadelphia Museum of Art's conservation department.
Social Consciousness was originally commissioned by the Fairmount Park Art Association (now the Association for Public Art) for the Ellen Phillips Samuel Memorial, a series of three terraces along Kelly Drive with sculptures that are emblematic of the history of the United States. Social Consciousness was intended to express the American ideal of compassion – but once the massive sculpture began to take shape, it was evident that the terraces would not accommodate the work. Social Consciousness was then temporarily installed at the West Entrance of the Philadelphia Museum of Art in 1955, where it was placed on top of a framed wooden box and then eventually on a granite base.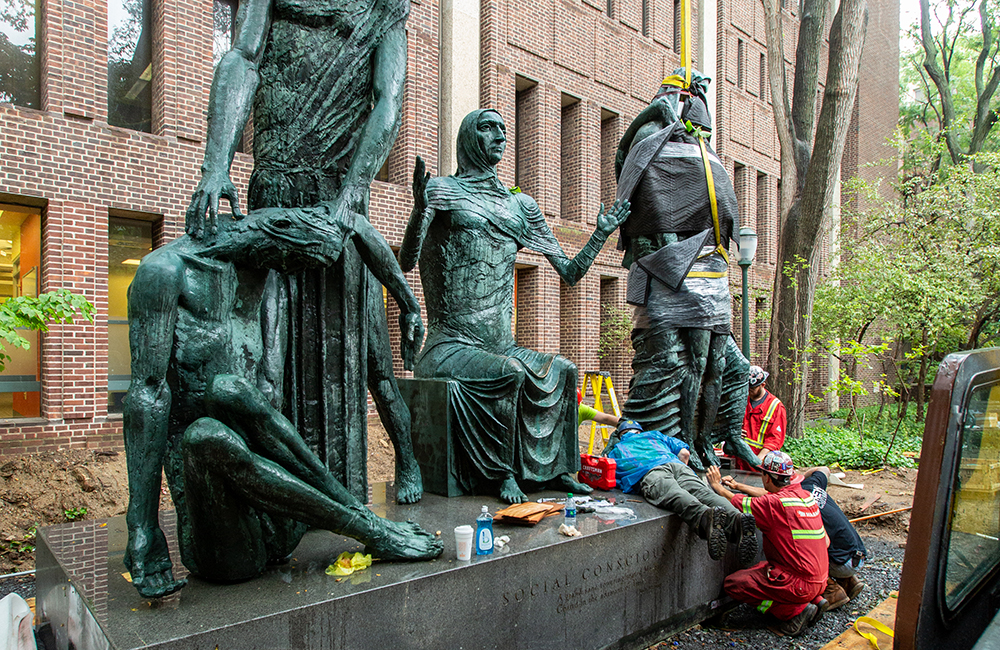 Atmosphere and Environment XII was originally exhibited in France and New York before the sculpture was ultimately purchased by aPA in 1971. Having been unable to find an appropriate "city scape" site, the sculpture was placed at the West Entrance of the Philadelphia Museum of Art where Auguste Rodin's The Burghers of Calais once stood. After Rodin's sculpture was relocated to the Rodin Museum, aPA utilized the empty pedestal and placed the Nevelson sculpture there in 1973.
>>PRESS RELEASE: Association for Public Art Relocates Multi-Ton Nevelson and Epstein Sculptures from Philadelphia Museum of Art to University of Pennsylvania
>>Philadelphia Inquirer: Art Museum sculptures that have stood sentry for decades are moving to Penn for 99 years
>>Penn Today: Two monumental sculptures arrive on campus
About the Association for Public Art
The Association for Public Art (aPA, formerly Fairmount Park Art Association) commissions, preserves, interprets, and promotes public art in Philadelphia. The aPA is the nation's first private nonprofit organization dedicated to creating a "Museum Without Walls" that informs, engages, and inspires diverse audiences. Established in 1872, aPA integrates public art and urban design through exemplary programs and advocacy efforts that connect people with public art. For more information about aPA visit www.associationforpublicart.org.
About the University of Pennsylvania
The University of Pennsylvania, founded in 1740, is an Ivy League institution with a distinctive past. Its 12 undergraduate, graduate and professional schools are located in Philadelphia on an attractive urban campus that serves a diverse community of more than 20,000 students from throughout the nation and around the world. Ranked consistently among the top universities in the nation, Penn has a longstanding reputation for excellence in graduate and professional education. For more information visit www.upenn.edu.