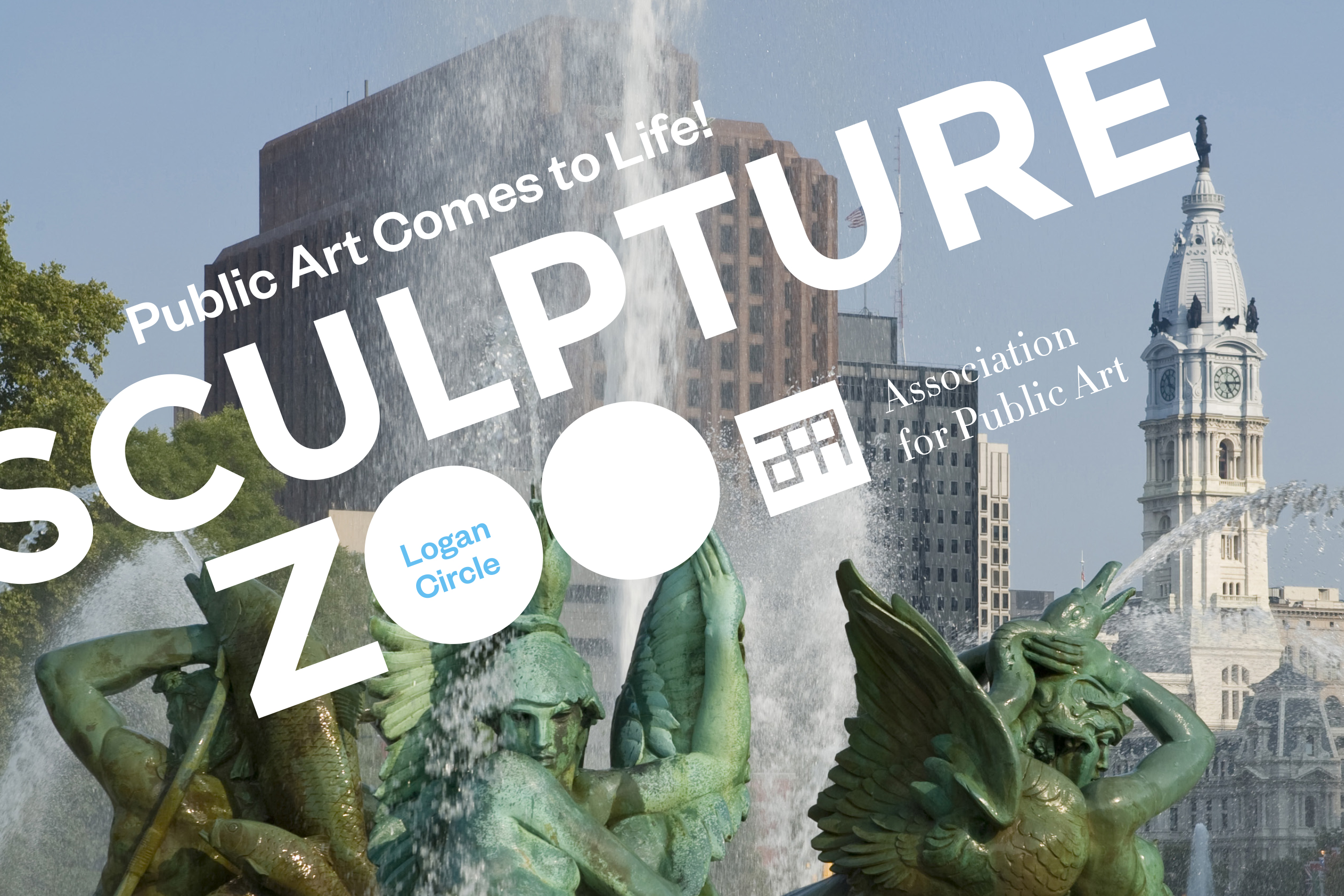 Sculpture Zoo in Logan Circle!
Saturday, June 22nd | 11am-2pm
Join the Association for Public Art for a day of FREE, fun-filled activities that will enliven Swann Memorial Fountain. Bring friends and family for live animals, sculpture-making workshops and demonstrations, and free ice cream from Culture Republick!

LIVE ANIMALS
Inspired by the sculptures in the fountain, see LIVE TURTLES, TOADS, AND DUCKS from The Academy of Natural Sciences, The Schuylkill Center for Environmental Education, and Cloverland Farms.
SCULPTURE-MAKING WORKSHOPS
Stop by a tent for artist-led sculpture-making activities related to the fountain sculptures and live animals. Take home a free public art goodie bag with your sculpture creation!
SCULPTURE DEMONSTRATIONS
Witness the unique sculpture-making process through demonstrations led by Philadelphia artists. Sculptors will share their techniques as they work directly from life.
TAKE AN AUDIO TOUR
Take a Museum Without Walls™: AUDIO tour with your smartphone to hear the untold stories behind the outdoor sculptures in and around Logan Circle.
FREE ICE CREAM 
Cool off with free samples of Culture Republick ice cream, including pistachio & salted caramel, chocolate & cherry, milk & honey, and cold brew & chocolate chip.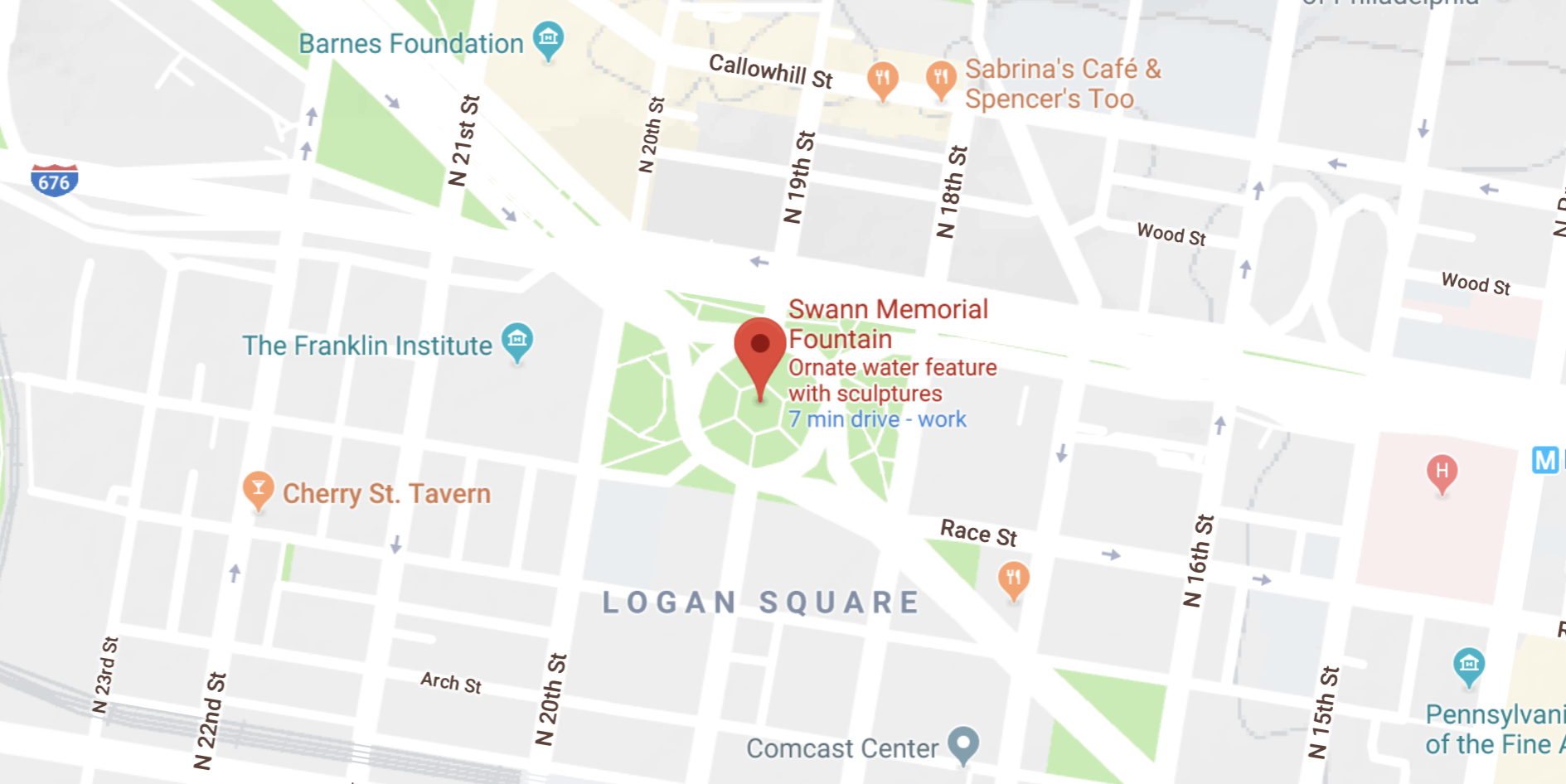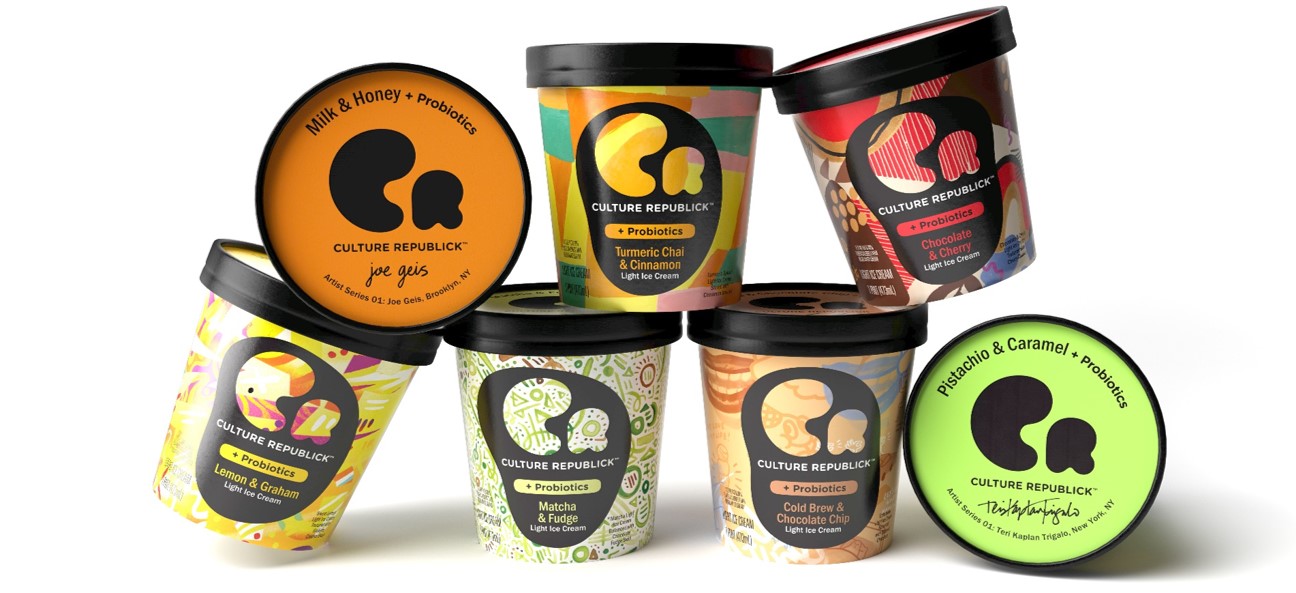 Swann Memorial Fountain (1924)
by Alexander Stirling Calder
Surrounded by the swirling auto traffic of the Parkway, three bronze Native Americans recline among soaring jets of water. Swann Memorial Fountain was created as a memorial to Dr. Wilson Cary Swann, the founder and president of the Philadelphia Fountain Society, which provided sources of fresh drinking water throughout the city. The three Native American figures represent Philadelphia's three main waterways: the Delaware and Schuylkill Rivers, and Wissahickon Creek.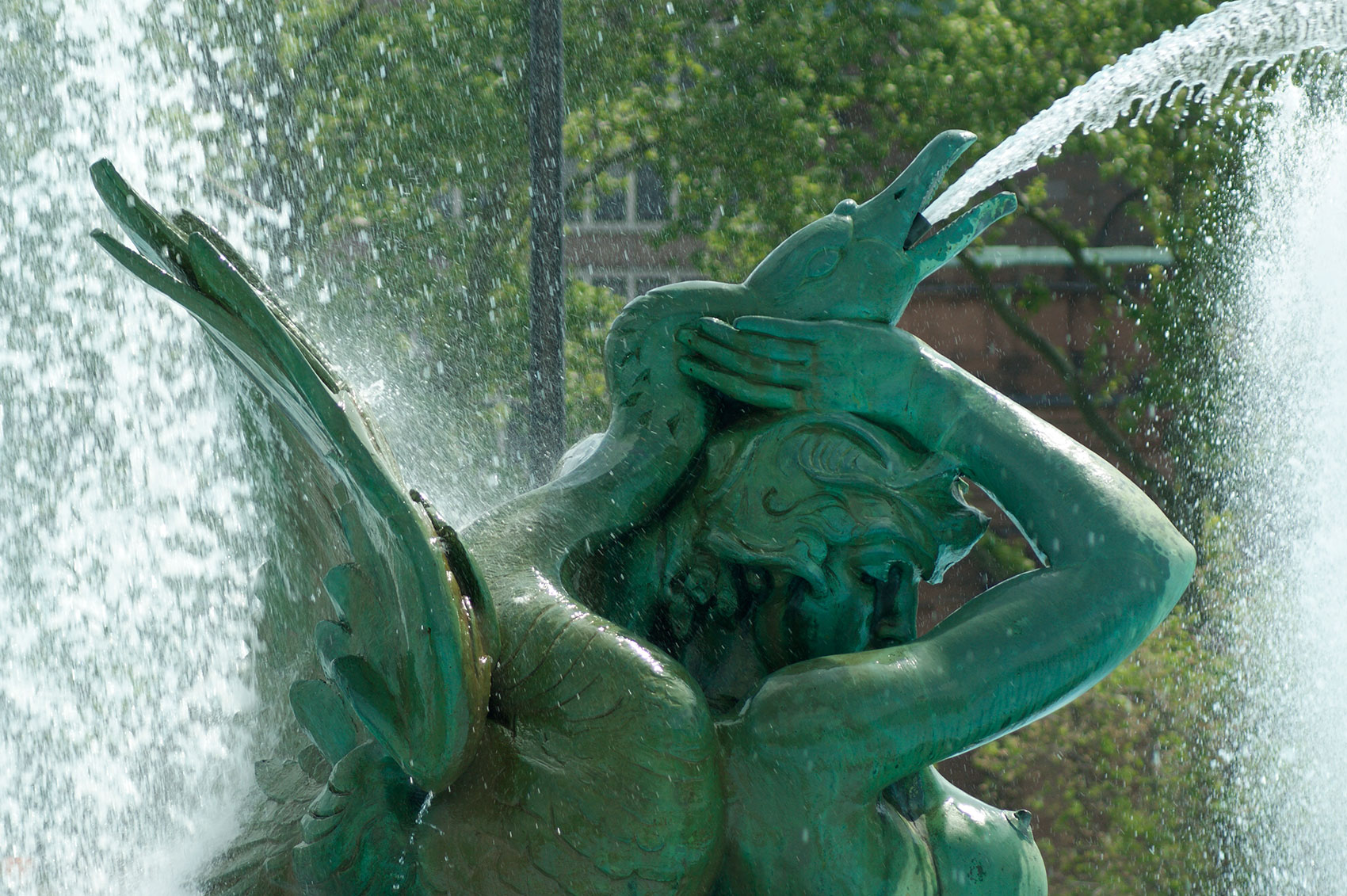 The fountain was designed by architect Wilson Eyre, Jr., who collaborated with sculptor Alexander Stirling Calder. Calder titled his sculptural ensemble The Fountain of Three Rivers and adapted the time-honored allegorical motif of a reclining nude river god to the region's geography and Native American history. Alexander Stirling Calder – the second of three generations of the famed family of sculptors – is also the artist behind the Shakespeare Memorial across the street, as well as the Sundial in Fairmount Park and the Calder Statues at the Presbyterian Historical Society.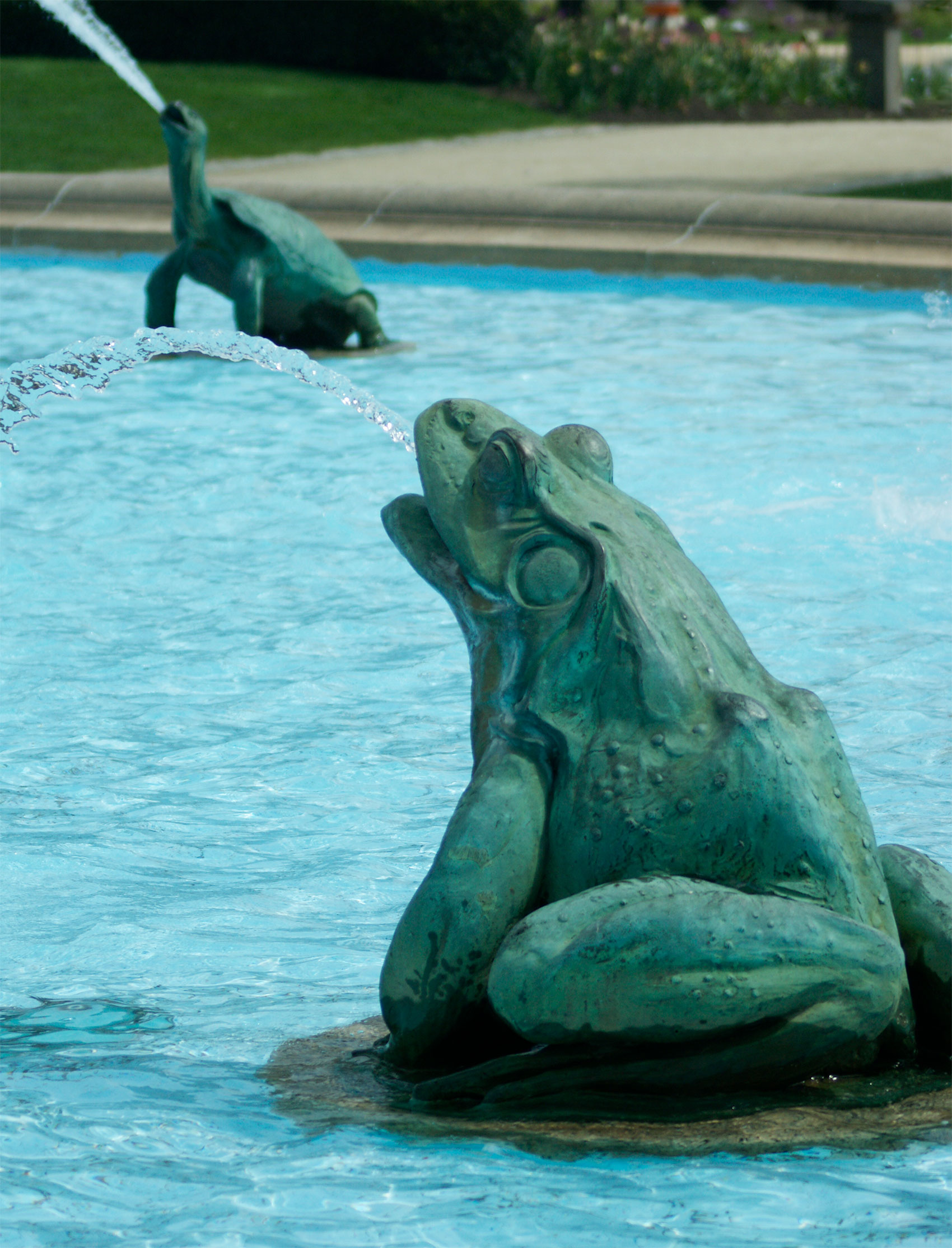 The Wissahickon is represented by a Native American girl leaning modestly on her side against an agitated, water-spouting swan. There is a subordinate classical reference here – the story of Leda and the Swan – but the motif also resulted from Calder's inability to resist a pun on Dr. Swann's name. For the Schuylkill, a larger stream, Calder created the figure of a mature woman holding the neck of another swan. The largest river, the Delaware, became a powerful male – evidently a member of the Lenni Lenape or Delaware tribe – who reaches above his head to grasp his bow as a leaping fish sprays water over him. To shoot water toward these figures from the surrounding basin, Calder added bronze frogs and turtles. Overall, his energetic animals – especially the ruffled, rather distempered swans – contrast with the calm human figures.
For the fountain's center Eyre designed a geyser that shot 50 feet into the air, and he staggered or interlaced the other jets and sprays for maximum visual effect. Fittingly, the fountain opened to the public on a hot July day in 1924 to the music of the police band, and ten thousand people danced the tango in the surrounding streets.

Voices heard:
 Phoebe Adams is an artist recognized for her cast sculptural forms. Bob Milewski is the Fairmount Park Foreman who oversees fountain maintenance.
 Robert Linck is a member of the Philadelphia Fountain Society. 

Segment Producer: Kara Oehler
Museum Without Walls™: AUDIO is the Association for Public Art's award-winning audio program for Philadelphia's outdoor sculptures.
"We are thrilled to partner with the Association for Public Art to bring sculpture to life at Swann Memorial Fountain. At Culture Republick, our mission is to spread culture inside, through the probiotic cultures in our ice cream, and out, through supporting great partners like aPA who are instrumental in promoting the 'arts culture' in Philadelphia." –Matthew Decker, Culture Republick Co-founder

About Culture Republick
Culture Republick is an ice cream brand that loves culture. Through a variety of probiotic, light ice cream and frozen non-dairy desserts, we use our brand to promote culture. All of our packaging is designed by emerging artists, and 10% of our profits support local arts organizations. Enjoy a scoop of culture while supporting culture. www.culturerepublick.com
About Philadelphia Parks & Recreation
Philadelphia Parks & Recreation connects the city's residents to the natural world, to each other, and to fun physical and social opportunities. We manage historically significant Philadelphia events and special venues, and we work with communities and organizations, leading capital projects and introducing creative programming. www.phila.gov/parksandrecreation
About the Office of Arts, Culture and the Creative Economy
The Office of Arts, Culture and The Creative Economy (OACCE) supports Philadelphia's arts, culture and the creative industries through partnership, promotion, and education. OACCE partners with for-profit and nonprofit organizations and City offices and agencies to ensure culture and creativity are essential components of the City's strategies for revitalizing and engaging communities, improving educational outcomes, and spurring economic development; promotes quality resources and programming in the city's neighborhoods; and closes the gap in access to quality arts experiences.