Philadelphia has one of the largest collections of outdoor sculpture of any American city, but many residents and visitors take this cultural resource for granted or it goes unnoticed. Because public art is accessible for free and on the street, it does not have any of the perceived barriers of museums or theaters – making it an ideal cultural gateway experience.
The aPA integrates public art and urban design through exemplary programs and advocacy efforts that connect people with public art.
The Association for Public Art (aPA) promotes Philadelphia's extraordinary collection of public art through its free public programs, events, social media channels, and other online tools, inviting Philadelphians and visitors to discover the city's outdoor sculptures. The aPA integrates public art and urban design through exemplary programs and advocacy efforts that connect people with public art.
Explore the tabs on this page to learn more about how the aPA promotes public art in Philadelphia.
Below are some of the Association for Public Art's (aPA) recent programs. See a full list of programs here.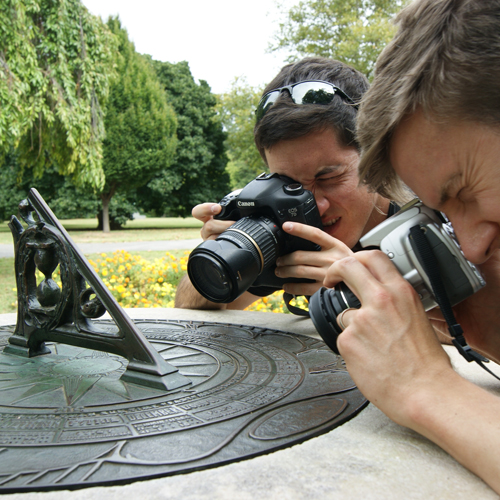 For September 2016, the Association for Public Art (aPA) presented Public Art in Focus, a month-long series of photography workshops led by Philadelphia-based photographers. Workshops for participants at all levels were held near sculptures along the Benjamin Franklin Parkway, Kelly Drive, Center City, and Fairmount Park. The "focus" of the workshops was Night, Macro, Composition, and Phone Photography. The series was supported by Apartment Investment and Management Company (Aimco).

In 2015, the Association for Public Art (aPA) with support from Apartment Investment and Management Company (Aimco) and in partnership with Philadelphia Parks and Recreation presented Sculpture Zoo in Rittenhouse Square, a free family-friendly event with live animal sculpture-making workshops and other fun activities that enlivened the Square's outdoor sculptures.

A program of the Association for Public Art (aPA), Sculpture Saturdays Presented by PNC Arts Alive was a series of weekly Saturdays during fall 2010 and 2011 that offered free hands-on public art programming for all ages, including artist-led sculpture workshops for kids, self-guided Museum Without Walls™: AUDIO iPod tours, Outdoor Sculpture Fun Guides for kids, a mobile docent squad of "Public Art Ambassadors," live music performances and more.

In April 2012, the Association for Public Art (aPA) presented Site Seeing: Rediscover Public Art this Spring!, a month-long celebration of public art that invited Philadelphians and visitors to rediscover the city's outdoor sculpture. This series of four free programs engaged city residents and tourists with public art in new and unexpected ways: An Evening of Tango at the Swann Memorial Fountain; Public Art Pathway; Sculpture Flashlight Mob; and Public Art Bike Tours.
Each spring, the Association for Public Art (aPA) hosts an Annual Meeting that is free to anyone who would like to attend. The evening includes a special presentation featuring a guest speaker (see past speakers below), a report of aPA's annual activities and a reception to follow. This event is free thanks to our membership support. Learn how to become a member.

Past Speakers:
2023
Maren Hassinger, Artist
Steel Bodies Opening Reception and Annual Meeting
2022
Penny Balkin Bach, Executive Director & Chief Curator,
Association for Public Art
"Marking 150 Years of Public Art in Philadelphia"
2021
Dr. Arie Hartog, Director, Gerhard Marcks Haus
and Penny Balkin Bach, Executive Director, Association for Public Art
"Degenerate Art? Gerhard Marcks: from the Bauhaus and Nazi Germany to Philadelphia"
2019
Peter Murray CBE, Founder & Executive Director, Yorkshire Sculpture Park
"Natural Affinities: Art and Landscape"
2018
Barbara Haskell, Curator, Whitney Museum of American Art 
"Robert Indiana: Beyond LOVE"
2017
Martin Puryear, Artist 
Recipient of the Association for Public Art's Medal of Honor
2016
Marc Pally, Artist & Curator
"Adventures in Public ART: The Fleeting, the Eternal and the Bold"
2015
Roxy Paine, Artist
"Roxy Paine in conversation with Tom Eccles"
2014
Jody Pinto, Artist
"Public Art, Public Theater"
2013
Rafael Ferrer, Artist
"Nothing…is what it is."
2012
Jonathan Lippincott, Author
"Large Scale: Fabricating Sculpture in the 1960s and 1970s"
2011
Janet Echelman, Sculptor
"Shaping Public Space"
2010
Rafael Lozano-Hemmer, New Media Artist
"Platforms for Participation"
2009
Jill Manton Director of Public Art, San Francisco Art Commission Former Chair, Public Art Network Council, Americans for the Arts
"Site-Specific: Excellence in Public Art"
2008
Edward K. Uhlir, FAIA Executive Director, Millennium Park, Inc.
"Millennium Park – Redefining a City through Public Art"
2007
Mark di Suvero, Artist
"Dedication of Iroquois"
2006
James Turrell, Artist
"To Work in the Light"
2005
Bonnie Burnham, Director, World Monuments Fund
"MONUMENTS: Why they matter and how to save them"
2004
Penny Balkin Bach, Executive Director, Fairmount Park Art Association
2003
Siah Armajani, Artist
"Talk"
2002
Alexander S.C. Rower, Director, Calder Foundation
"Alexander Calder and his Family's Legacy"
2001
Claes Oldenburg and Coosje van Bruggen, Artists
"The Spirit of the Monument"
2000
Joseph Sax, Attorney and author
"Owning Great Art: Right and Responsibility"
1999
Ellen Dissanayake, Bioanthropologist and author
"Why the Arts Are Necessary"
1998
Lucy Lippard, Author and activist
"On the Beaten Path: Tourism, Public Art, and Place"
1997
Dolores Hayden, Architect, historian, and author
"The Power of Place: Urban Landscapes as Public History"
1996
Christo and Jeanne-Claude, Artists
"Wrapped Reichstag, Berlin 1971–95, and Works in Progress"
1995
Sandra Percival, Director of the Public Art Development Trust in London
"A View from Europe: Influencing the City Through Public Art"
1994
William Morrish and Catherine Brown, Planners
"The Public Arts: Infrastructure for the New Social Covenant"
1993
Diane Shamash, Former Public Art Manager, Seattle Arts Commission
"Public Art in Seattle: Early Projects and Recent Developments"
1992
Mary Jane Jacob, Independent curator
"A New Public Art for American Cities"
1991
Nancy Rosen, Independent curator and public art advisor
"From Battery Park City to Walt Disney Dream"
1990
Albert Elsen, Art historian and Rodin scholar
"Art in Public Spaces: Daring to Dream"
Public Art Ambassadors are volunteer students, artists, and arts professionals that assist the Association for Public Art (aPA) in realizing projects and programs. Our Ambassadors serve as a "mobile docent squad" for aPA programs and events, offering information to the public about nearby artworks, promoting new projects, helping with art workshops, and more.
If you are interested in becoming an Art Ambassador, please contact us by emailing apa@associationforpublicart.org or calling 215-546-7550.