The Board of Trustees of the Fairmount Park Art Association
invites you to join us for our 140th Annual Meeting
at the Philadelphia Museum of Art
with guest speaker, Jonathan Lippincott
Lippincott will be discussing and signing his book, Large Scale: Fabricating Sculpture in the 1960s and 1970s.
Register for the Annual Meeting
140th Annual Meeting: Monday, May 7, 2012 5:00 PM
Reception to follow, Books will be available for purchase
Location: Van Pelt Auditorium, Philadelphia Museum of Art, 26th and the Parkway
Questions? Call 215-546-7550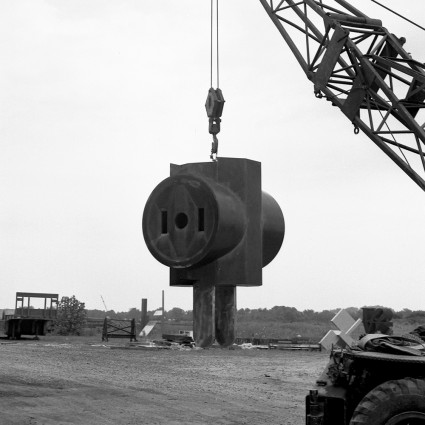 Jonathan Lippincott, author of Large Scale: Fabricating Sculpture in the 1960s and 1970s, will discuss the ground-breaking artists and sculptures made at Lippincott, Inc. in North Haven, CT. Founded in 1966 by his father Donald Lippincott and Roxanne Everett, this was the first fabrication studio dedicated exclusively to making large scale sculpture.
The 1960s and 70s were an immensely important and prolific time for modern sculpture. Many works in Philadelphia were created there, including Claes Oldenburg's Clothespin, Louise Nevelson's Atmosphere and Environment XII, Robert Indiana's LOVE, and others. He will present photographs drawn from the company's massive archive that shows the artists with welders and crew during the fabrication and installation processes.
Lippincott was born the year after the first sculptures were made at the studio, and he grew up watching the work take place there. He studied studio art and art history at Swarthmore College and is currently the design manager at Farrar, Straus and Giroux publishing in New York.