…only twelve medals have been awarded since the first was given in 1936, with recipients including Isamu Noguchi, Claes Oldenburg and Coosje van Bruggen, and Mark di Suvero.
It doesn't happen very often, but when it does, it's something special. For decades, the Association for Public Art (aPA, formerly Fairmount Park Art Association) has awarded its historic Medal of Honor to those who have made outstanding achievements in the fields of art and civic design through notable public service, including distinguished artists, design professionals, and arts patrons. As of 2017, only twelve medals have been awarded since the first was given in 1936, with recipients including Isamu Noguchi, Claes Oldenburg and Coosje van Bruggen, and Mark di Suvero. The Medal of Honor is almost always given at aPA's Annual Meeting, a yearly event in Philadelphia that, since 1872, has brought together curators, collectors, artists, architects, planners, civic leaders, and enthusiasts who share an interest in public art and urban design. (Learn more about aPA's history and mission here.)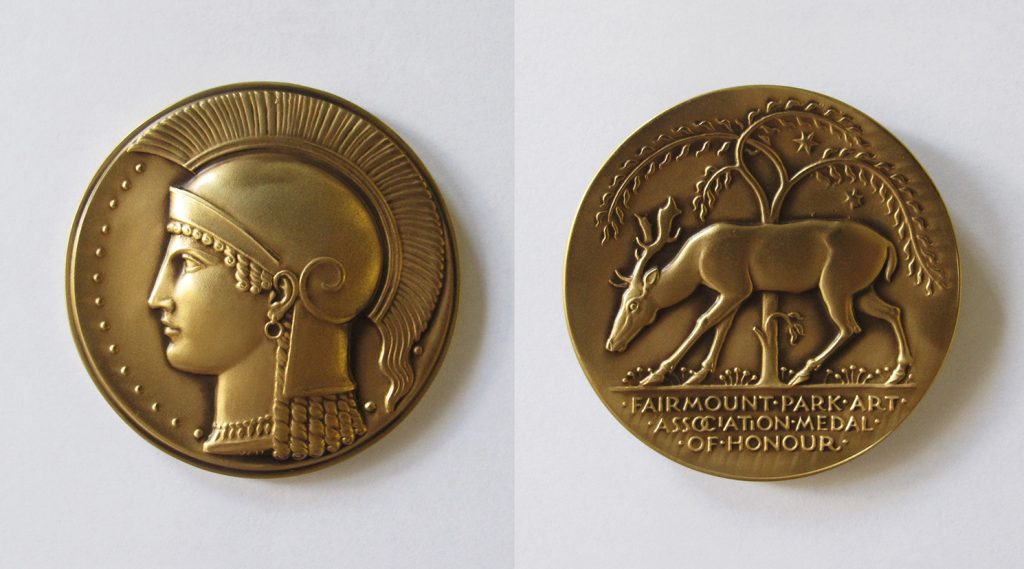 The medal itself – a palm-sized round bronze – is a noteworthy piece. It was designed in 1926 by sculptor Walker Kirtland Hancock, who many know as the artist behind the Pennsylvania Railroad Memorial – the towering sculpture of Archangel Michael lifting a lifeless soldier in his arms at Philadelphia's 30th Street Station. Other works by Hancock in Philadelphia include Air (1982) along the Schuylkill River Trail and John Paul Jones (1957) in the William M. Reilly Memorial. On the back of the Medal of Honor is aPA's former name, the Fairmount Park Art Association, which was changed to the Association for Public Art in 2012.
Medal of Honor Recipients (Updated)
   2022 – Penny Balkin Bach   |   2017 – Martin Puryear   |   2011 – David Pincus  |   2007 – Mark Di Suvero   |   2001 – Claes Oldenburg and Coosje Van Bruggen   |   1984 – Isamu Noguchi   |   1976 – Edmund N. Bacon   |   1972 – Lord Clark of Saltwood (Sir Kenneth Clark)   |   1962 – Jacques Gréber   |   1953 – Lewis Mumford   |   1951 – The Earl of Crawford and Balcarres   |   1941 – Frances Henry Taylor   |   1938 – Robert Moses   |   1936 – Frederick Adrian Delano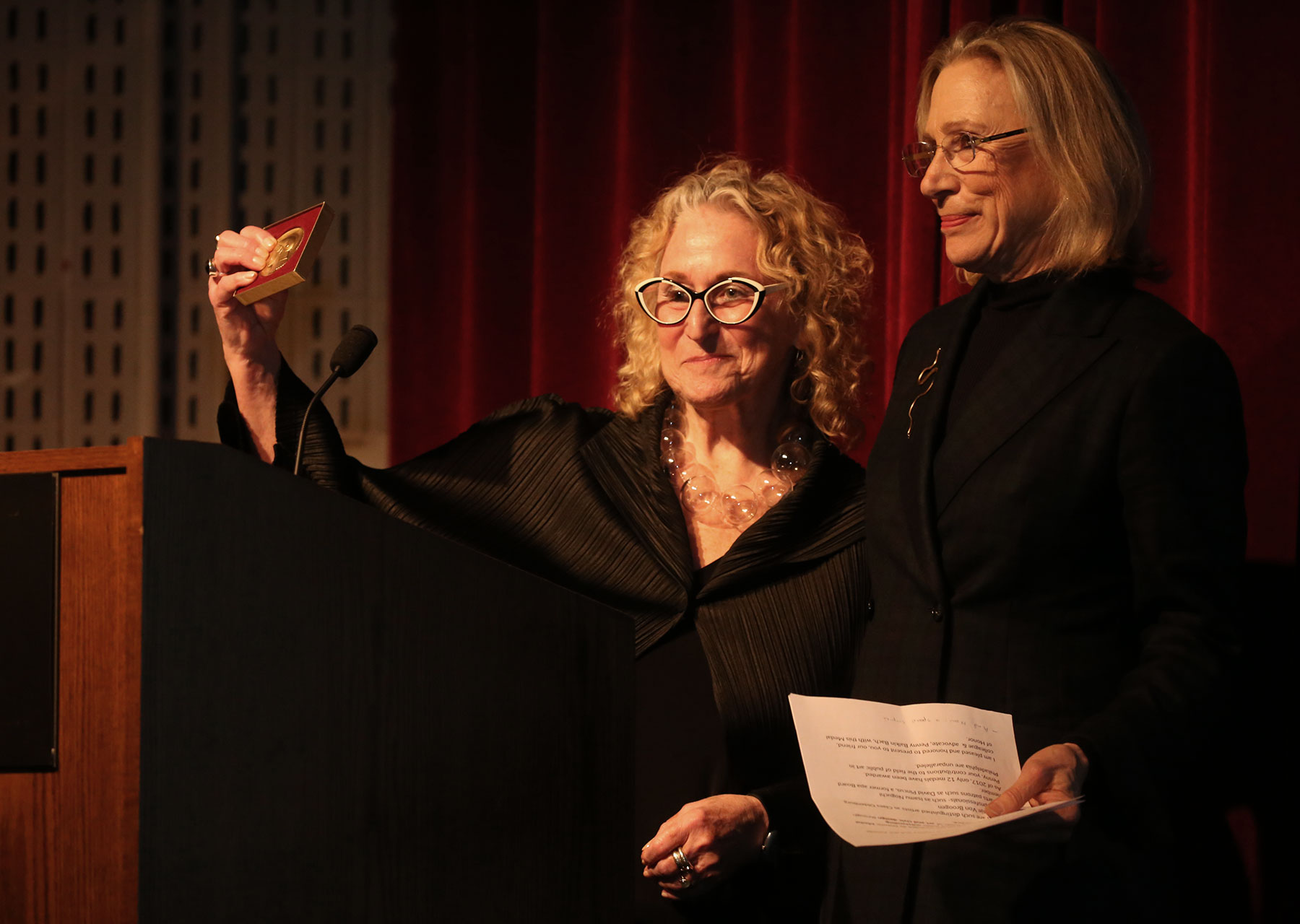 PENNY BALKIN BACH (2022)
Penny Balkin Bach was the Executive Director of the Association for Public Art for over 40 years. A curator, writer, and educator who provided artistic direction for the organization, she is well known for her work with artists and for her innovative approaches to connecting public art with its audiences. She is the author of the landmark book Public Art in Philadelphia, and has written and lectured extensively about public art and the environment. Bach has been a participant on numerous local, national, and international public art juries and conservation advisory committees, including the Public Art Network (PAN) Council, an advisory body to the Americans for the Arts.

MARTIN PURYEAR (2017)
Martin Puryear is an internationally renowned American artist known for creating sculpture that combines modernist abstraction with the traditions of crafts and woodworking. In Philadelphia, his Pavilion in the Trees continues to be a favorite destination to relax and contemplate nature, and Big Bling, his largest public work to date, was on view in Philadelphia as a temporary installation in 2017.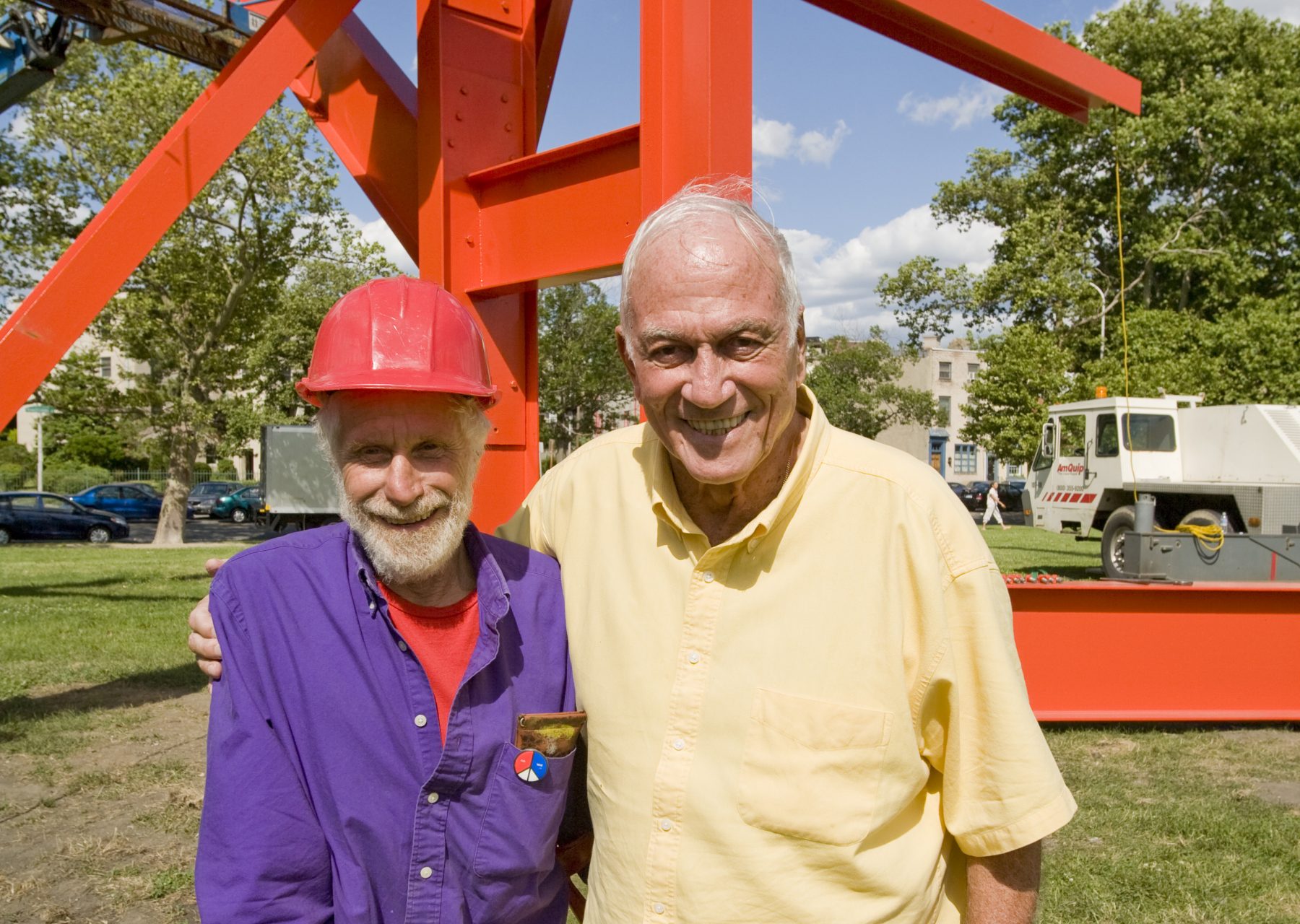 DAVID PINCUS (2011)
David Pincus (1926-2011) was an art patron, humanitarian, philanthropist, and Trustee of aPA for 40 years. He gifted Mark di Suvero's Iroquois and Barbara Hepworth's Rock Form (Porthcurno) to aPA, and Claus Oldenburg's Giant Three-Way Plug to the Philadelphia Museum of Art. He was awarded the Medal of Honor in celebration of his extraordinary contributions to the public environment of Philadelphia.

MARK DI SUVERO (2007)
Mark Di Suvero is considered one of the foremost abstract sculptors living and working today. An innovator in the use of industrial materials, he describes his monumental sculptures as "paintings in three dimensions with the crane as my paintbrush." The aPA installed his Iroquois sculpture in Philadelphia in 2007. When di Suvero was awarded his medal, he spoke to the crowd about art and politics and urged them to celebrate beauty and speak out against abuses of power.

CLAES OLDENBURG AND COOSJE VAN BRUGGEN (2001)
Claes Oldenburg (1929-2022) and Coosje van Bruggen (1942-2009) worked together in partnership on large-scale projects beginning in 1976, executing sculptures in architectural scale in Europe, Asia, and the United States. The medal honored their central role in the advancement of public art, as well as the 25th anniversary of their creative partnership and Clothespin. "Your sculptures enlarge and reinterpret objects of everyday life and have redefined our notions of the monumental," said Anne D'Harnoncourt presenting the honor, who was then Director and CEO of the Philadelphia Museum of Art. "Through your collaboration, you add layers of meaning and metaphor to our cityscapes, and you challenge us to reconsider our assumptions and preconceptions."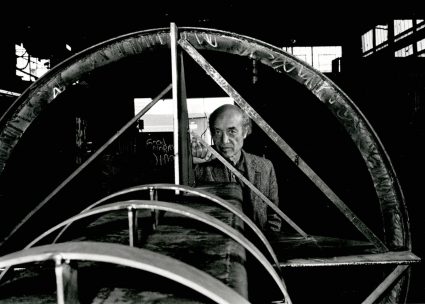 ISAMU NOGUCHI (1984)
One of the 20th century's most eminent artists, Isamu Noguchi (1904-1988) was a Japanese American sculptor, designer, architect, and craftsman who created gardens, fountains, sculptures, and other public works for cities around the world. His work is often seen as a merging of Eastern and Western ideas. At the dedication of his Bolt of Lightning sculpture in Philadelphia – an aPA project – he was awarded the Medal of Honor in recognition of his lifelong achievement and commitment to public art.

EDMUND N. BACON (1976)
A native Philadelphian and the father of actor Kevin Bacon, Edmund N. Bacon (1910-2005) was the famous urban planner responsible for many of Philadelphia's redevelopment projects in the mid-20th century, including Penn Center, Penn's Landing, and Society Hill. "I can tell you that this is a very beautiful medal," said Bacon. "I am very, very moved by this moment, and I must confess that I face it with considerable humility."

LORD CLARK OF SALTWOOD (1972)
Lord Clark of Saltwood (Sir Kenneth Clark, 1903-1983) was an English art historian, museum director, and broadcaster. He was the producer and host of the acclaimed "Civilisation" television series (1969), which explored the history of Western art and architecture. aPA President C. Clark Zantzinger presented the Medal of Honor: "You have added luster to your many distinguished attainments by bringing to countless people a new awareness and knowledge of the value of Art in all its manifestations by the brilliant use of an entirely contemporary medium."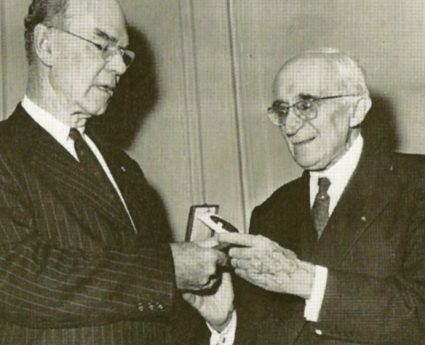 JACQUES GRÉBER (1962)
Jacques Gréber (1882-1962) was the famous French landscape architect and city planner who largely designed Philadelphia's Benjamin Franklin Parkway. He is perhaps best known as being the chief architect and planner for the World Exposition of 1937 in Paris. He was awarded the Medal of Honor for his "great distinction as an architect and city planner, and because it was his design that was followed in the construction of the Parkway."

LEWIS MUMFORD (1953)
An author, humanitarian, and social critic, Lewis Mumford (1895-1990) lectured and wrote extensively about cities and urban architecture. In Philadelphia, he taught at the School of Fine Arts at the University of Pennsylvania, and in 1986 he was awarded the National Medal of Arts by President Reagan. Upon receiving the Medal of Honor, Mumford said, "Your President has done a very dangerous thing to the speaker: he has almost left him, quite literally, speechless."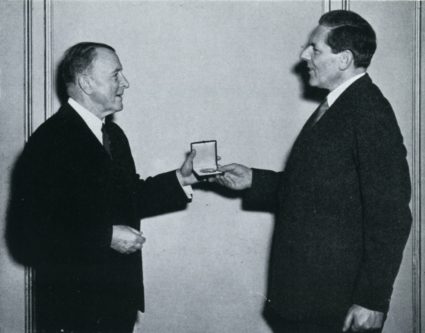 THE EARL OF CRAWFORD AND BALCARRES (1951)
A Trustee of the Tate Museum, British Museum, National Gallery, and National Galleries of Scotland, Lord Crawford (David Robert Alexander Lindsay, 1900-1975) was a British politician and art connoisseur. "Your work in collecting, interpreting, and preserving the great works of art of all ages," said aPA President Sydney Martin as he presented the medal, "has not only been a service to the British people, but to all mankind."

FRANCES HENRY TAYLOR (1941)
Francis Henry Taylor (1903–1957) was a distinguished American curator and museum director who served as Director of the Metropolitan Museum of Art for fifteen years. He was also Director of The Worcester Museum and Curator of the Medieval Department at the Philadelphia Museum of Art.

ROBERT MOSES (1938)
Known as the "master builder" of New York, Robert Moses (1888-1981) was a major and controversial figure in urban planning who shaped the New York metropolitan area more than any other figure in the 20th century. He received the medal for "distinguished and conspicuous achievement in the art of city planning."

FREDERICK ADRIAN DELANO (1936)
The uncle of U.S. President Franklin Delano Roosevelt, Frederick Adrian Delano (1863-1953) was a pioneer in the art of city planning and served as president of the American Planning and Civic Association. He was given the medal in recognition of his "outstanding services to the science and art of city, regional and national planning."