At A Glance
A Civil War commemorative sculpture showing a First Regiment soldier marching in full uniform

Commissioned by the First Regiment for their 50th anniversary celebration in 1911

The work was formally deeded to the Union League in 1962 for the regiment's centennial anniversary
The Spirit of '61 is a Civil War commemorative sculpture showing a First Regiment soldier marching in full uniform, a unique rendering at the time of its execution. A successor to the Gray Reserves, which originated in 1822, the First Regiment was the first to be called to action following the attack on Fort Sumter in 1861.
Commissioned by the First Regiment for their 50th anniversary celebration in 1911, the statue was installed in front of the Union League of Philadelphia on Broad Street, supposedly until an appropriate location could be found in Fairmount Park. A site was never selected, however, and the work was formally deeded to the Union League in 1962 for the regiment's centennial anniversary. The plaque on the sculpture's base reads, "First Regiment Infantry / National Guard of Pennsylvania / Grays Reserves / 1861 – April – 1911."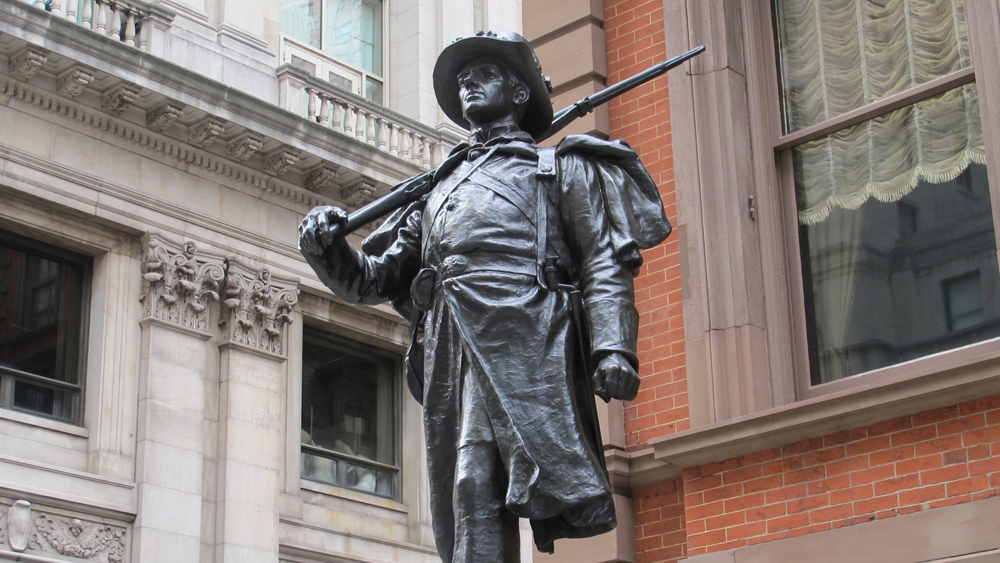 Henry Kirke Bush-Brown was born in Ogdensburg, New York, and studied with his uncle, Henry Bush-Brown, before moving to New York City. There he attended the National Academy of Design and later continued his studies in Florence. Bush-Brown executed a number of equestrian sculptures throughout the United States, including Major General George Gordon Meade (1896) at Gettysburg.
Adapted from Public Art in Philadelphia by Penny Balkin Bach (Temple University Press, Philadelphia, 1992).
RESOURCES