At A Glance
Parking, directions, and public transportation information can be found here. 

Created for a scene in the film "Rocky III"

Presented to the City of Philadelphia by actor Sylvester Stallone in 1982

A fictional boxer, Rocky ended his morning run with an ascent up the Philadelphia Museum of Art steps

Statue is part of the Museum Without Walls™: AUDIO program
For Stallone, Rocky's ascent to the top of the steps is symbolic of Philadelphia, a city where an underdog can become a champion through hard work, determination, and hustle
In the movie Rocky III (1982), a massive statue of Philadelphia fighter Rocky Balboa, arms raised in triumph, is unveiled in the courtyard of the Museum of Art. In real life, actor Sylvester Stallone, the former Philadelphian who acted as the fictional Rocky in a series of films, presented the statue to the City of Philadelphia in 1982. In the movies, the fictional boxer ended his morning run through the streets of Philadelphia with an ascent up the steps of the Philadelphia Museum of Art.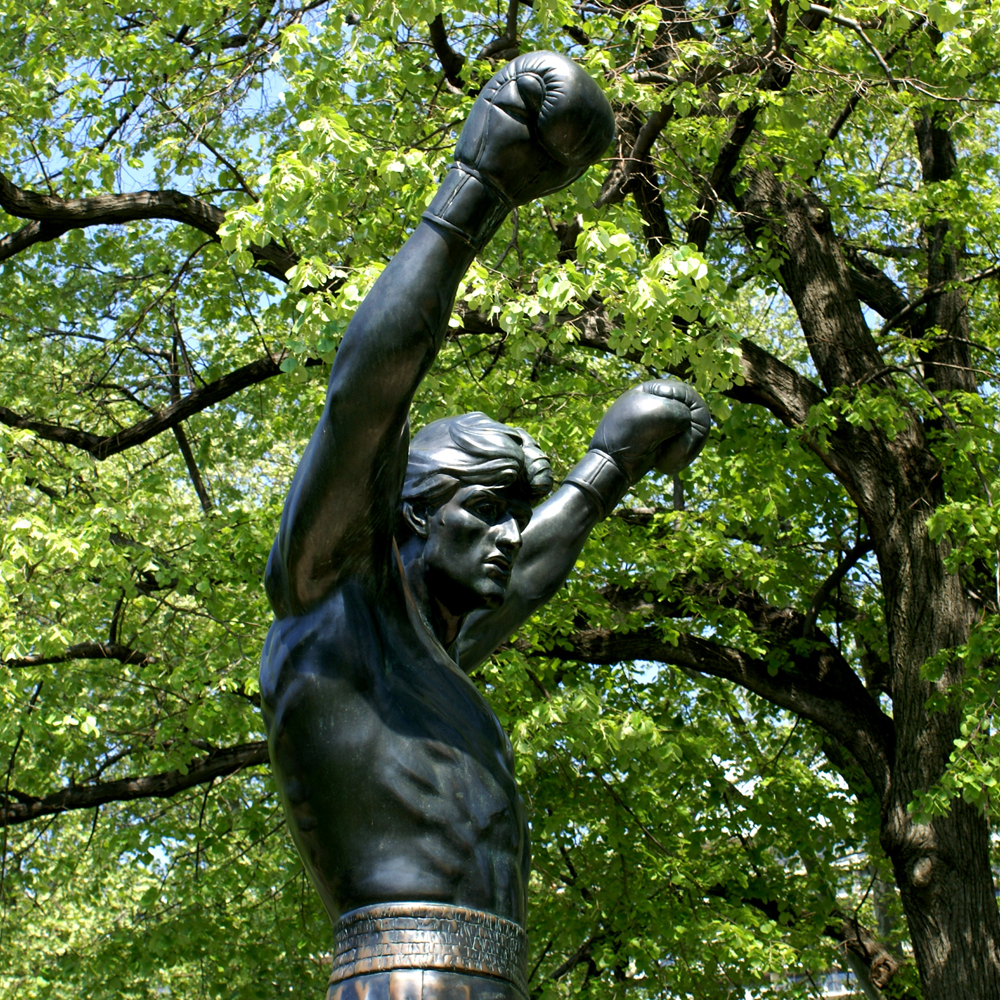 But unlike the people in the film script, the real citizens of Philadelphia argued over the work. As an image of popular culture it was unparalleled; local moviegoers wanted to memorialize Rocky's inspirational climb up the Art Museum steps. Others felt the statue lacked dignity and was essentially a movie prop that did not belong permanently at that location. After prolonged dispute, the city formally accepted the gift, and it was moved to the Spectrum, a sports complex in South Philadelphia.
For Stallone, Rocky's ascent to the top of the steps is symbolic of Philadelphia, a city where an underdog can become a champion through hard work, determination, and hustle.
Rocky the statue is the work of A. Thomas Schomberg, whose sculptures of athletes have been installed at the Astrodome, Superdome, and Yankee Stadium. The controversy was rekindled in 1990, when the film producers relocated the sculpture for the filming of Rocky V, but, in the end, Rocky was returned to the Spectrum. Rocky was ultimately relocated to an area next to the Museum's steps in 2006.
Adapted from Public Art in Philadelphia by Penny Balkin Bach (Temple University Press, Philadelphia, 1992).
RESOURCES:

Voices heard in the program:
James "Jimmy" Binns is a Philadelphia Lawyer and former Pennsylvania Boxing Commissioner.
A. Thomas Schomberg was commissioned to create a statue of Rocky Balboa for the movie "Rocky III."
Segment Producer: Ann Heppermann
Music on Rocky
GONNA FLY NOW and GOING THE DISTANCE
Music Composed and Conducted by Mark Bill Conti
Used through the courtesy of Metro-Goldwyn-Mayer Music, Inc.
A program of the Association for Public Art (formerly the Fairmount Park Art Association), Museum Without Walls™: AUDIO is an innovative and accessible outdoor sculpture audio program for Philadelphia's preeminent collection of public art.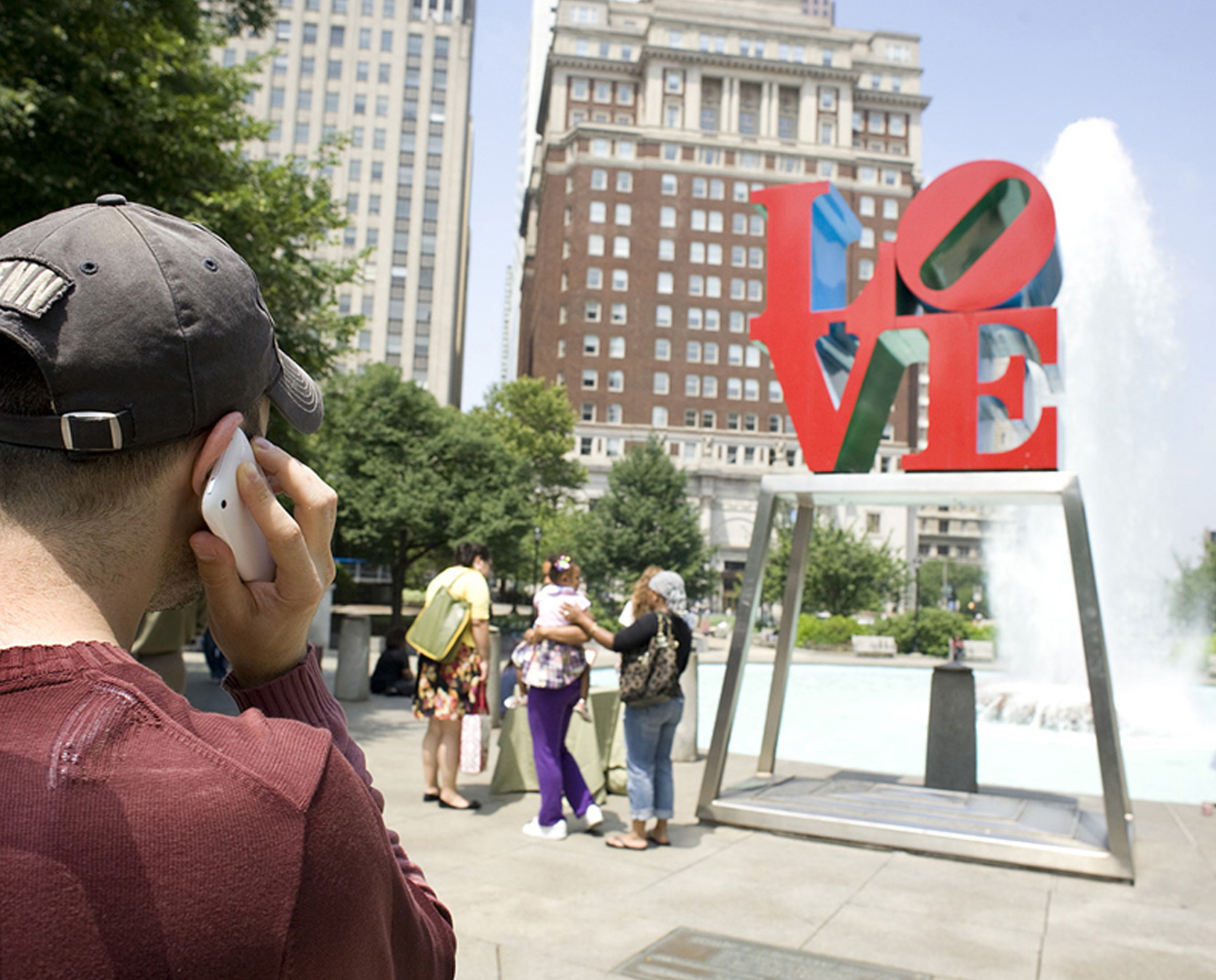 A "multi-platform" interactive audio experience – available for free by cell phone, mobile app, or on our website – Museum Without Walls™: AUDIO offers the unique histories that are not typically expressed on outdoor permanent signage.
Unlike audio tours that have a single authoritative guide or narrator, each speaker featured in Museum Without Walls™: AUDIO is an "authentic voice" – someone who is connected to the sculpture by knowledge, experience, or affiliation.
Over 150 unique voices are featured, including artists, educators, scientists, writers, curators, civic leaders, and historians.
This artwork is part of the Along the Benjamin Franklin Parkway tour, and the Around the Philadelphia Museum of Art tour.