Throughout the month of May, the Association for Public Art's (aPA) outdoor sculpture conservation team provided annual maintenance and specialized treatment for a number of beloved public artworks in Philadelphia. The following is a look at some of the work our conservators did this spring.
Learn more about our conservation program or make a donation to support this important work.
Four limestone sculptures in the Central Terrace of the Ellen Phillips Samuel Memorial on Kelly Drive — The Ploughman, The Slave, The Miner, and The Immigrant — received treatment designed for use on limestone. Our conservation team cleaned the sculptures and applied a special protective surface coating to help protect them from further deterioration.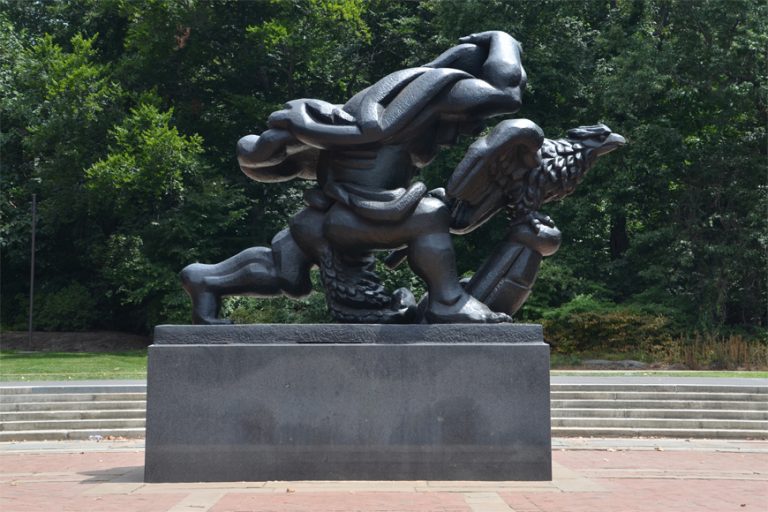 For The Spirit of Enterprise (1950-1960) by Jacques Lipchitz (also in the Central Terrace), our conservators removed deteriorating lead "seating" material from a large gap in-between the bronze sculpture plinth and granite base. They replaced it with silicon caulk and a polyurethane sealant to keep out moisture and improve its appearance.
The treatment helps prevent the corrosion of bronze caused by acid rain.
Albert Wolff's The Lion Fighter (1858) in front of the Philadelphia Museum of Art — as well as approximately 30 bronze sculptures — received a special protective wax coating.  The treatment helps prevent the corrosion of bronze caused by acid rain. The sculptures are first washed to remove surface dirt, and any entrapped dirt from the existing wax is removed with solvents and a cloth. The existing wax is then reconsolidated and a new layer is applied with a natural bristle brush and heat (propane torch). Afterward, the bronze is gently buffed.
Along Kelly Drive, General Ulysses S. Grant (1897) by Daniel Chester French and Edward C. Potter received special treatment for its granite base. Our conservators removed mortar and re-pointed the masonry joints in the upper section, and repaired and replaced the lead "seating" material where the bronze meets the base. The bronze was also washed and a special protective wax coating was applied.
Our conservators cleaned, gently polished, and applied a clear protective surface coating to the four inscribed granite plaques on the base of Abraham Lincoln (1871) by Randolph Rogers (also on Kelly Drive). The inscriptions were eroded and had become illegible.
As our conservators carried out their work, it came to the aPA's attention that Jesus Breaking Bread (1976) by Walter Erlebacher outside of the Cathedral Basilica of Saints Peter and Paul showed signs of corrosion, particularly on the figure's arms. Upon the aPA's recommendation, the Cathedral Basilica engaged our conservation team to treat the artwork. The team worked on the corroded surfaces and significantly improved the sculpture's appearance.