At A Glance
Artist Amy Sherald is best known for her portrait of former first lady Michelle Obama

The mural is a portrait of a North Philly teen, chosen through Mural Art Philadelphia's art education program

Sherald uses her signature grey skin tones, bold clothing patterns, and bright backdrop

The mural is six stories tall – Sherald's largest work to date
Towering six stories high on the back of a Center City Target stands Amy Sherald's Untitled, the artist's largest work to date. The mural is a portrait of a young African American woman, and uses Sherald's signature shades of grey skin tones, bold clothing patterns, and bright backdrop. While the artist is best known for her portrait of former first lady Michelle Obama at the National Portrait Gallery, this mural in Philadelphia is a portrait of a North Philly teen.
Commissioned by the City of Philadelphia Mural Arts Program, the artwork is a product of the organization's art education program. As part of the program, Philadelphia students work with well-known artists like Sherald. Untitled began with these students visiting the artist in her Baltimore studio to better understand her unique artistic practice. After spending a day with her – exploring costumes and taking turns snapping photos – Sherald chose one of the participants, Najee S., as the inspiration for the artwork.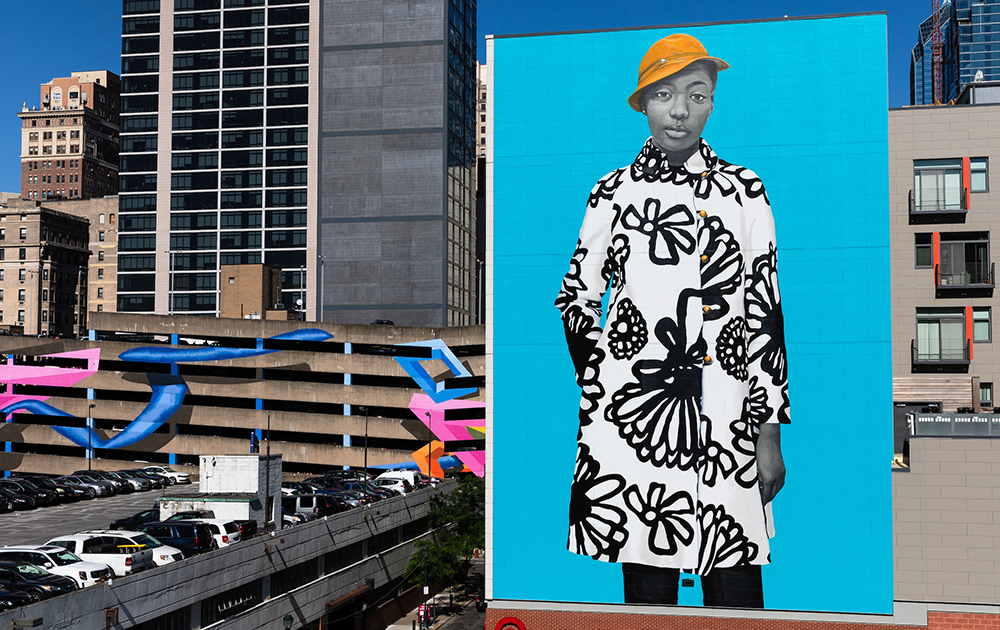 In an interview with Elizabeth Wellington for The Philadelphia Inquirer, Sherald describes the students' visit and how she came to choose Najee: "When I met Najee, she was very quiet and sitting with her head down pretending not to pay attention. When I asked for volunteers to shoot a few fun photos, [Najee] popped up and we started trying on different outfits. After looking at the photos we took, I immediately knew she was the right model for this mural. I saw it as an opportunity to build her self-esteem as well as [that of] the other young girls that look like her."
Sherald was born in Columbus, GA and received her MFA in Painting from Maryland Institute College of Art (MICA) in Baltimore, where she is now based. In 2016, Sherald was the first woman to win the Outwin Boochever Portrait Competition.