At A Glance
Four granite reliefs flanking the two main post office entrances on the 9th Street side

Boldy carved figures symbolize the tireless efforts of postal workers at the geographic extremes of America
Like the neighboring Federal Reserve Bank, Harry Sternfeld's U.S. courthouse and post office building illustrates the federal style of the 1930s. Here, however, the sculpture is more rugged and robust. Flanking the two main post office entrances on the 9th Street side are four granite reliefs by Edmond Amateis, titled Mail Delivery: North, South, East, West.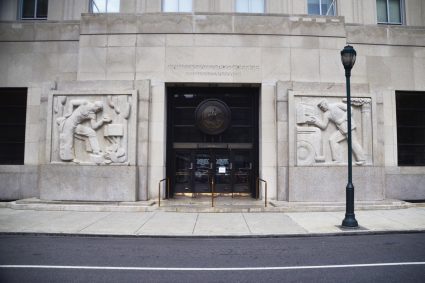 The boldly carved figures symbolize the tireless efforts of postal workers at the geographic extremes of America. An African American at a rural mailbox, surrounded by palm trees, bananas, and a pineapple, represents the South (specifically the Panama Canal Zone, according to Amateis); a parka-clad Alaskan Native with a dog sled stands for the arctic North; a mailman in cowboy attire with a backdrop of desert plants indicates the West; and a postal worker in traditional uniform, with his delivery vehicle parked nearby, symbolizes mail service in the East.
The country's 1929 financial crisis had widespread effects on cultural life, and a number of Federal programs that addressed the depressed economy were directed toward artists. The WPA Federal Art Project was set up for artists already on relief, and the Treasury Department initiated the Treasury Relief Art Program and the Fine Arts Section – which commissioned works for post offices like this one throughout the country.
Adapted from Public Art in Philadelphia by Penny Balkin Bach (Temple University Press, Philadelphia, 1992).