At A Glance
A space traveler ("Starman") has crash-landed face down in the midst of a Center City plaza

The Starman's steel mesh "star trail" contains suspended objects that suggest elements of civilization or nature picked up along the way

The surrounding plaza takes the form of an ancient amphitheater and garden, with columns, classical fragments, vines, and other plantings

Created for the Parkway Development Corporation as part of the Redevelopment Authority's Fine Arts Program
Face down on a hard pedestal, Brower Hatcher's space traveler has crash-landed in the midst of a Center City plaza. Above the 1,500-pound bronze countenance, a 27-foot steel mesh "star trail" stretches away into the sky like the tail of a meteor. Inside the mesh, suspended objects suggest elements of civilization or nature that Starman has picked up along the way: a car, a wagon wheel, snakes, a pineapple, fish, a falling person, geometric shapes, and more.
The plaza surrounding the sculpture takes the form of an ancient amphitheater and garden, with columns, classical fragments, vines, and other plantings, and a mysterious small pyramid. The columns also echo the neoclassical architecture of nearby buildings, especially the Walnut Street Theatre across the street. Surprisingly, Starman's face is serene and classical despite his crash.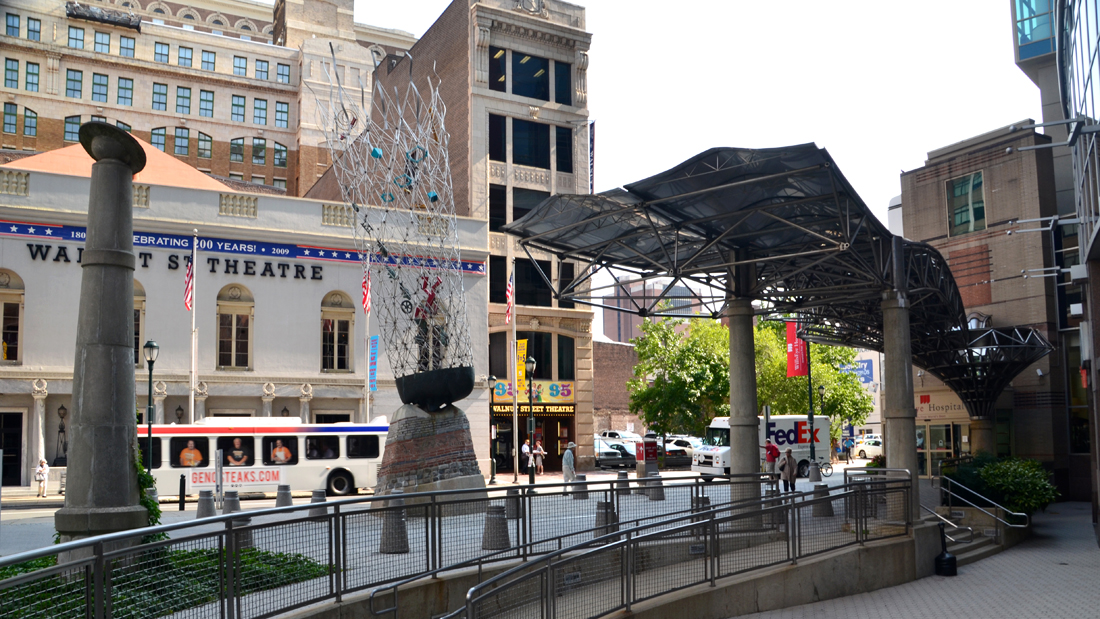 Hatcher created this work for the Parkway Development Corporation as part of the Redevelopment Authority's Percent for Art program. By mixing past, present, and future in a fantastic collision of civilizations, he hoped to entice viewers to reflect on "what we have been, what we are, and what we may become." When construction of the nearby building caused the plaza to be renovated in 2002, the developer engaged the artist to redesign the space and the sculpture within it.
Adapted from Public Art in Philadelphia by Penny Balkin Bach (Temple University Press, Philadelphia, 1992).