At A Glance
Portrays Julius "Dr. J." Erving with arm outstretched, holding a basketball in the midst of a layup or slam-dunk

The Philadelphia 76ers engaged Senter Vitale Associates to choose sculptor and head fundraising efforts

Artist Barney Bright measured and photographed Erving to ensure that the sculpture was true to life

Relocated due to the demolition of the Spectrum
A private gift of Converse, Inc., Prism, and individual donors, "Dr. J." was originally installed in 1989 in front of the Spectrum. The statue portrays Julius "Dr. J." Erving in a familiar pose with arm outstretched, holding a basketball in the midst of a layup or slam-dunk.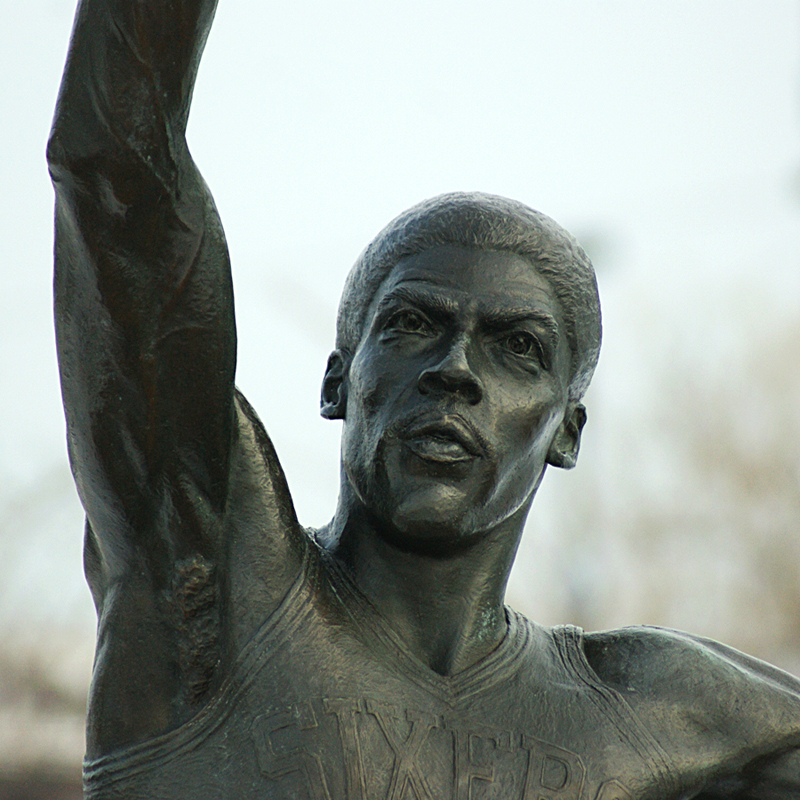 Senter Vitale Associates, a North Carolina firm, was engaged by the Philadelphia 76ers to select a sculptor and to head fundraising efforts for the project. Sculptor Barney Bright of Louisville, KY was selected for the commission. To ensure that the sculpture was true to life, Erving was measured and photographed, and Bright translated this information into clay and ultimately it was cast in bronze.
In 2010, the statue was relocated to make way for the demolition of the Spectrum. The artwork, along with other works removed for the demolition, was reinstalled in 2012 on a path outside of Xfinity Live! in South Philadelphia.
RESOURCES: