At A Glance
Please note that zoo admission (fee) is required to view this sculpture

Commissioned for the Philadelphia Zoo by the Association for Public Art

The first major commission for local sculptor Joseph Greenberg

Greenberg helped persuade local officials to establish the city's landmark percent-for-art program
More approachable than the average bruin, and even more durable, the mother bear and her cub were commissioned for the Philadelphia Zoo by the Fairmount Park Art Association (now the Association for Public Art). These supple forms in black granite represented the first major commission for local sculptor Joseph Greenberg.
Born in Philadelphia, Greenberg studied at Temple University's Tyler School of Art with Raphael Sabatini. After a stay in Italy in the early 1950s, he returned to Philadelphia, where he began to experiment with works in fiberglass and reinforced plastic.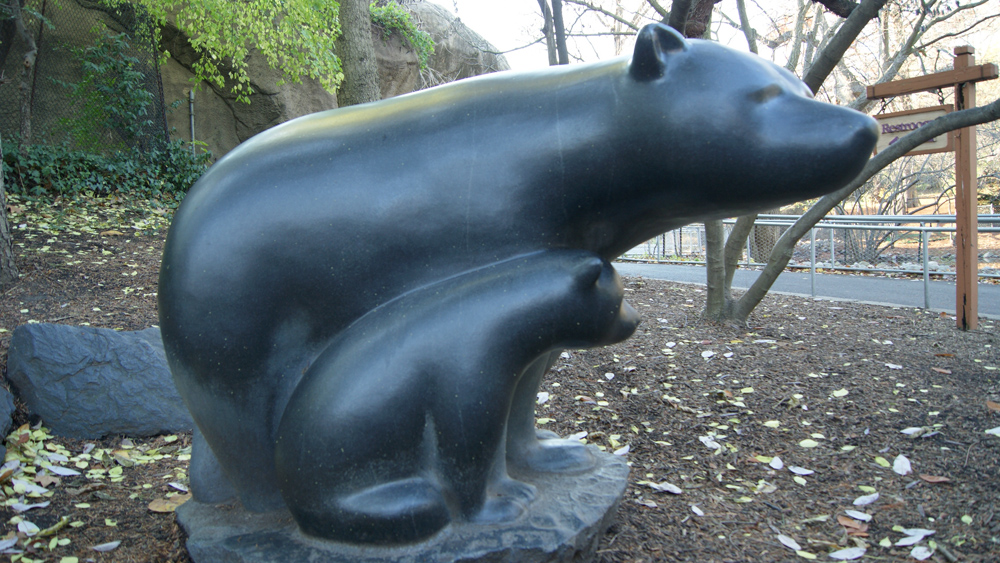 As Bear and Cub attests, Greenberg was equally skilled in more traditional media. He also created a limestone gorilla, chimpanzee, and orangutan for the Zoo, and his sculptures appear in schools, recreation centers, and other public and private sites throughout Philadelphia. He helped persuade local officials to establish the city's landmark percent-for-art program.
Adapted from Public Art in Philadelphia by Penny Balkin Bach (Temple University Press, Philadelphia, 1992).
RESOURCES