At A Glance
Philadelphia financier and philanthropist Anthony Drexel founded Drexel University and served as first president of the Fairmount Park Art Association (now the Association for Public Art)

Drexel's former business partner commissioned this memorial for placement in Fairmount Park

The Art Commission approved its relocation to Drexel's campus as an indefinite loan to the University

Sir Moses Jacob Ezekiel created commemorative works for patrons worldwide and was knighted by three monarchs
Anthony J. Drexel (1826-1893) was a powerful Philadelphia financier and philanthropist. He is the founder of Drexel University and served as the first president of the Fairmount Park Art Association (now the Association for Public Art). In 1902, Drexel's former business partner, John Henry Harjes, commissioned artist Sir Moses Jacob Ezekiel to execute a memorial in his honor. The sculpture was offered to the former Fairmount Park Commission through the Fairmount Park Art Association for placement in Fairmount Park.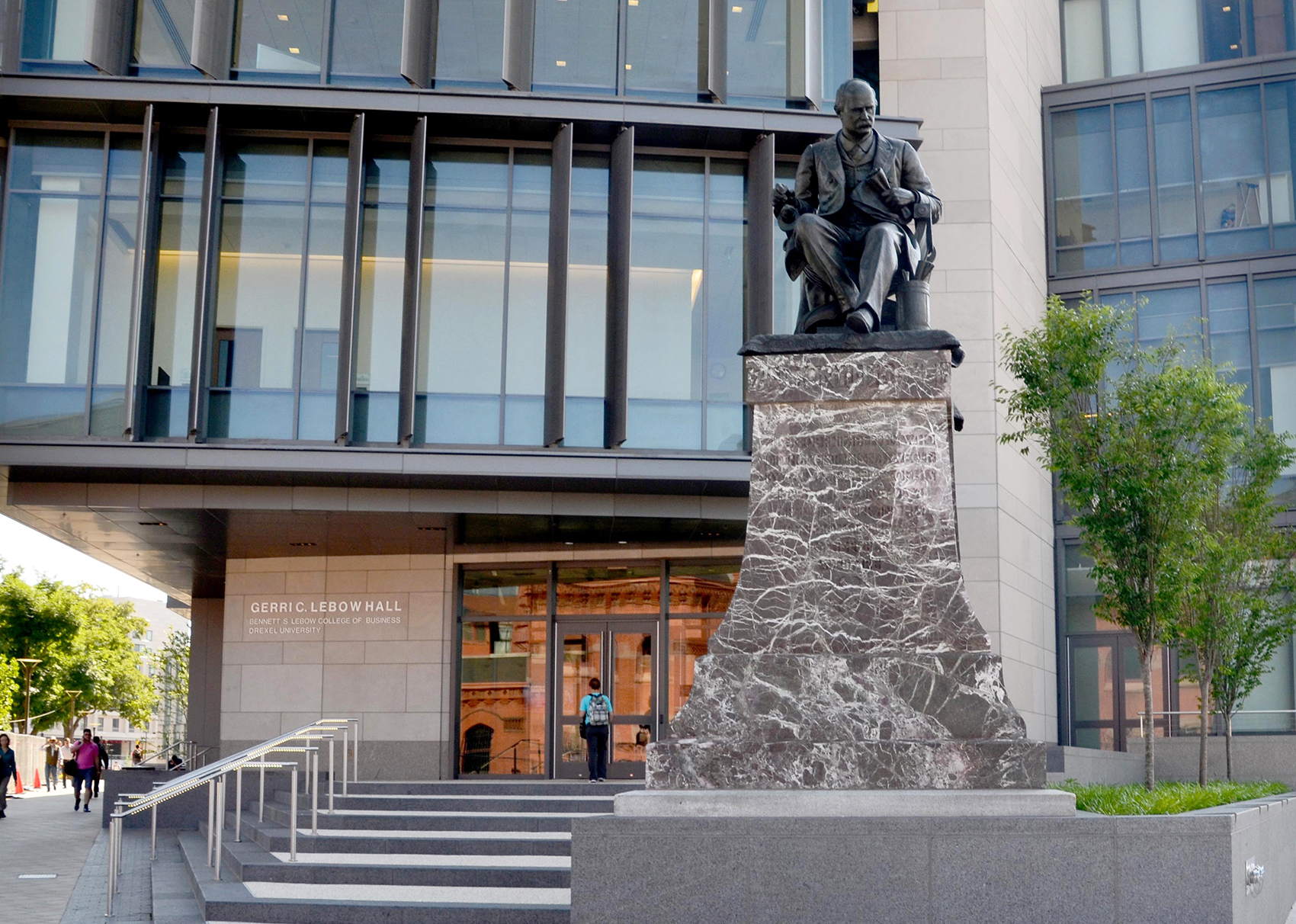 Cast in Germany, the memorial was unveiled in the park on June 17, 1905 at Lansdowne Drive and Belmont Avenue. Friends and family paid tribute at the dedication, with Drexel's two granddaughters unveiling the memorial. In the 1960s, the Philadelphia Art Commission approved the relocation of the memorial to Drexel University's campus to be loaned indefinitely to the University. The sculpture was moved to the campus in 1966 and installed near the library.
Sir Moses Jacob Ezekiel had created monumental and commemorative sculptures for patrons worldwide, and was knighted by three monarchs. He was the first American to win the prestigious Michel Beer Prix de Rome competition, allowing him to study art in Rome, and later established a studio in the historic Baths of Diocletian. His first commission, Religious Liberty, was shown at the 1876 Centennial, and is now located in front of the National Museum of American Jewish History in Philadelphia.
Adapted from Public Art in Philadelphia by Penny Balkin Bach (Temple University Press, Philadelphia, 1992).
RESOURCES
This artwork is part of the Around University City tour