At A Glance
A war memorial dedicated to University of Pennsylvania faculty, students, and alumni who died in military service

Encircling the flagpole and atop a hexagonal base are five bronze figures representing the "Unity of Man and Mutual Tolerance"

Charles Rudy was an American sculptor recognized for his monuments and work on public buildings

Gift of media magnate and philanthropist Walter Annenberg, Wharton School alumnus and founder of the University's Annenberg School for Communication
One of Charles Rudy's largest monuments, the War Memorial Flagpole on the University of Pennsylvania's campus (also known as the All Wars Memorial to Penn Alumni) honors the school's faculty, students, and alumni who died in military service. The memorial was created in collaboration with architect Grant Simon, and stands on the edge of Shoemaker Green near Louise Nevelson's Atmosphere and Environment XII. Encircling the 84-foot steel flagpole and atop a tall hexagonal granite base is a grouping of five oversize bronze figures – three male and two female – that represent the "Unity of Man and Mutual Tolerance."
Rudy established his monumental style and numerous commissions ensued, including the 'War Memorial Flagpole'
Charles Rudy was an American sculptor recognized for his monuments and work on public buildings. Born in York, Pennsylvania, Rudy descended from a family of artists, and his own artistic interests can be attributed to his apprenticeship with his father, Horace Rudy, at his stained glass studio at the age of eight. Rudy furthered his artistic development at the Pennsylvania Academy of the Fine Arts and later in Europe after receiving a Cresson Traveling Fellowship.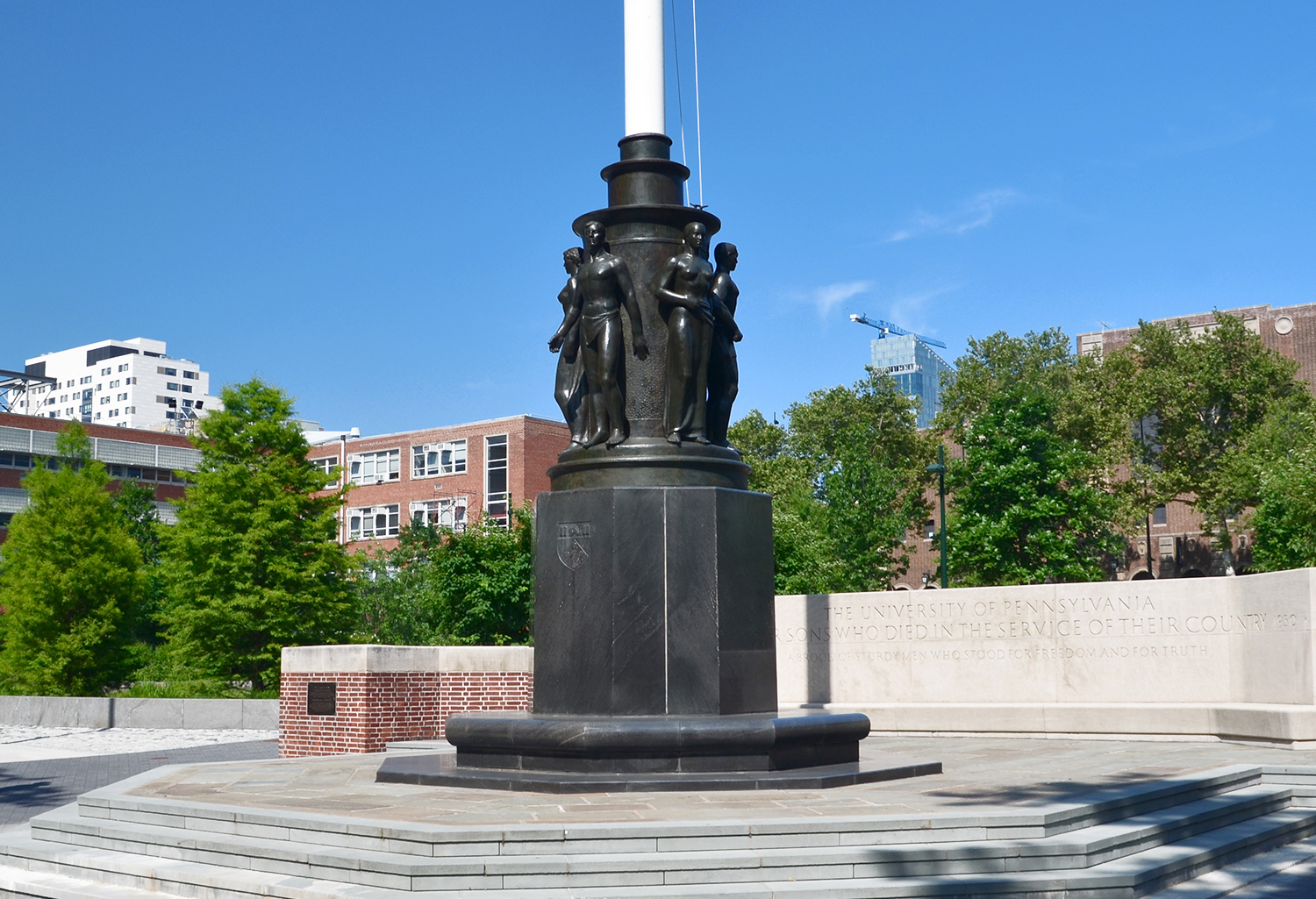 In the 1930s, Rudy entered and won a competition to design a monument for the Bronx General Post Office. The competition was an initiative under the Treasury Section of Fine Arts program, an agency created by President Franklin Delano Roosevelt's New Deal during the Great Depression. With his winning sculpture design for the post office, Noah (1938), Rudy established his monumental style and numerous commissions ensued, including the War Memorial Flagpole.
Funds for the memorial's construction were provided by Walter Annenberg (class of '31), the media magnate and philanthropist who attended the Wharton School of Business and founded the University's Annenberg School for Communication. The dedication ceremony for the memorial was held on a rainy day in November 1952, and lead by the school's president, Harold E. Stassen, who was a Navy war veteran himself. In 1999, after decades of being exposed to the elements outdoors, the memorial underwent a restoration, which was funded by the Class of 1943.
RESOURCES:
This artwork is part of the Around University City tour