At A Glance
Part of the Museum Without Walls: AUDIO program

Augustus Saint-Gaudens was one of the most influential and successful artists of the late 19th century

Saint-Gaudens' The Puritan located in Springfield, Massachusetts is the first version of The Pilgrim

In creating The Pilgrim, Saint-Gaudens made slight changes in the figure's dress and adjusted facial characteristics
Augustus Saint-Gaudens was one of the most influential and successful artists of the late nineteenth century. His James A. Garfield Monument was installed along East River (now Kelly) Drive in 1895. The Puritan, the first version of The Pilgrim, was commissioned by Chester W. Chapin as a monument to one of the founders of Springfield, Massachusetts—Deacon Samuel Chapin (1595–1675). The New England Society of Pennsylvanians asked Saint-Gaudens to make a replica of The Puritan for the city of Philadelphia.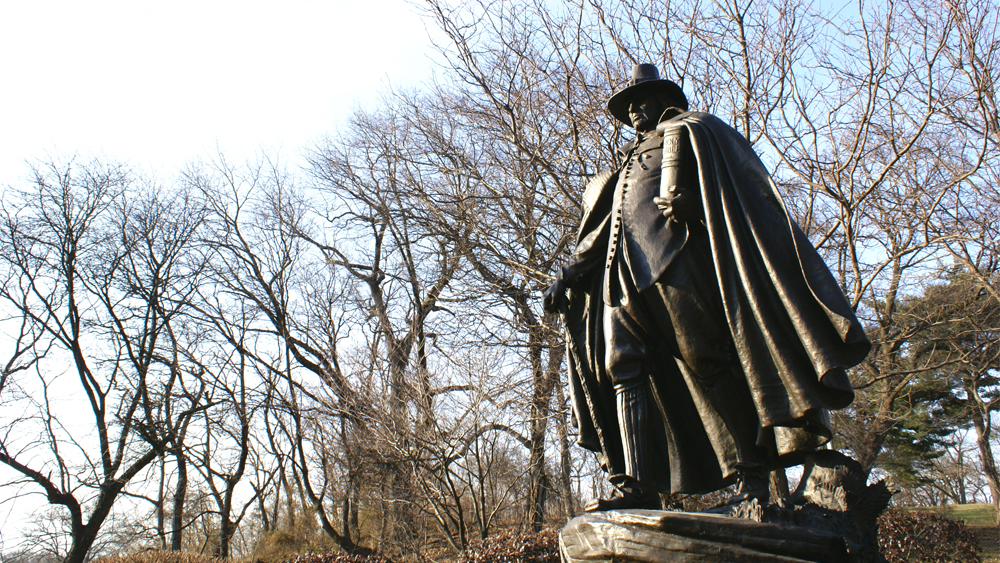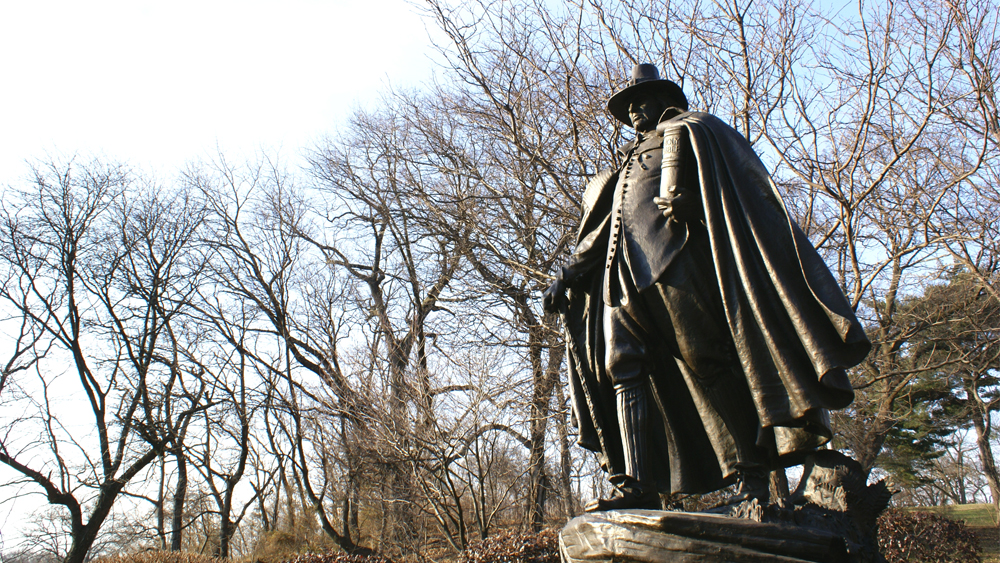 For the later commission Saint-Gaudens made some changes in the figure's dress and adjusted the facial characteristics to represent a New England type: "For the head in the original statue, I used as a model the head of Mr. Chapin himself, assuming that there would be some family resemblance with the Deacon, who was his direct ancestor. But Mr. Chapin's face is round and Gaelic in character, so in the Philadelphia work, I changed the features completely, giving them the long, New England type, besides altering the folds of the cloak in many respects, the legs, the left hand, and the Bible." The Pilgrim was originally placed on the South Plaza of City Hall but was relocated to its present site in 1920.
Adapted from Public Art in Philadelphia by Penny Balkin Bach (Temple University Press, Philadelphia, 1992).
RESOURCES

Voices heard in the program:
Joe Conforti is author of Imagining New England: Explorations of Regional Identity from the Pilgrims to the Twentieth Century.
Erika Doss writes about public art, including Memorial Mania: Public Feeling in America.
Gregory Schwarz (1951-2020) was the Chief Interpreter at the Saint-Gaudens National Historic Site in Cornish, New Hampshire.
Segment Producer: Ben Calhoun
A program of the Association for Public Art (formerly the Fairmount Park Art Association), Museum Without Walls: AUDIO is an innovative and accessible outdoor sculpture audio program for Philadelphia's preeminent collection of public art.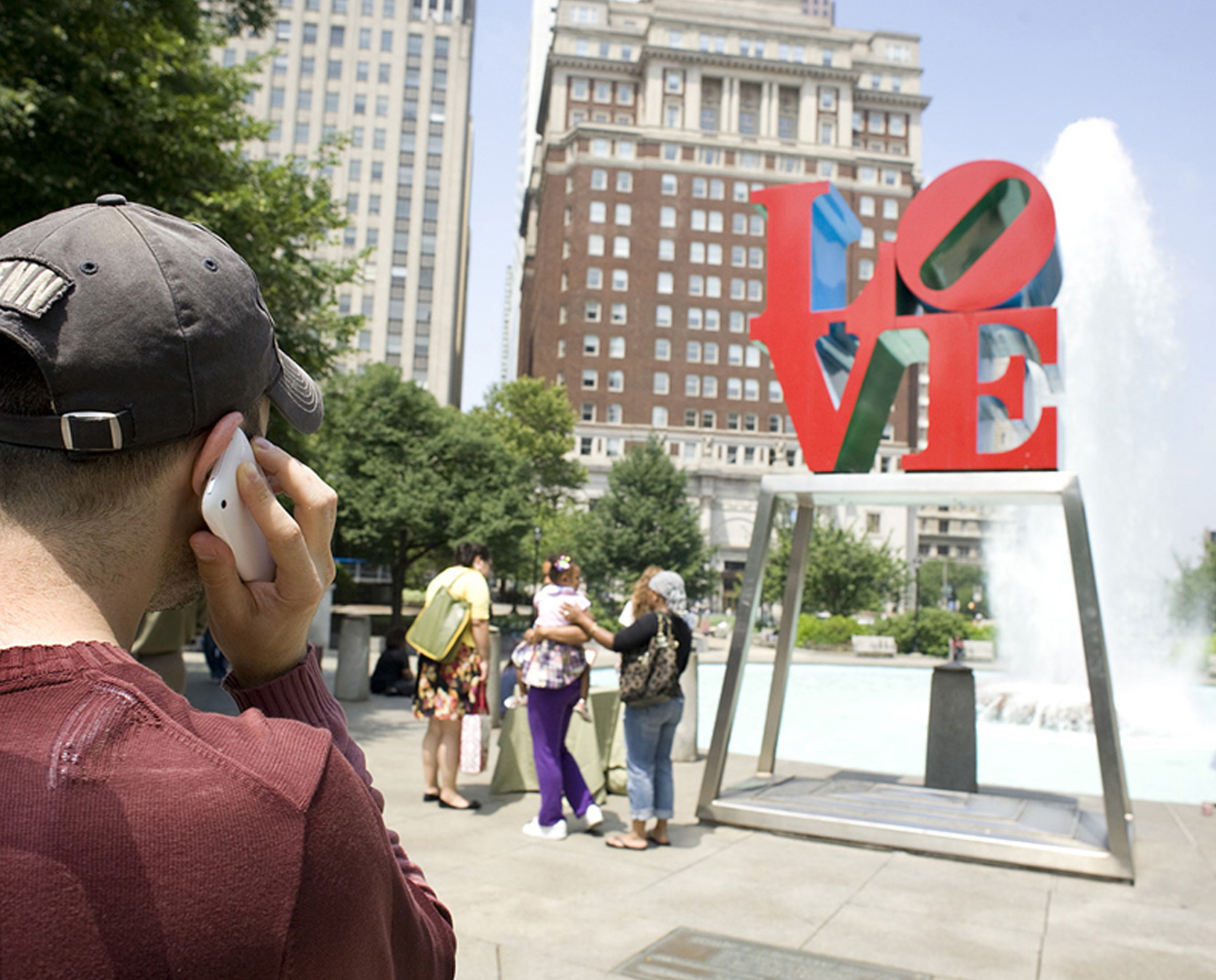 A "multi-platform" interactive audio experience – available for free by cell phone, mobile app, or on our website – Museum Without Walls: AUDIO offers the unique histories that are not typically expressed on outdoor permanent signage.
Unlike audio tours that have a single authoritative guide or narrator, each speaker featured in Museum Without Walls: AUDIO is an "authentic voice" – someone who is connected to the sculpture by knowledge, experience, or affiliation.
Over 150 unique voices are featured, including artists, educators, scientists, writers, curators, civic leaders, and historians.
This artwork is part of the Along Kelly Drive tour