At A Glance
Located in the Horticulture Center greenhouse, open Monday-Saturday 9am-3pm (masks required)

Fenton was a Philadelphia artist known for her fanciful fountains with realistic renderings of youths amongst plant forms

The bronze fish that were part of the sculpture were stolen in 1974, and the figure was later relocated to the Fairmount Park Horticulture Center

Fenton's Evelyn Taylor Price Memorial Sundial in Rittenhouse Square is one of her well-known works
Edwin F. Keene of the Stetson Hat Company approached the Fairmount Park Association (now the Association for Public Art) in 1921 with the offer to donate this figure "completely mounted in the pool." The Seaweed Girl Fountain was accepted by the Association and installed in 1922 in East Fairmount Park along Sedgley Drive. Earlier that year, the sculpture was loaned to the Pennsylvania Academy of Fine Arts for its 117th Annual Exhibition, where it won the Widener Gold Medal and the Fellowship Prize.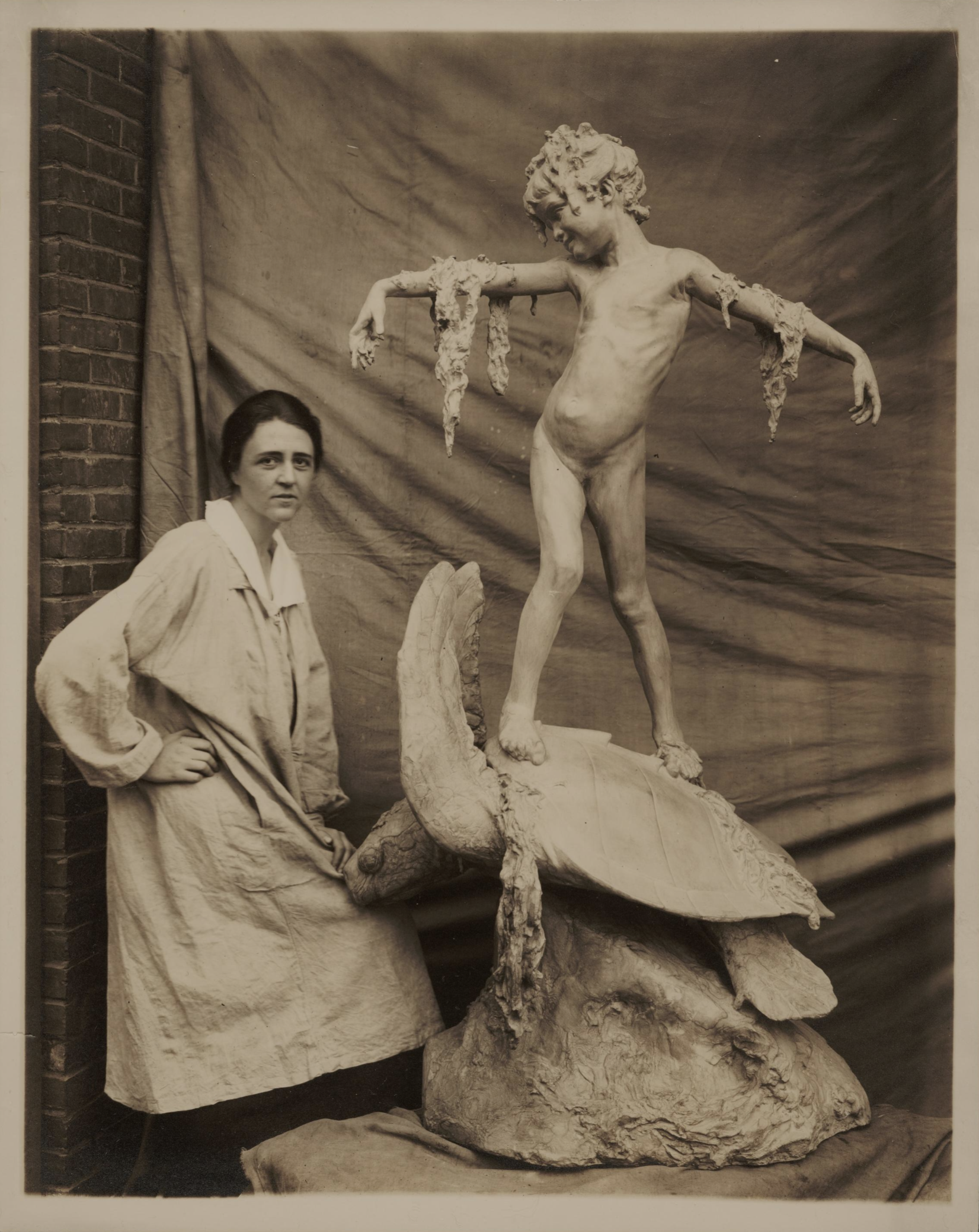 In the early 1960s, the Association commissioned the artist to add to the fountain, and Fenton created two bronze groups of angel fish swimming through a coral reef. The fish were stolen in 1974, and the figure was later relocated to the Fairmount Park Horticulture Center. The sculpture is now inside the greenhouse, where it joins Margaret Foley's Centennial Fountain.
Beatrice Fenton was born and raised in Philadelphia. With the encouragement of a good family friend, Thomas Eakins, she studied art at the School of Industrial Art (now the University of the Arts) and later the Pennsylvania Academy of Fine Arts. She also taught at Moore College of Art & Design. Her principal works were fanciful fountains with realistic renderings of youths amongst plant forms. Her other well-known sculpture in Philadelphia is the Evelyn Taylor Price Memorial Sundial in Rittenhouse Square.
Adapted from Public Art in Philadelphia by Penny Balkin Bach (Temple University Press, Philadelphia, 1992).
RESOURCES:
This artwork is part of the Around the Horticulture Center tour