At A Glance
First project in Philadelphia by New York-based artist Andrea Blum, who frequently lectures on the relationship of art and architecture

Artist chosen by the Redevelopment Authority and representatives from the University of Pennsylvania and Institute of Contemporary Art (ICA)

Stainless steel pavilions, tables, and concrete benches on the edge of campus create a social space for the University and community

Puzzle-like formation of interlocking layers creates options for private or social interaction
Plateau is New York-based artist Andrea Blum's first project in Philadelphia. The permanent installation was commissioned by the University of Pennsylvania through the Philadelphia's Redevelopment Authority's Percent for Art Program, which mandates that one percent of the total cost of construction on redeveloped land be spent on commissioning a public artwork. Blum was selected by the Redevelopment Authority and representatives from the University and Institute of Contemporary Art (ICA).
The approximately 4,800-square-foot design is a series of perforated stainless steel pavilions and tables, and concrete benches set in stone fines. Situated on the edge of campus, Plateau was intended to serve as an interface between the University and nearby community, providing a social space with seating for students, residents, and passersby. The puzzle-like formation of interlocking layers also offers options for private or social interaction. Blum said as the project was underway, "It will be interesting to see [students] approach and start going through the decision-making process of 'What do I want to do today? How do I want to be? Alone or with friends, even strangers?'"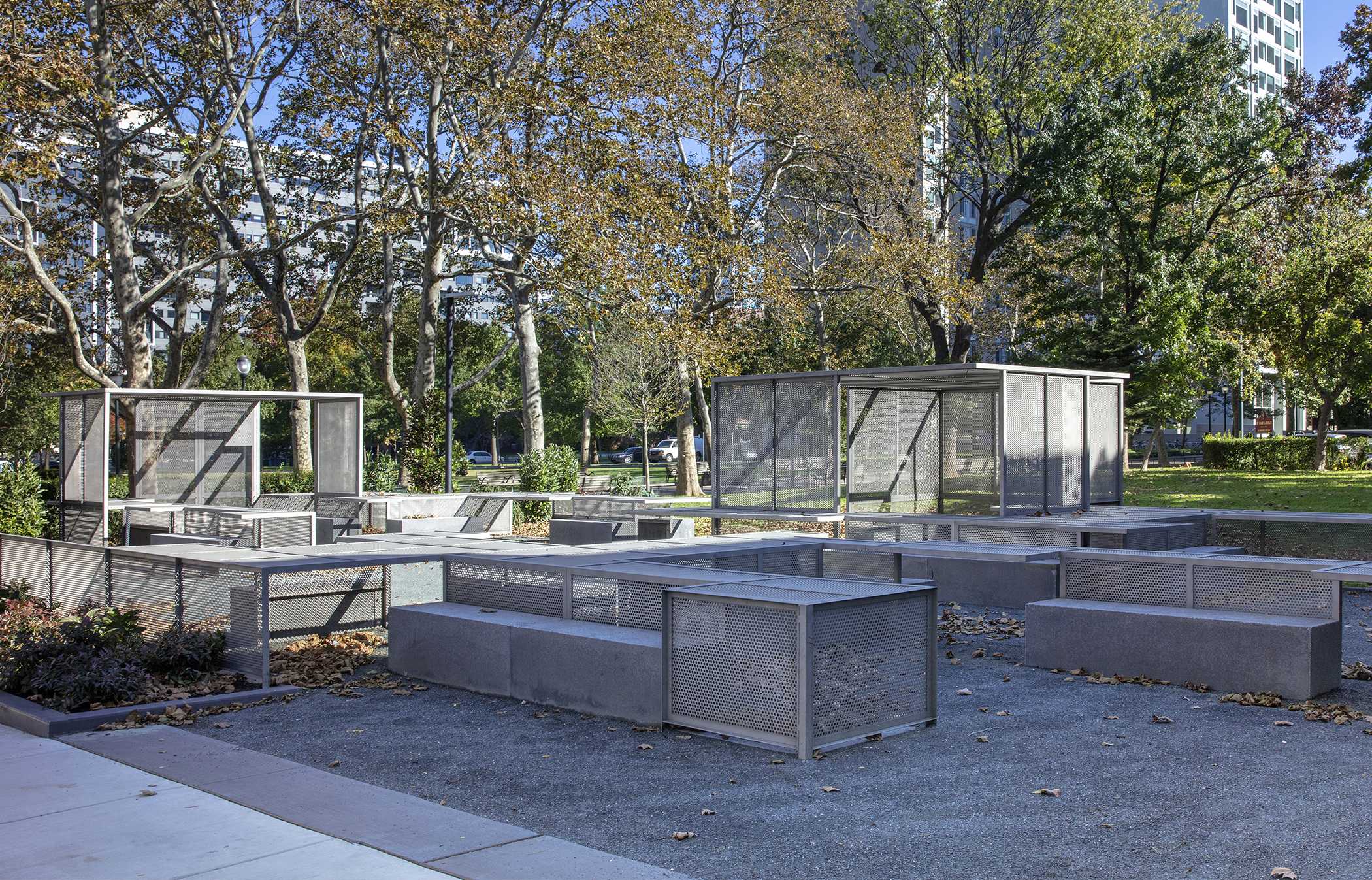 Blum has received numerous commissions for permanent and temporary projects and exhibits both nationally and internationally in galleries and museums. She has received a Guggenheim Fellowship, Graham Foundation Fellowship, two National Endowment for the Arts Fellowships, and a New York Foundation for the Arts Fellowship. Blum is a professor at Hunter College C.U.N.Y and frequently lectures on the relationship of art and architecture.
RESOURCES:
This artwork is part of the Around University City tour