At A Glance
The 500-square-foot sculptural seating arrangement has been described by the artist as an "outdoor room"

The seating elements form an infinity symbol and are punctuated at both ends by 8-foot-tall rectangular columns of white marble

Balance joins other renowned works in the Philadelphia Fed's collection, including Alexander "Sandy" Calder's White Cascade and Beverly Pepper's Phaedrus
Standing at 7th and Appletree Streets in a carved-out corner next to a parking lot is Jill Sablosky's Balance, a public amenity commissioned by the Federal Reserve Bank of Philadelphia (Philadelphia Fed) in 2009 as part of the Philadelphia Redevelopment Authority's (PRA) Percent for Art Program.
The 500-square-foot sculptural seating arrangement – or "outdoor room" as the artist describes it – is made up of multiple pieces of granite, marble, and red sandstone. The seating elements form the shape of the infinity symbol and are punctuated at both ends by 8-foot tall rectangular columns of white marble. On one face of each column reads the inscriptions: Out of Many, One and E Pluribus Unum.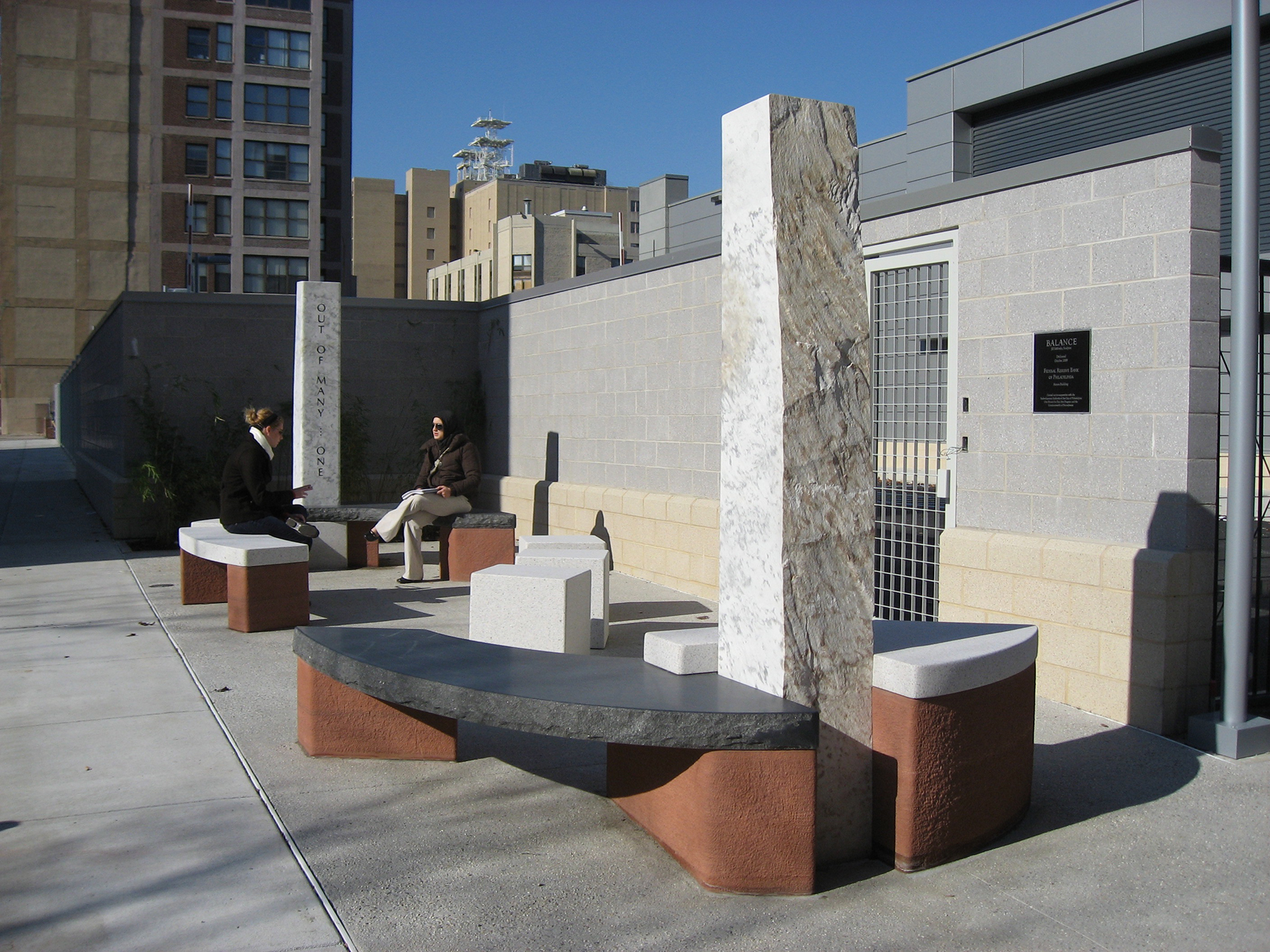 Balance joins other renowned works in the Philadelphia Fed's collection including White Cascade by Alexander "Sandy" Calder and Phaedrus by Beverly Pepper, which were also commissioned as part of PRA's Percent for Art Program. Sablosky has another work in Philadelphia, I.M. Pei Garden, which is a stone garden honoring the famous architect at Society Hill Towers.
Sablosky was born and raised in Philadelphia, and has completed public art installations across the United States. Much of her work uses traditional and regionally-sourced sculptural materials that offer functionality through architectural language, such as seating or fountains.