On July 4, 2020, artist Nancy Baker Cahill launched Liberty Bell, a new augmented reality public art project being presented simultaneously in six U.S. Cities: Philadelphia, PA, Boston, MA, Washington, DC, Charleston, SC, Selma, AL, and Rockaway, NY. The Association for Public Art (aPA) is hosting the Philadelphia iteration of the project, which was commissioned by Art Production Fund in partnership with 7G Foundation and the Jamaica Bay-Rockaway Parks Conservancy.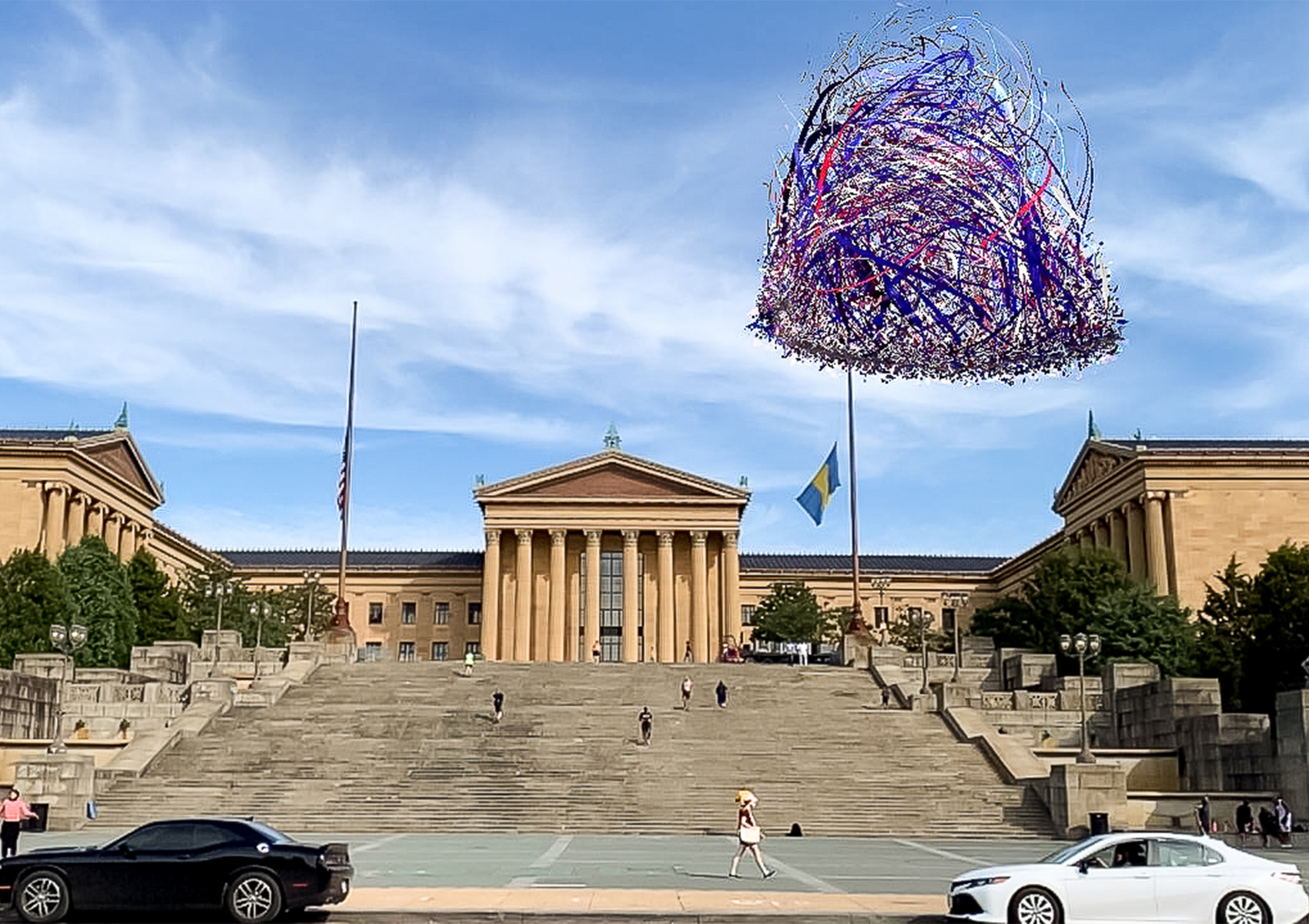 Liberty Bell is an augmented reality (AR) drawing in 360 degrees that relies on geolocation, and is experienced through a smartphone or iPad through Baker Cahill's free 4th Wall app. The full animation, which includes sound, can be viewed from the steps outside the Philadelphia Museum of Art and on the Benjamin Franklin Parkway. The best vantage points are from the bottom of the steps and Eakins Oval.
How to Experience Liberty Bell >>
Two years in the making, the project lives at the vibrant intersection of public art, social consciousness and tech. Liberty Bell is inspired by the historic Liberty Bell in Philadelphia, which most historians believe to be one of many bells that rang on July 8, 1776, a few days following the signing of the Declaration of Independence. The bell became a symbol for abolitionist societies who called it the "Liberty Bell" in the 1830s. Liberty is inextricably linked to equality, so as a metaphor, the cracked bell mirrors the brokenness of many Americans' experiences of liberty. The Liberty Bell AR drawing floats above the historic steps of the Philadelphia Museum of Art accessible to a diverse public audience, and invites viewers the opportunity to consider their own experiences of liberty, freedom and injustice and inequality.
In this polarized and tumultuous election year, many concerns persist around the founding principles of American freedom and democracy. Inequality, racism, injustice, and the ability to vote are chief among them. The Liberty Bell soundscape morphs from the rhythmic lulling of a tolling bell, into a harmonious and dissonant sequence of ringing as it becomes increasingly unpredictable and arrhythmic. Ranging from analog to synthetic, the sounds were compiled from a diverse array of historical moments and locations. The richly textured brushstrokes and bell sounds resemble loosely knitted threads that unravel and come together in an uncomfortable, but cohesive moment. They reflect the evolution and transformation of liberty over time into the complex reality we face today. Baker Cahill chose Independence Day as a launch date to advocate for justice, civil rights and freedom in the U.S.
NANCY BAKER CAHILL: Nancy Baker Cahill is a multidisciplinary artist and the Founder and Creative Director of 4th Wall, a free Augmented Reality (AR) public art platform. Through 4th Wall, she initiated Coordinates, an ongoing series of curated & site-specific AR public art exhibitions, including Defining Line in Los Angeles and Battlegrounds in New Orleans. She received an "Impact Maker to Watch" award at LA City Hall and was named by the LA Times as one of the 2019 Faces of the Year, ARTS. She is one of ten artist scholars in the Berggruen Institute's inaugural 2020 Transformations of the Human Fellowship. nancybakercahill.com