Nancy Baker Cahill: Liberty Bell
An augmented reality project on view in 6 U.S. cities from July 2020 through December 2021. Experience in Philadelphia at the steps of the Philadelphia Museum of Art and the Benjamin Franklin Parkway.
Liberty Bell begins as an integrated whole and becomes dissonant and visually fragmented – unraveling just as the unfulfilled promise of freedom. It's not a 4th of July spectacle; it's a meditative reflection of what many are feeling right now. –Penny Balkin Bach, aPA Executive Director
Living at the intersection of public art, social consciousness and tech, Liberty Bell is an augmented reality public art project by artist Nancy Baker Cahill that will be on view simultaneously in six U.S. cities – Philadelphia, PA, Boston, MA, Washington, DC, Charleston, SC, Selma, AL, and Rockaway, NY – starting July 4, 2020. The artwork was commissioned by Art Production Fund in partnership with 7G Foundation and the Jamaica Bay-Rockaway Parks Conservancy, and the Association for Public Art (aPA) is the host partner for the Philadelphia iteration of the project.
Liberty Bell is an animated, monumental and richly sonorous augmented reality drawing in 360 degrees, which relies on geolocation. To experience the full animation, which includes sound, download the free 4th Wall app to a smartphone or iPad and be on-site on the Benjamin Franklin Parkway.
How and where to Experience Liberty Bell >>
The historic Liberty Bell in Philadelphia seeded the inspiration for the Liberty Bell project. Most historians believe the Liberty Bell was one of many bells that rang on July 8, 1776, a few days following the signing of the Declaration of Independence. In the 1830s, the bell became a symbol for abolitionist societies who called it the "Liberty Bell", the name we know it by today. Liberty is inextricably linked to equality, so as a metaphor, the cracked bell mirrors the brokenness of many Americans' experiences of liberty. The Liberty Bell AR drawing floats above the historic steps of the Philadelphia Museum of Art accessible to a diverse public audience, and invites viewers the opportunity to consider their own experiences of liberty, freedom and injustice and inequality.
In this polarized and tumultuous election year many concerns persist around the founding principles of American freedom and democracy. Inequality, structural racism, injustice, and the ability to vote are chief among them. Inspired by the original cracked Liberty Bell in Philadelphia, the drawing hovers beyond viewers, swaying with the rich and layered sound of bells tolling. The Liberty Bell soundscape morphs from the rhythmic lulling of a tolling bell, into a harmonious and dissonant sequence of ringing as it becomes increasingly unpredictable and arrhythmic. Ranging from analog to synthetic, the sounds were compiled from an array of historical moments and locations. The richly textured brushstrokes and bell sounds resemble loosely knitted threads that unravel and come together in an uncomfortable, but cohesive moment. They reflect the evolution and transformation of liberty over time into the complex reality we face today. Baker Cahill chose Independence Day as a launch date to advocate for justice, civil rights and freedom in the U.S.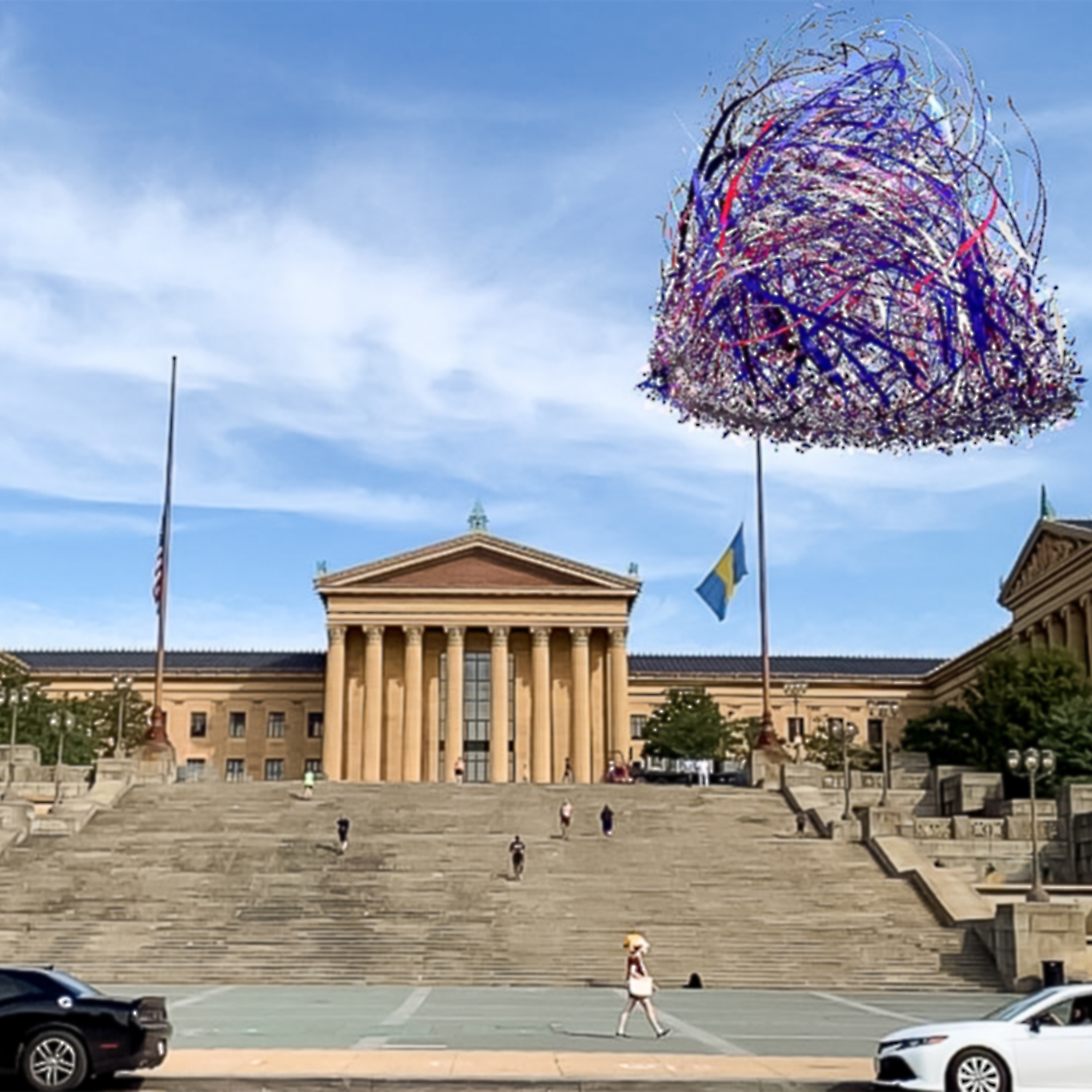 "From its origins in American history, 'liberty' was only available to a certain demographic and came at great expense to others," says the artist. "You can't have a conversation about freedom and not talk about the history of slavery and inequity in the United States. A bell can be a warning or a celebration; something spiritual or a wordless means of communication. In an age of pandemic, surveillance, injustice and disinformation, who is actually free? That's the conversation we need to have." –Nancy Baker Cahill, Artist
"We are thrilled to present Liberty Bell in six different US cities this summer. While adhering to social distancing guidelines, it feels crucial to bring this important artwork safely to the public. Through a visual and sonic AR experience, Baker Cahill gives viewers the opportunity to reflect upon their personal experiences of liberty, freedom, injustice and inequality. We are honored to present this poignant work during such a remarkable time." –Casey Fremont, Executive Director, Art Production Fund
Liberty Bell ​weaves a common thread between all six cities underscoring our interconnectedness and shared cultural inheritance. These historically significant and charged locations comprise an unprecedented activation spanning the Eastern seaboard of the United States. Programming will include topical conversations by cultural leaders and community members from all 6 cities as they relate to current events. Providing a platform for conversation and access to the artwork is a crucial component of this project.
For more information and details on public programs please visit artproductionfund.org
#LibertyBellAR | @ArtProductionFund | @NancyBakerCahill | @4thWallApp | @assocpublicart