On August 8, 2015, public art came to life in Rittenhouse Square! The Association for Public Art (aPA) with support from Apartment Investment and Management Company (Aimco) and in partnership with Philadelphia Parks and Recreation presented Sculpture Zoo in Rittenhouse Square, a free family-friendly event of fun-filled activities that enlivened the Square's outdoor sculptures.
Visitors participated in live animal sculpture-making workshops led by teaching artists and observed Philadelphia artists conducting sculpture demonstrations. The sculpture-making process inspired by live animals was used by many of the artists whose works exist in the Square!

LIVE ANIMALS!
Visitors discovered a small reptile near Lion Crushing a Serpent, a goat next to Billy, and a bird nearby Duck Girl. Handlers were on site to share information about the animals.
SCULPTURE-MAKING WORKSHOPS
Passersby stopped by any of three tents set up near Billy, Duck Girl, or Lion Crushing a Serpent for artist-led sculpture making activities inspired by the existing sculptures and live animals. Participants also received a public art "goodie bag," which included a customized sketchbook.
SCULPTURE DEMONSTRATIONS
The unique sculpture-making process was viewed through sculpture demonstrations led by Philadelphia artists Darla Jackson, Stephen Layne, and Colleen Rudolf. The artists shared their unique techniques working directly from life.
TAKE AN AUDIO TOUR
Public Art Ambassadors were on site to share information about the aPA's award-winning Museum Without Walls™: AUDIO program, an interpretive program that shares compelling stories about Philadelphia's public art. Ambassadors distributed MWW: AUDIO maps and guided participants interested in experiencing the program on their cell phones, smart phones, or online.
PHOTO CONTEST
Photos of the event were submitted using #sculpturezoo on Instagram or Twitter. All appropriate photo submissions were entered by 11:59pm on Tuesday, August 11th. The top three #sculpturezoo photo submissions received a prize.
---
Participating Sculptors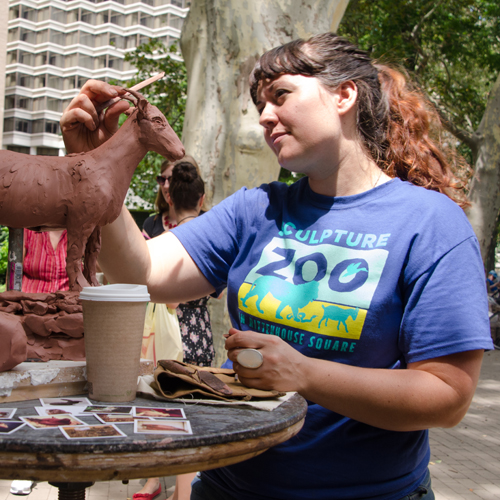 Darla Jackson
Darla Jackson is a sculptor living and working in Philadelphia. She received a BFA from Moore College of Art in 2003. In 2007 Jackson was selected as a fellow in the Career Development Program with the Center for Emerging Visual Artists in Philadelphia. She currently teaches sculpture classes at the Fleisher Art Memorial.
Jackson received a Knight Arts Challenge Grant to open the Philadelphia Sculpture Gym, a shared workspace where artists can access tools and equipment for a monthly fee.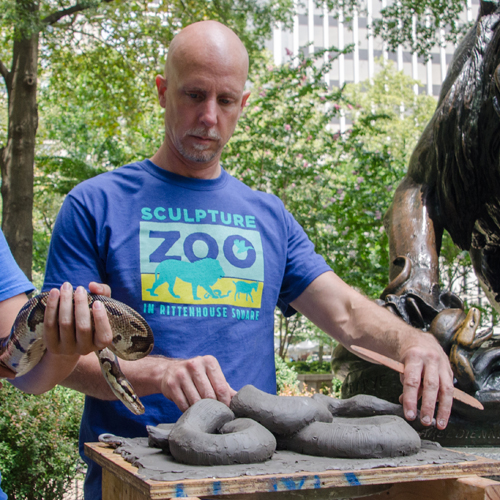 Stephen Layne
Stephen Layne is a graduate of the Pennsylvania Academy of the Fine Arts (1994) and is an appointed professor at Moore College of Art and Design. He has received numerous top awards and Gold Medals through the prestigious National Sculpture Society, New York, and Allied Artists Of America, New York.
The city of Philadelphia recently commissioned Mr. Layne as the sculptor of the Joe Frazier Memorial Statue, which was installed in front of Philadelphia's Xfinity Live! Center in September 2015.
Colleen Rudolf
Colleen Rudolf is a multi-media artist specializing in sculpture. She earned her undergraduate degree from Skidmore College in 2003 with honors in Fine Art. In 2008 she received her graduate degree from the Pennsylvania Academy of the Fine Arts, where she was awarded the Fellowship Juried Prize honorable mention and the Justine Cretella Memorial Scholarship.
She currently works out of her Philadelphia studio, making 2d and 3d portraits of domesticated animals and large-scale sculptures of wildlife. Her work is installed publicly throughout the region.
---
Museum Without Walls: AUDIO is the Association for Public Art's interpretive audio program for Philadelphia's outdoor sculptures.
Billy (1914) by artist Albert Laessle
Voices heard in the program: Philip Price Jr. is the grandson of Eli Kirk Price II, who was responsible for purchasing Billy for installation in Rittenhouse Square. Nancy Heinzen is the author of The Perfect Square, a history of Rittenhouse Square. She has been a resident of Rittenhouse Square for over 40 years and is committed to its preservation. Philip Hyun Su and Sarah Mi Ae Price are the great-great-grandchildren of Eli Kirk Price II. Segment Producer: Sharon Mashihi.
Lion Crushing a Serpent (1832) by artist Antoine-Louis Barye
Voices in the program: Judith F. Dolkart is Deputy Director of Art and Archival Collections and Gund Family Chief Curator of the Barnes Foundation. She organized an exhibition "Michelangelo of the Menagerie: Bronze Works by Antoine-Louis Barye" at the Brooklyn Museum. Kay Buffamonte is the Lead Keeper of the "Big Cat Falls" at the Philadelphia Zoo. Steven Tatti is the Chief Conservator for SAT Inc. He has been cleaning, waxing, and buffing this sculpture since the early 1980s.Segment Producer: Jenna Weiss-Berman.
Duck Girl (1911) by artist Paul Manship
Voices heard in the program: Major Jackson is a poet who was born and raised in Philadelphia. His poem "Duck Girl on the Occasion of Spring" was commissioned and performed by Philadelphia's Concerto Soloists. Dr. Susan Rather is Associate Professor of American Art History at the University of Texas at Austin. She is the author of Archaism, Modernism, and the Art of Paul Manship. Robert Cozzolino is the former Senior Curator and Curator of Modern Art at the Pennsylvania Academy of the Fine Arts, where Paul Manship studied and exhibited. Segment Producer: Jenna Weiss-Berman.
---
About Aimco: Aimco is a real estate investment trust that is focused on the ownership and management of quality apartment communities located in the largest markets in the United States including eight apartment communities in Philadelphia. Aimco is one of the largest owners and operators of apartments with 198 communities in 23 states and the District of Columbia. Aimco common shares are traded on the New York Stock Exchange under the ticker symbol AIV and are included in the S&P 500. For more information about Aimco, please visit our website at www.aimco.com.
About Philadelphia Parks & Recreation: Philadelphia Parks & Recreation advances the prosperity of the city and the progress of her people through intentional and sustained stewardship of public land and waterways as well as through safe, stimulating recreation, environmental and cultural centers. PPR helps Philadelphia's children and other residents grow by connecting them to the natural world, to each other, and to fun, physical and social opportunities. For more information, find Philadelphia Parks & Recreation online at www.phila.gov/parksandrecreation and follow @philaparkandrec on social media.