At A Glance
A tribute to Crispus Attucks, a runaway enslaved person and the first American to die in the cause of national independence

Thirteen "whispering" bells hang in the open tower and represent the original 13 colonies

The Evening and Sunday Bulletin subsidized the creation of the piece as a gift to the city for the bicentennial

The sculpture was dedicated in 1976 for the opening of the African American Museum in Philadelphia
For many years, Beauchamp worked at the Evening and Sunday Bulletin, which subsidized the creation of the "Whispering Bells" as a gift to the city during the bicentennial celebration
The 13 "whispering" bells hanging in the open tower outside of the African American Museum in Philadelphia (AAMP) represent the original 13 colonies. The bells derive from a variety of historical sources: ocean-going vessels, Great Lake steamers, fire engines, and railroad locomotives. Without clappers or hammers, they are "rung" only by the wind, which creates soft echoes of sound.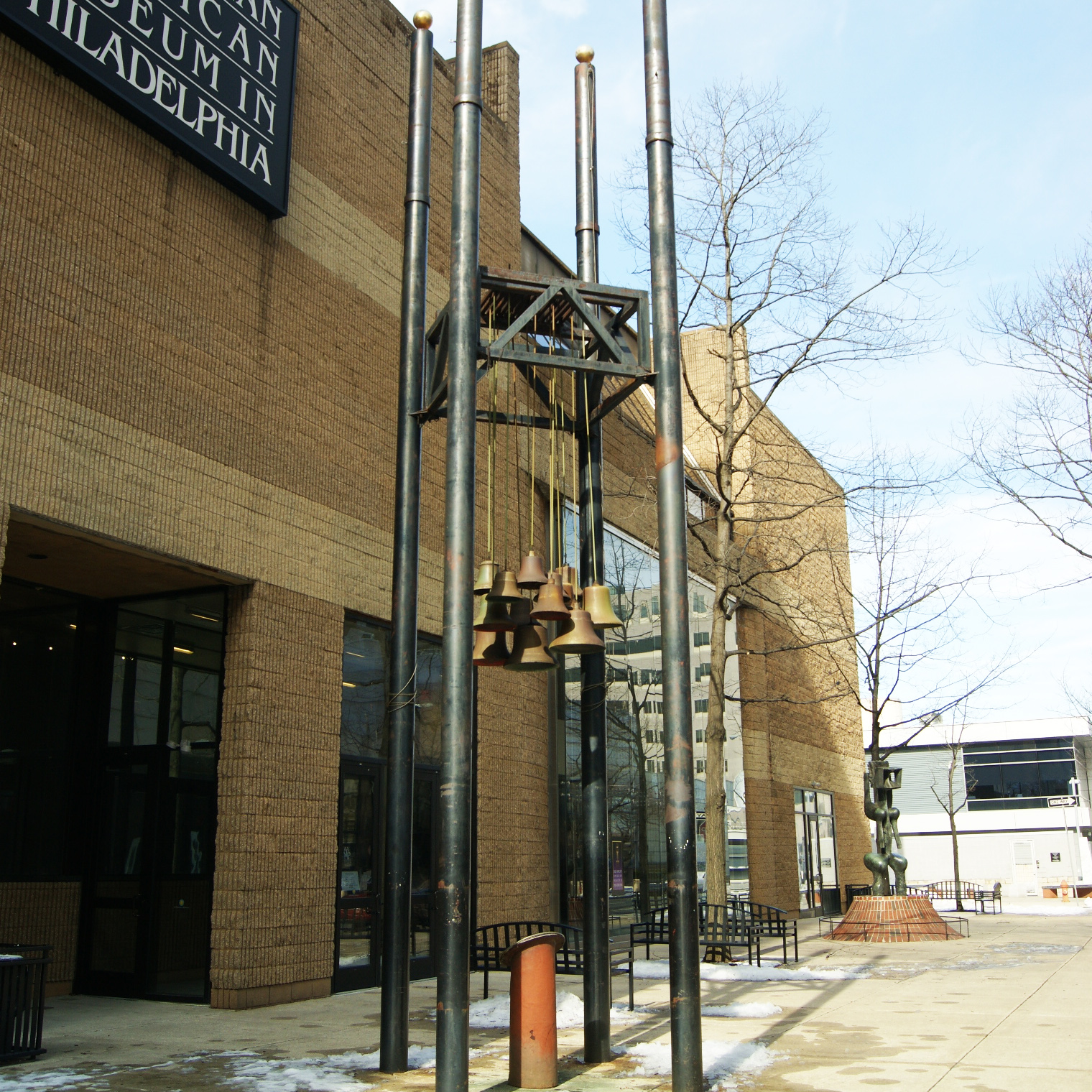 Designed by Reginald Beauchamp, the work is a tribute to Crispus Attucks, the first American to die in the cause of national independence. Attucks was a runaway enslaved person who worked as a sailor on a whaling ship. On the evening of March 5, 1770, he led a group of workers and protesters to confront a detachment of British soldiers in King Street, Boston. The soldiers opened fire, killing five, including Attucks.
A London native, artist Reginald Beauchamp came to Philadelphia as a child. A self-taught painter, he became a muralist and display designer. For many years, Beauchamp worked at the Evening and Sunday Bulletin, which subsidized the creation of the Whispering Bells as a gift to the city during the bicentennial celebration. Along with John Rhoden's Nesaika, the sculpture was dedicated in 1976 for the opening of the African American Museum in Philadelphia.