At A Glance
Three related steel sculptures based on linked tetrahedrons and octahedrons

Fredenthal suggested that his sculpture should not be "viewed as an object," rather it is about "a feeling that's the result of an experience"

Water extends upward from the basement level to the ceiling of the central lobby, Ice hangs like an angular icicle, and Fire loosely resembles a flame surging upward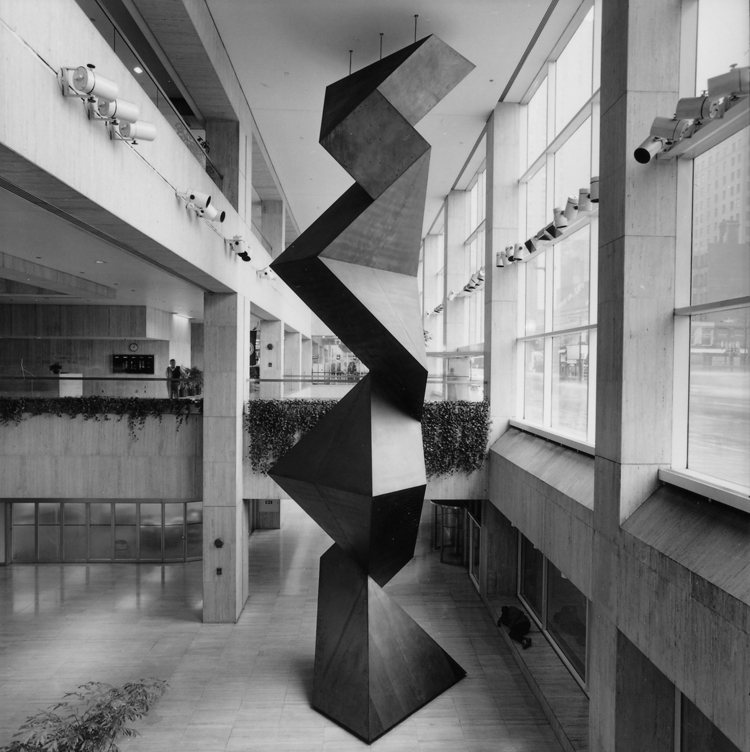 Robinson Fredenthal was fascinated by the mysterious patterns made by simple geometric objects when they are joined together, turned at new angles, or revolved through space. Despite his formal use of geometry, the artist suggested that his sculpture not be "viewed as an object." Rather, it is about "a feeling that's the result of an experience."
At 1234 Market Street, under the auspices of the Redevelopment Authority's Percent for Art Program, Fredenthal created three related steel sculptures based on linked tetrahedrons and octahedrons. Water, the largest of the three columns, extends upward from the basement level to the ceiling of the central lobby. Though from some angles it suggests a waterfall, the column changes its appearance as the viewer moves around it. Ice hangs like an angular icicle over the indoor subway entrance at the 13th Street corner. Fire, the smallest of the works, stands in the courtyard behind the building, loosely resembling a flame surging upward.
Other Fredenthal works in the city include White Water at the Woodmere Art Museum (relocated from the courtyard at 5th and Market Streets) and Black Forest on the University of Pennsylvania campus at 34th and Walnut.
Adapted from Public Art in Philadelphia by Penny Balkin Bach (Temple University Press, Philadelphia, 1992).