At A Glance
Echelman's interactive public artwork follows the subway and trolley lines that run beneath Dilworth Park at City Hall

The first phase of the project, the green line, follows the trolley route and opened in September 2018

Two more phases, the blue Market-Frankford line and orange Broad Street line, are forthcoming

Runs seasonally at night, April – October
Pulse by artist Janet Echelman traces in the surface of the fountain the paths of the subway and trolley lines that converge underneath Dilworth Park. Inspired by Center Square's history as Philadelphia's transportation hub and home of the first steam-powered waterworks, four-foot-tall curtains of vibrantly illuminated mist travel across the park fountain's surface signaling the passing of SEPTA trains and trolleys below. Both children and adults walk, run, and even dance through the mist, posting photos and videos on social media. The first phase of Pulse – the green line which follows the trolley route – opened in September 2018. The blue and orange lines – which will follow the subway lines – are forthcoming.
Dilworth Park, renovated by Center City District and reopened in 2014, is located near Philadelphia's City Hall. The extensive redesign of this public space was executed by landscape architecture firm OLIN in collaboration with Urban Engineers, KieranTimberlake, and CVM Engineers. More information about Pulse and Dilworth Park can be found on Center City District's website.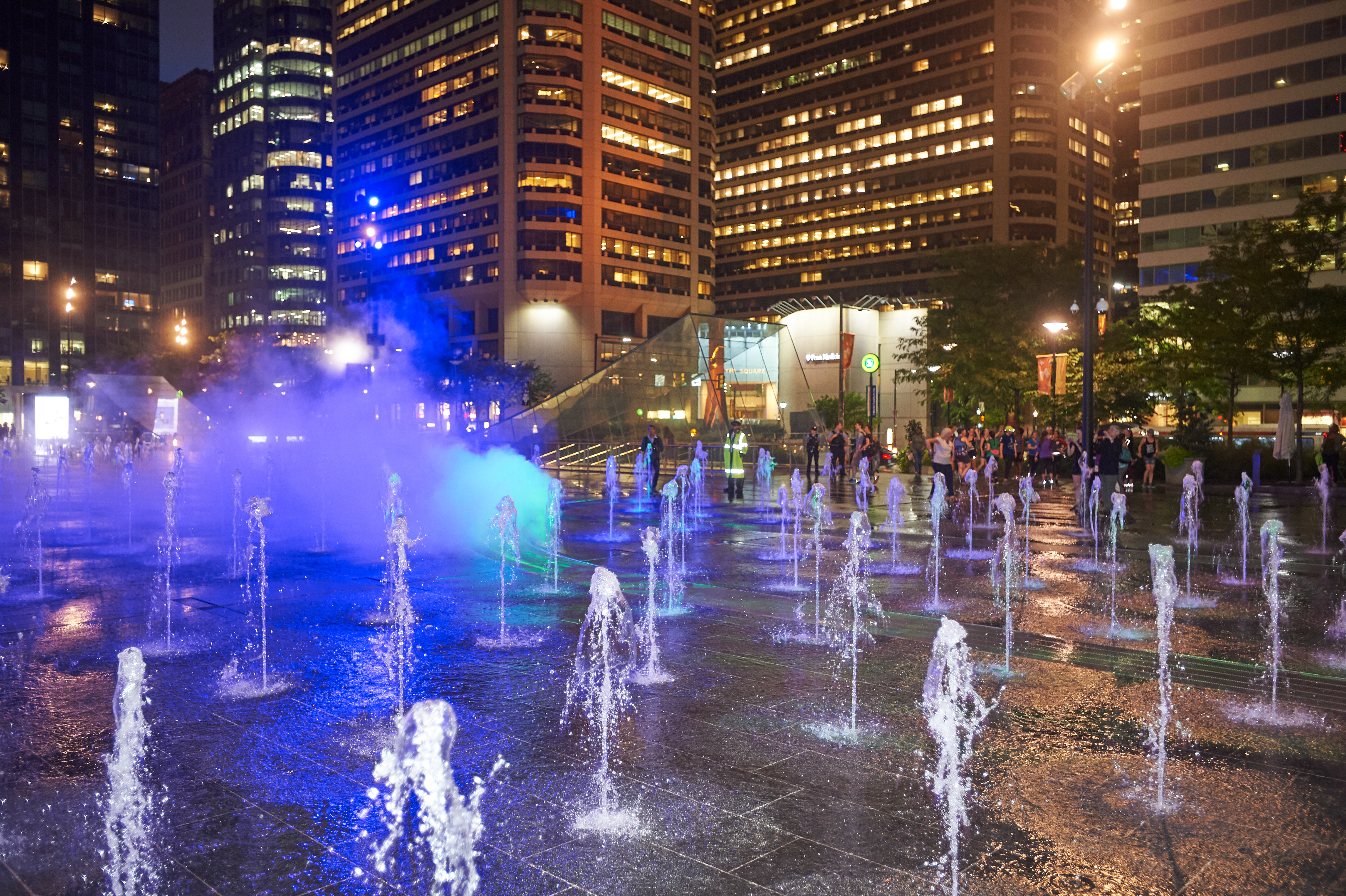 Janet Echelman combines ancient craft with cutting-edge technology to create artworks that have become focal points on five continents. Cities from Singapore, Sydney, Shanghai and Santiago to Beijing, Boston, New York and London host her work. Echelman received the Smithsonian American Ingenuity Award in Visual Arts, honoring "the greatest innovators in America today," and her TED Talk Taking Imagination Seriously has been translated into 35 languages. Oprah's list of "50 Things That Make you Say Wow!" ranked Echelman's art number 1.