At A Glance
Commissioned as part of the Redevelopment Authority's 1% program

A young man, standing, and a seated older man confront a winged creature representing the future

This sculpture is artist Leonard Baskin's first major sculpture for an outdoor setting
A young man, standing, and a seated older man confront a winged creature representing the future. According to artist Leonard Baskin, the mythical bird also signifies external reality, "which is good and bad, promising and ominous." The Society Hill Towers complex was designed by I. M. Pei as a landmark in Philadelphia's urban renewal. Baskin's work, his first major sculpture for an outdoor setting, was commissioned as part of the Redevelopment Authority's Percent for Art program.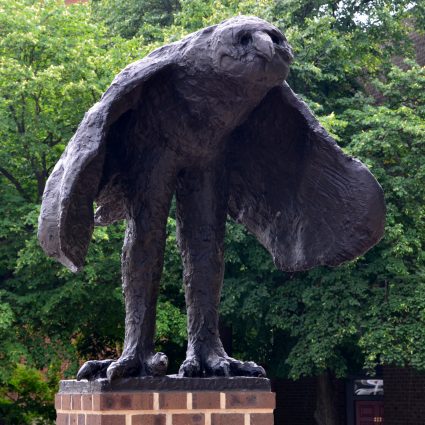 Calling himself a "moral realist," he denounced nonfigurative art as "an art of cowardice, a triumph of the trivial, a squandering of treasure." He has stated that one of the greatest goals of art is to convey a deep human experience to the viewer. "The human figure," he said, "is the image of all men and of one man. It contains all and it can express all."
Adapted from Public Art in Philadelphia by Penny Balkin Bach (Temple University Press, Philadelphia, 1992).