At A Glance
A magical environment of color, pattern, illusion, and movement commissioned by the Association for Public Art and temporarily installed for The Oval's 2014 season

Featured 3-D illusion art, colored sandboxes, oversized game boards, and the artist's signature decorative motifs rendered in vinyl, among other attractions

Candy Coated is a multimedia artist whose work brings together installation art, popular culture, fantasy, fashion, printmaking and a passion for vivid color
Commissioned by the Association for Public Art, artist Candy Coated transformed The Oval in front of the Philadelphia Museum of Art into a magical environment of color, pattern, illusion, and movement with Magic Carpet. The artist's exuberant design included 3-D illusion art, brilliantly colored sandboxes, oversized game boards, and her signature decorative motifs rendered in vinyl, among other unique attractions. Magic Carpet was featured from July 16 – August 17, 2014 at The Oval, an initiative of Philadelphia Parks & Recreation in partnership with the Fairmount Park Conservancy.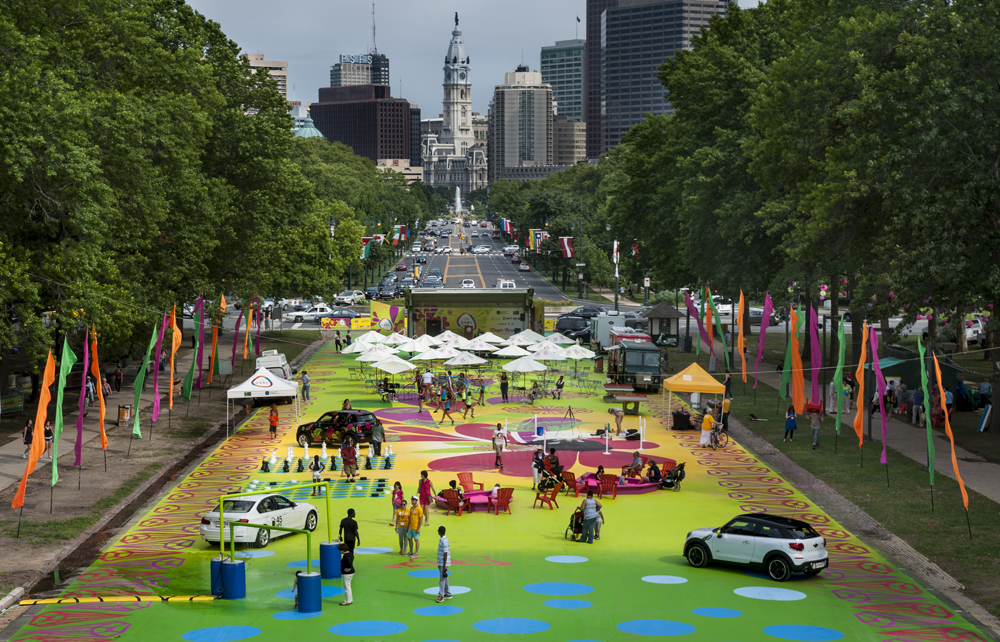 Magic Carpet was comprised of 5 distinct areas:
1. "Welcome" – Visitors were welcomed to the Magic Carpet at The Oval with a pathway pattern of blue circles that resembled stylized clouds. This area hosted The Oval stage covered with the artist's signature designs in the vibrant colors that encompass the Magic Carpet experience.
2. "The Garden Labyrinth" – This area accommodated food trucks along the perimeter and French café tables, chairs, and umbrellas at the center of the site. Under foot was an elaborate arrangement of large diamond shaped rondelle forms that suggested a labyrinth network. Many of the umbrellas on the site were painted with diamond forms that placed visitors in the midst of a space that was energized by pattern and movement.
3. "Totally out of this World (Light Blast)" – This area featured a trompe l'oeil (or trick of the eye) light blast meteor crater, an optical illusion that was a great photo opportunity for visitors. Bright light and gemstones burst from deep below to challenge the senses. Also incorporated into this area were oversized game boards and ping pong tables.
4. "Sensory Transportation" – Visitors could play in diamond shaped sandboxes filled with brilliant pink colored sand, and a water mister feature provided sensory relief and respite. Visitors could explore the giant butterflies and try hopscotch among the pattern of blue circles that bookended Magic Carpet.
5. "The Lawn" – Around the edge of the Magic Carpet was a textile-like border of diamond shapes. On the perimeter of the Magic Carpet were oversized buoys, painted with leaf images and embellished with reflective material that was gently animated by passing traffic. Hanging from the trees were brightly colored vinyl globes hung in pendants with ornamental charms and tassels. There were resting places, playing places, and activities: chairs, balls, volleyball, badminton, bocce, and miniature golf.
RESOURCES: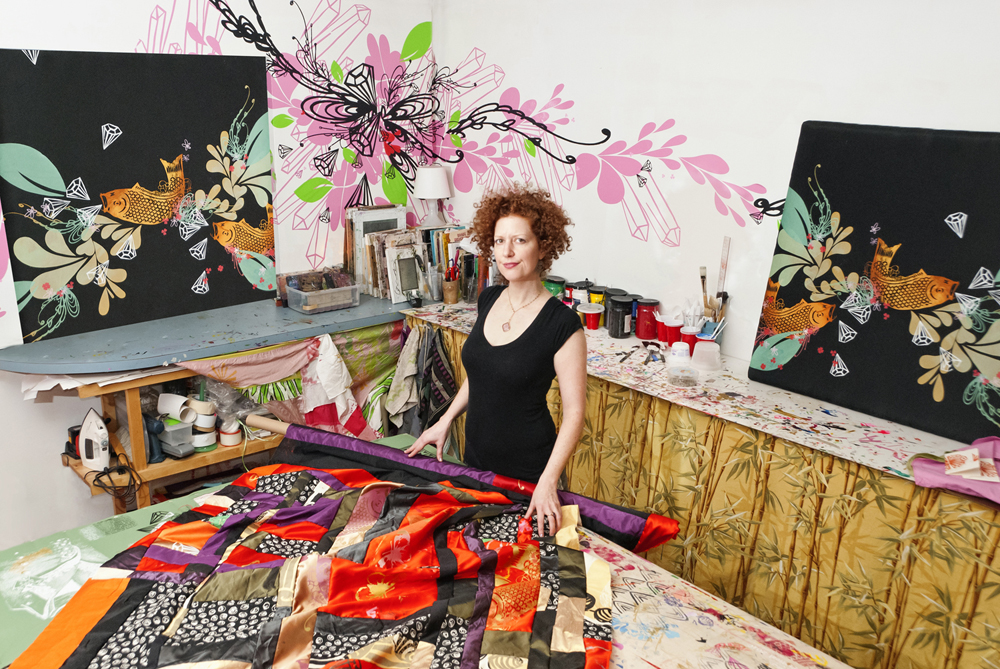 Candy Coated (formerly Candy Depew) is a multimedia artist who works internationally. An enthusiast of the decorative arts, her work brings together installation art, popular culture, fantasy, fashion, printmaking and a passion for vivid color. In 2013, she created Candy Coated Wonderland, an installation at the Philadelphia Museum of Art that reinterpreted children's fancy dress costumes from the Museum's collection. Candy established her "Studio School" of decorative art & design in Philadelphia. She has also worked as Master Printer at the Fabric Workshop and Museum. A recipient of the Pew Fellowship in the Arts, Candy complete d her MFA at Tyler School of Art at Temple University and worked with The London Consortium at the Tate Modern, London, United Kingdom.

Voices heard in the program:
Candy Coated is the multimedia artist who created Magic Carpet.
Dilys Blum is Senior Curator of Costumes and Textiles at the Philadelphia Museum of Art. 
Nicholas Kripal (1953-2016) was Professor, Chair of Crafts Department, and Head of Ceramics Area at Tyler School of Art at Temple University.
Segment Producer: Yowei Shaw
Music by Jon Shapiro
Photos by Constance Mensh and the Association for Public Art
Artist-led Workshops at The Oval
FREE but registration required and space is limited.
Screen Printing Workshop
Candy teaches participants how to screen print using design motifs from Magic Carpet.
Thursday, July 31, 2014, 6pm-8:30pm (Part of The Oval's Arts & Culture Thursdays)
Painted Parasol Workshop
Candy leads participants as they decorate and paint parasols inspired by the surrounding landscape.
Sunday, August 10, 2014, 1pm-3:30pm (Part of The Oval's Family Fun Day Sundays)
BONUS Screen Printing Workshop!
Due to popular demand, Candy teaches an additional screen printing workshop using design motifs from Magic Carpet.
Thursday, August 14, 2014, 6pm-7:30pm
For more information about The Oval programming, visit theovalphl.org.
July 16th Kick-Off Celebration
On Wednesday, July 16, 2014, the Association for Public Art, Philadelphia Parks & Recreation, and Fairmount Park Conservancy celebrated the official kick-off of Magic Carpet and The Oval's summer season. With artist Candy Coated in attendance, this free public event featured activities for all ages, a performance from the Philadelphia Rhythmic Academy, a DJ, food trucks, face painting and more.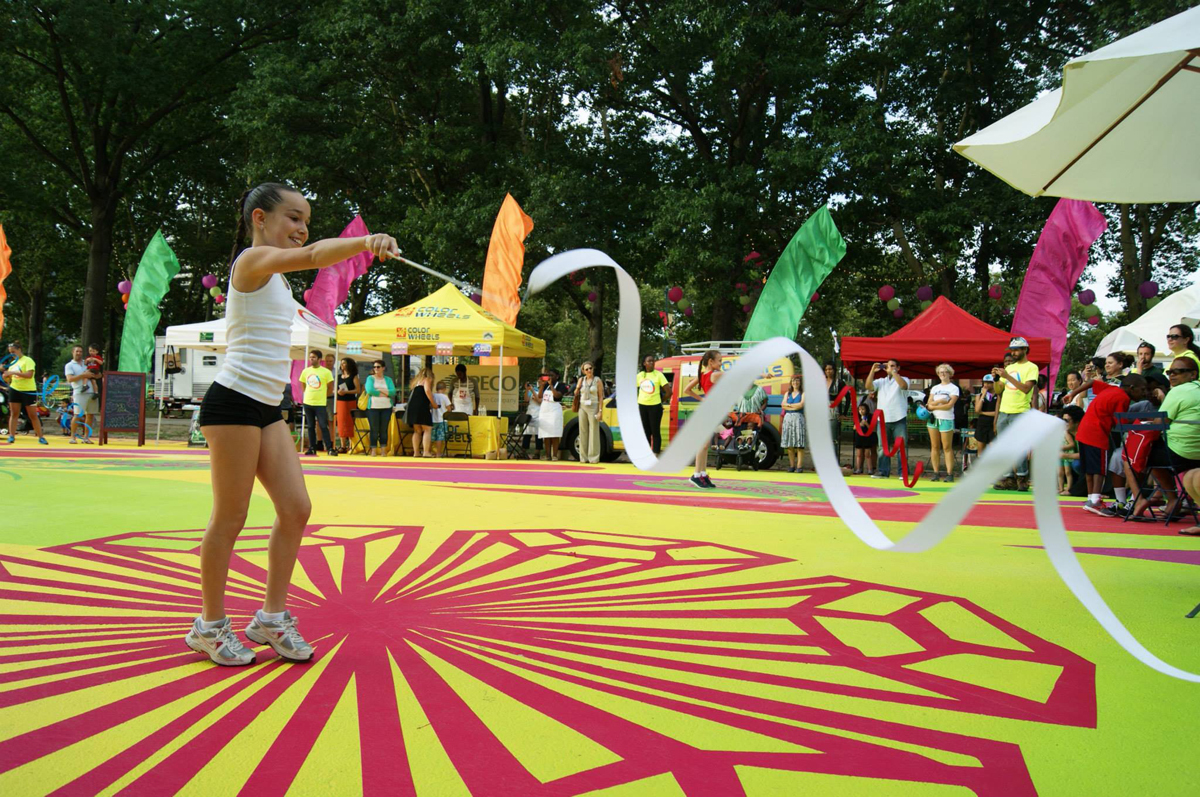 Special thanks to those who helped make Magic Carpet possible:
The Association for Public Art Board of Trustees, Staff, and Members
Artist Candy Coated
Mark Focht, Barry Bessler, Chris Palmer, Marc Wilken – Philadelphia Parks & Recreation
Kathryn Ott Lovell, Colleen Campbell, Sara Hirschler – Fairmount Park Conservancy
Laura Krebs – Cashman & Associates
Ralph Frangipani – Phoenix Digital Imaging
Craig Tragbar, Joe Marzario, Ray Mcgroary, and Lindsay Wysocki – Schnoll Painting
Mike Maguire – Sherwin Williams
Chris Sullivan, Joe Hill – Wasabi 3D
Natalie Diener Weddings & Events
Skanska USA Building
Hatzel & Buehler
Alec Rogers
Andrew Krehbiel
Casey Ramirez
Daniel Reece
Jaclyn Garvey
Jeffrey Bouchard
Nick Cassaway
With much appreciation to all of the Project Assistants who helped the artist realize this artwork:
Andrei Cabrera, Alyssa Choma, Michael Cosenza, Sarah Davis, Greta Galuszka, Jaclyn Garvey, Kala Hagopian, Rebecca Jacob, Cavin Jones, Valerie Lang, Katie Lillard, Andrew McGettigan, Diane Pieri, Lyric Prince, Amber Quisenberry, Mark Rounds, Daniel Scheppard, Jen Schlegel, Brendan Siltman, Chad Smalt, John Souter, Jean Swalm, Jon Weary, Amber Weeks, Ali Williams, and Zack Zubry.
And additional thanks to the Magic Carpet Museum Without Walls™: AUDIO program team:
Yowei Shaw (Producer), Dilys Blum (voice), Nicholas Kripal (voice), and Jon Shapiro (composer).