At A Glance
Joint project between Stacy Levy and Biohabitats, Inc. that is part of a series of efforts led by the Delaware River Waterfront Cooperation to activate the waterfront

Utilizes natural forces of plant roots and their freeze/thaw cycles to gradually break apart a former industrial landscape and "soften" it with verdancy

The watershed-shaped garden channels rainwater and prevents runoff into the river

The garden has been a catalyst for further restoration of the riverfront and other installations
Dendritic Decay Garden is the first of a series of efforts led by the Delaware River Waterfront Corporation (DRWC) to activate the riverfront and show the City's commitment to its revitalization. This joint project between artist Stacy Levy and Biohabitats, Inc. utilizes the destructive force of plant roots and weathering – freeze and thaw cycles – to gradually break apart the industrial hardscape of a concrete parking lot along the river. The Decay Garden is part of Washington Avenue Green (the former Pier 53), which opened in 2010 as the city's first dedicated waterfront public space.
"This project was all about softening the shoulders of the Delaware," says Levy. "Bringing back a little of the verdancy that has disappeared because of the industrial, almost entirely hardscape shoulders of the river."
The garden's watershed shape draws inspiration from how plant cracks naturally form on pavement. The large fissures cut into the asphalt create a "grooved platter" that channels rainwater and furthers the weathering of the concrete landscape. The rainwater collection supports the diverse greenery and native plants in the park, and the design prevents runoff into the Delaware River. Levy notes that the project begins to talk about nature "taking a foothold" and being "invited into the hardscape in very organized ways".
Since its completion in 2010, the garden has acted as a catalyst for further restoration of the riverfront, providing space for installations like Land Buoy by artist Jody Pinto.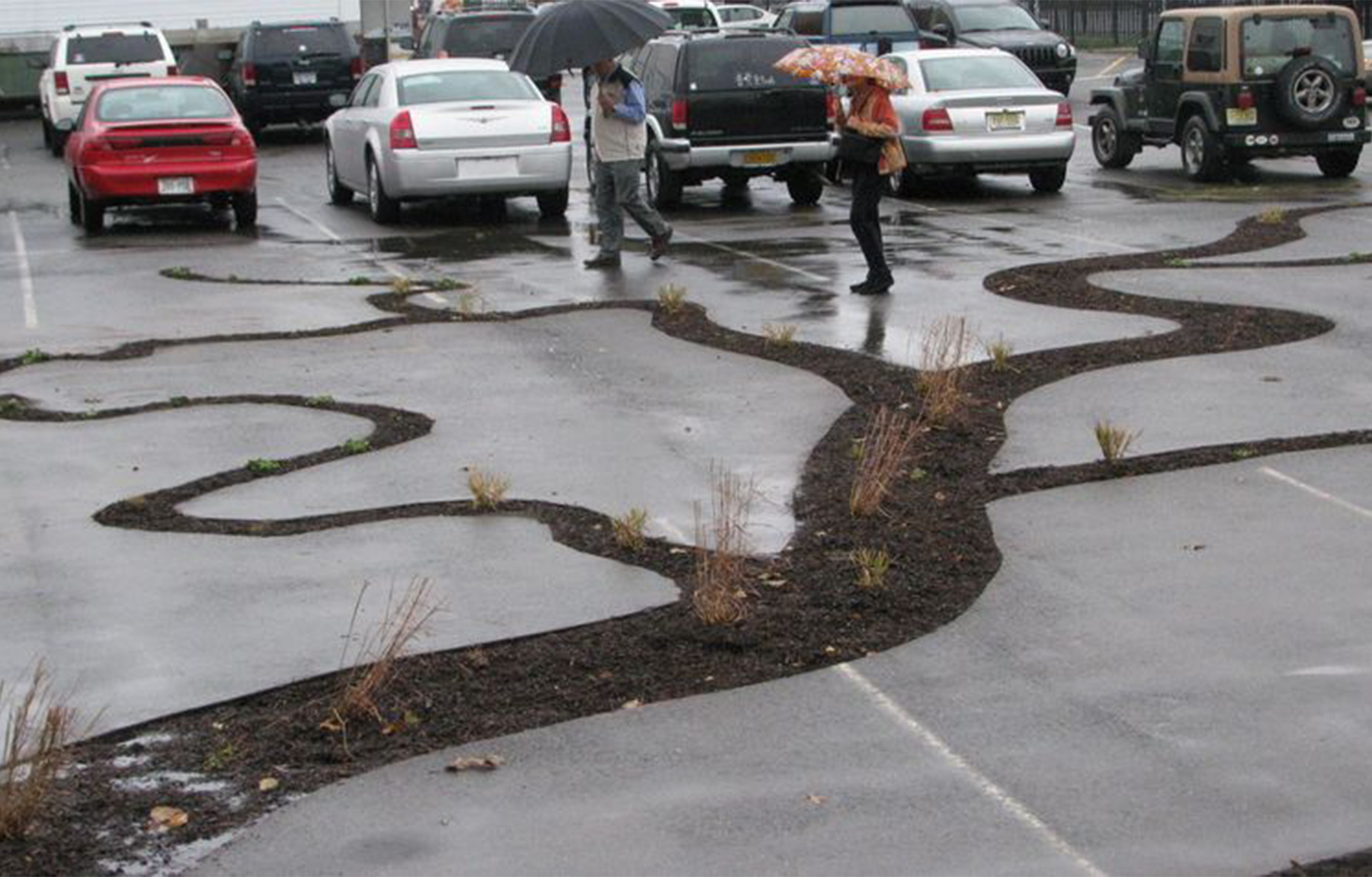 Stacy Levy is a contemporary sculptor whose work makes visible the various natural forces and processes in urban environments. Through large-scale installations and projects, Levy connects sculpture, architecture, and science, often collaborating with engineers, scientists, architects, and landscape architects. Her work and research tell ecological stories and often source commonly overlooked materials from surveyor, landscape, and construction industries.