At A Glance
A spiral-shaped staircase that honors immigrants who arrived in Philadelphia at this site, known as "Philadelphia's Ellis Island"

Many immigrants arrived at Pier 53 more than 100 years ago, including Pinto's own family, who came from Italy

Pinto's first permanent public work, Fingerspan, is located in Philadelphia along the Wissahickon Creek
In 2014, the Delaware River Waterfront Corporation (DRWC) unveiled Washington Avenue Pier – formerly Pier 53 – in South Philadelphia as part of a larger effort to revitalize the riverfront. Once abandoned and now reinvigorated, the pier was redesigned by Applied Ecological Services, and includes native plantings, wetlands restoration, rain gardens, meadows, pathways and elevated boardwalks, and gathering areas. At the end of the pier, rising 55 feet into the air, is Jody Pinto's Land Buoy.
This is a platform for viewing, for dreaming, and for remembering
A "mast-like" spire element ascends into the sky with a 16-foot spiral staircase wrapping around its base. Visitors can climb the stairs to a platform that offers views up and down the Delaware River, from the Benjamin Franklin Bridge to the Walt Whitman Bridge. "This is a platform for viewing, for dreaming, and for remembering," said Pinto.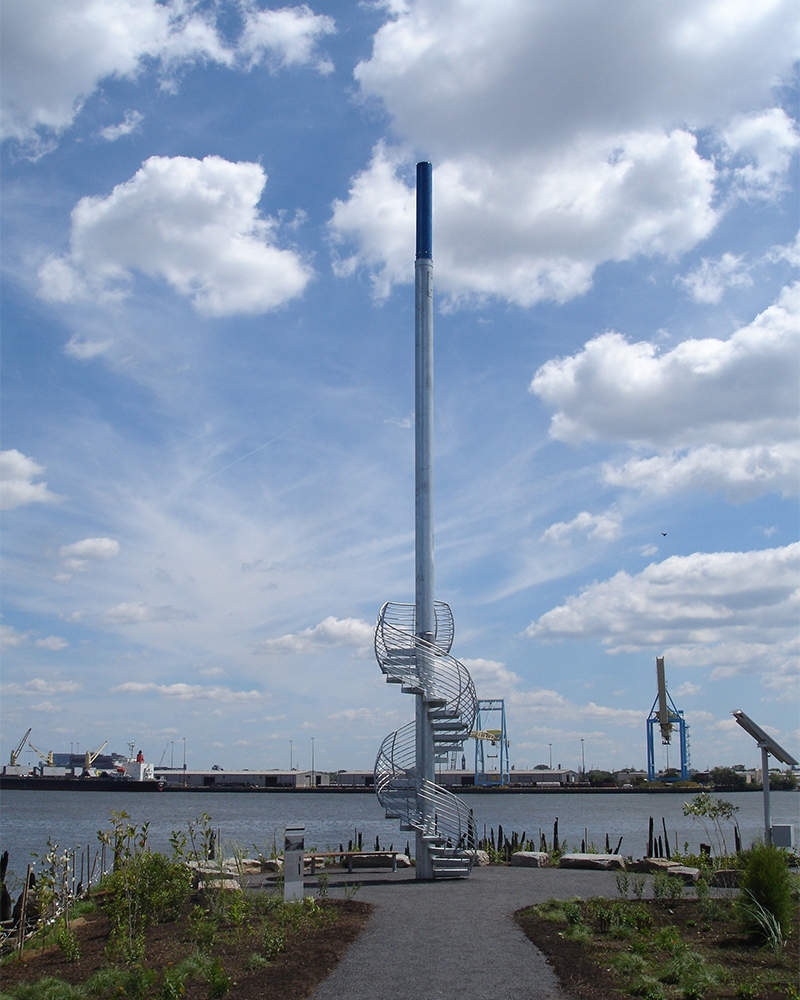 Many immigrants arrived at Pier 53 more than 100 years ago, including Pinto's own family, who came from Italy. Known as "Philadelphia's Ellis Island," the site was a major immigration point for Philadelphia from 1873 to 1915. Pinto's landmark design honors and recalls this history, serving as a beacon with a glowing, soft blue light atop the mast, powered by a nearby solar panel. "I want people to climb the spiral into a crows nest and take the place of what it meant to sight land for the first time," Pinto said.
Her first permanent public work is also in Philadelphia – and similar to Land Buoy, serves as a landmark. Commissioned by the Association for Public Art, Fingerspan (1987) is an 18,000-pound bridge of weathering steel spanning across a gorge along the Wissahickon Creek. The beloved finger-shaped bridge links the human body with the natural environment, giving those traveling through the work an opportunity to feel that connection.
Jody Pinto is based in New York City, but studied and taught at the Pennsylvania Academy of the Fine Arts and lived in Philadelphia through the mid-1970s. Growing up in a family of artists and photographers, Pinto has become known worldwide for her incorporation of functional public art and architecture into the natural environment.
RESOURCES: