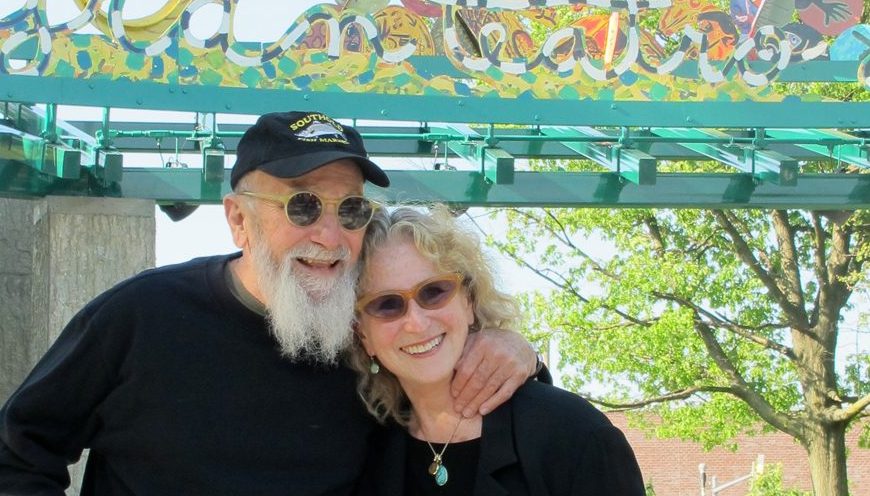 New York-based Puerto Rican artist and musician Rafael Ferrer is one of 15 artists and architects elected in 2020 to be National Academicians at the National Academy of Design (NAD), the leading honorary society for visual artists and architects in the U.S. The full list of new National Academicians includes Derrick Adams, Cecily Brown, Enrique Chagoya, Mitch Epstein, Rafael Ferrer, Beverly Fishman, Charles Gaines, Carmen Herrera, Michael Maltzan, Toshiko Mori, Jennifer Packer, Walid Raad, Betye Saar, Beverly Semmes, and Claire Weisz.
Read NAD's interview with Ferrer and learn about National Academicians »
Rafael Ferrer lived and worked in Philadelphia for many years, and was commissioned by the Association for Public Art (aPA) to create El Gran Teatro de la Luna (1982) in North Philadelphia's Fairhill Square as part of the Association's Form and Function program. Ferrer was also the guest speaker at the Association's 2013 Annual Meeting (video below) at the Philadelphia Museum of Art, and spoke about his personal development as a musician and visual artist over the past 60 years. See a list of our past Annual Meeting speakers »
Ferrer came to Philadelphia in the 1960s and taught at the Philadelphia College of Art (now the University of the Arts) and exhibited at the Institute of Contemporary Art (ICA). Notably, he executed Deflected Fountain 1970, for Marcel Duchamp on the Philadelphia Museum of Art's East Terrace in 1970.
Born in Santurce, Puerto Rico in 1933, Rafael Ferrer lives and works in Long Island, New York and Vieques, Puerto Rico. From his early days as a musician and his Surrealist-influenced abstract drawings and conceptual/process actions and installations, to his lush tropical paintings, maps, and works on paper bags, Ferrer's work defies categorization. He has had solo exhibitions at the Philadelphia Museum of Art, Whitney Museum of American Art, Institute of Contemporary Art in Philadelphia, and the Museum of Modern Art in New York. His artwork was also featured in a major retrospective at El Museo del Barrio in New York City in 2010.
El Gran Teatro de la Luna is part of aPA's Museum Without Walls™: AUDIO program for outdoor sculptures in Philadelphia, and is available in both English (above) and Spanish (below). Voices heard in the program include the artist, Rafael Ferrer; Executive Director of Taller Puertorriqueño, Dr. Carmen Febo San Miguel; and American art curator, Deborah Cullen Morales, who specializes in Latin American and Caribbean art. Segment Producer: Anne Hoffman, photos by Alec Rogers.