Joan of Arc, which the Fairmount Park Art Association was "instrumental" in bringing to Philadelphia, receives a brand new coat of 23.5-karat gold. Stephan Salisbury with The Inquirer interviewed the Fairmount Park Art Association's Assistant Director, Laura Griffith.
Golden girl Fear not: Joan of Arc will return, astride her horse, to her Kelly Drive post. The statue is getting a bright new gilded coat.
by Stephan Salisbury
Philadelphia Inquirer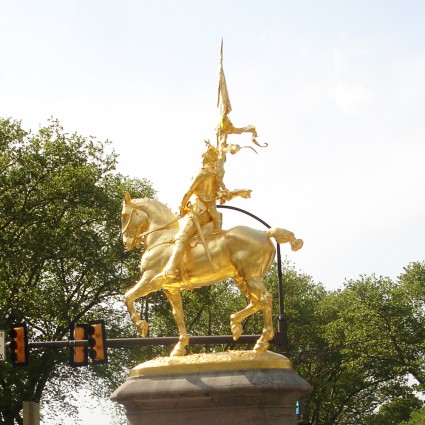 "Laura S. Griffith, assistant director of the Fairmount Park Art Association, said that while bronze sculptures generally need conservation treatment every few years, gilded bronze should last for decades.
The park art association was instrumental in bringing Joan to Philadelphia. In 1889, members of the local French community asked the group to help in acquiring an appropriate sculpture to commemorate the centennial of the French Revolution.
The French government already had asked Fremiet to create a statue of Joan for the Place des Pyramides in Paris, and he agreed to rework it for Philadelphia. The finished work – one of three editions – originally was sited in 1890 on the east side of the Schuylkill near the entrance to the Girard Avenue bridge.
Ungilded on arrival, Joan remained near Girard Avenue until 1959. Fremiet had wanted gilding, Griffith said, but funding and time worked against him. In 1959, however, the association removed the sculpture from its original location, gilded it, and installed it in the far-more-visible spot at the entrance to what was then known as East River Drive, now Kelly Drive."