They're on the move! After debuting in Philadelphia in 2017 and making an appearance in Baltimore, the glowing and whimsical Fireflies by renowned artist Cai Guo-Qiang have made their way to Coral Gables, Florida. Cai Guo-Qiang: Fireflies will be featured with seven other light-based projects at Illuminate Coral Gables (ICG) – South Florida's first art and light exhibit – from February 12 to March 14, 2021.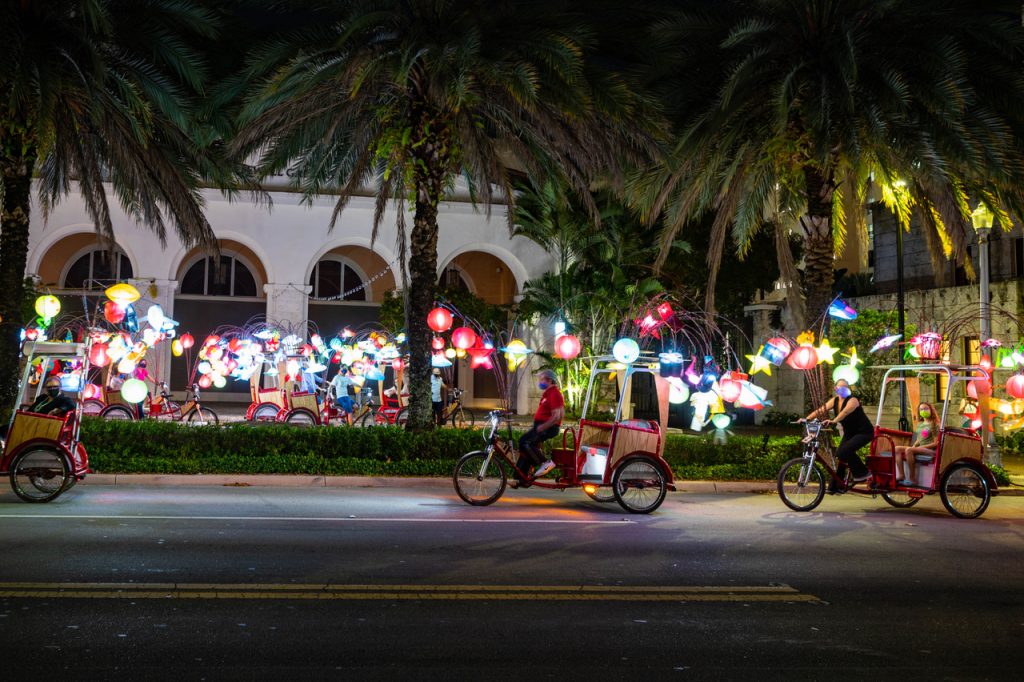 Attendees can catch the fleet of lantern-covered pedicabs as they glide through downtown Coral Gables as a dazzling "Art Parade." A set of Fireflies will be parked for visitors to take a closer look and snap pictures from inside the pedicab sculptures. Learn more about Fireflies in Coral Gables ››
Originally commissioned by the Association for Public Art (aPA) with Fung Collaboratives, Cai Guo-Qiang: Fireflies premiered along Philadelphia's Benjamin Franklin Parkway for the centennial celebration of the Parkway, with major funding from The Pew Center for Arts & Heritage.
Other artists participating in Illuminate Coral Gables include Kiki Smith, Carlos Estévez, David Gumbs, Joseph Clayton Mills, Sandra Ramos, Antonia Wright & Ruben Millares, and Jonathan Perez with Florida International University Art Students Ari Temkin, Emily Silverio-Williams, Heather Kostrna, Jennifer Hudock, L'nique Noel, Maria Daniela Maldonado, and Tara Remmen.