At A Glance
*Please note this artwork is undergoing conservation treatment and has been temporarily removed


Part of the Museum Without Walls™: AUDIO program

For the U.S. Bicentennial in 1976, Robert Indiana lent the city a large aluminum sculpture of his "love" image

Indiana first produced this design as a painting in 1964

F. Eugene Dixon, local businessman and then chairman of the Philadelphia Art Commission, purchased the work and donated it to the city
An uproar ensued…local media demanded to know why the sculpture had been allowed to slip away.
For the bicentennial celebration in 1976, Robert Indiana lent the city a large aluminum sculpture of his "love" image. Indiana first produced this design as a painting in 1964, and within a few years it had been used on a U.S. postage stamp and innumerable unauthorized jewelry, posters, and plates.
The sculpture was installed in John F. Kennedy Plaza not far from City Hall, and for two years after the bicentennial it remained there on "extended loan."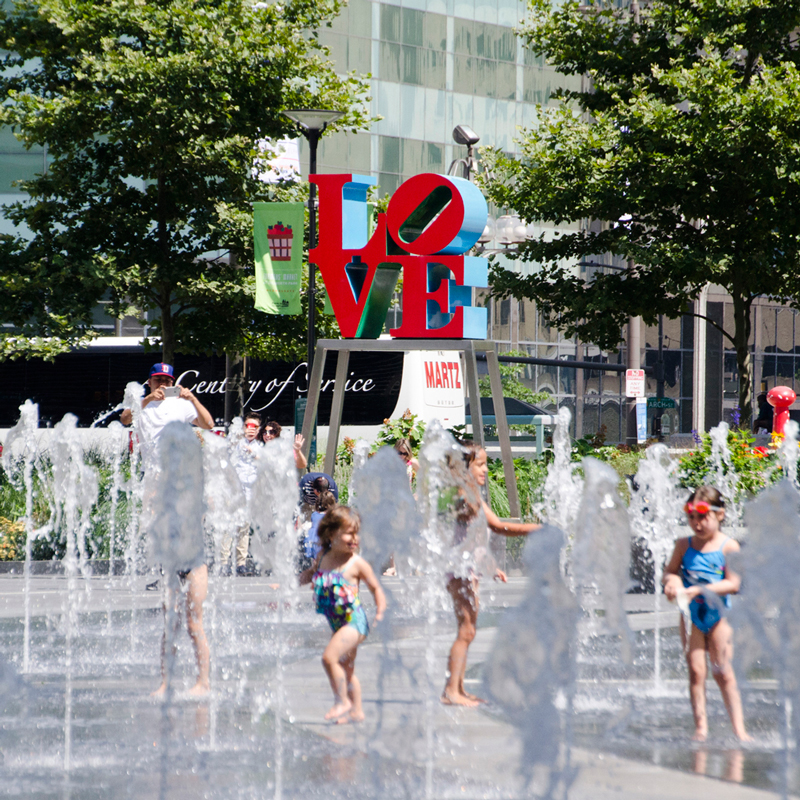 During that time Indiana's gallery in New York tried to sell the work to the city. When the sale could not be arranged, the gallery had a truck remove LOVE to New York, where a potential buyer was interested in seeing it.
An uproar ensued. The Philadelphia Inquirer and other local media demanded to know why the sculpture had been allowed to slip away.
F. Eugene Dixon, local businessman and then chairman of the Philadelphia Art Commission, purchased the work and donated it to the city, and soon it was reinstalled in the Plaza, now affectionately referred to as LOVE Park.
Adapted from Public Art in Philadelphia by Penny Balkin Bach (Temple University Press, Philadelphia, 1992).
RESOURCES:

Voices heard in the program:
Robert Indiana is an American painter and sculptor who created the iconic LOVE sculpture.
Adrian Dannatt is the author of Robert Indiana: Hard Edge and Robert Indiana: Wood.
Segment Producer: Lu Olkowski
A program of the Association for Public Art (formerly the Fairmount Park Art Association), Museum Without Walls™: AUDIO is an innovative and accessible outdoor sculpture audio program for Philadelphia's preeminent collection of public art.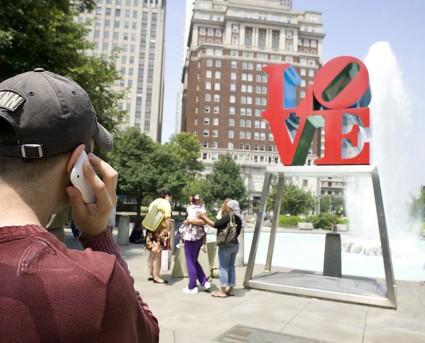 A "multi-platform" interactive audio experience – available for free by cell phone, mobile app, audio download, or on the web – Museum Without Walls™: AUDIO offers the unique histories that are not typically expressed on outdoor permanent signage.
Unlike audio tours that have a single authoritative guide or narrator, each speaker featured in Museum Without Walls™: AUDIO is an "authentic voice" – someone who is connected to the sculpture by knowledge, experience, or affiliation. Over 150 unique voices are featured, including artists, educators, scientists, writers, curators, civic leaders, and historians.
This artwork is part of the Along the Benjamin Franklin Parkway tour, and the Around City Hall tour.