About
On view June - November 2017, Philadelphia
Puryear's largest temporary public sculpture to date, first exhibited in New York's Madison Square Park
Was on view in Philadelphia along Kelly Drive from June – November 2017
Brought to Philadelphia by the Association for Public Art through a collaboration with Madison Square Park Conservancy
The sculpture creates a form that is both animal-like and abstract with an amoeboid shape in the center
Made of materials similarly found in Puryear's Pavilion in the Trees in Philadelphia
Big Bling has officially been installed at MASS MoCA in North Adams, Massachusetts. Thank you to all of our partners and everyone who supported this project in Philadelphia!
"I tend not to tell people what they're looking at when they're in the presence of my work," says Puryear. "I trust people's eyes. I trust their imagination."
The Association for Public Art (aPA), working with New York's Madison Square Park Conservancy in a first-time collaboration, brought internationally acclaimed artist Martin Puryear's Big Bling to Philadelphia as a temporary installation. The sculpture was commissioned by Madison Square Park Conservancy, New York, and was first exhibited by the contemporary art program, Mad. Sq. Art.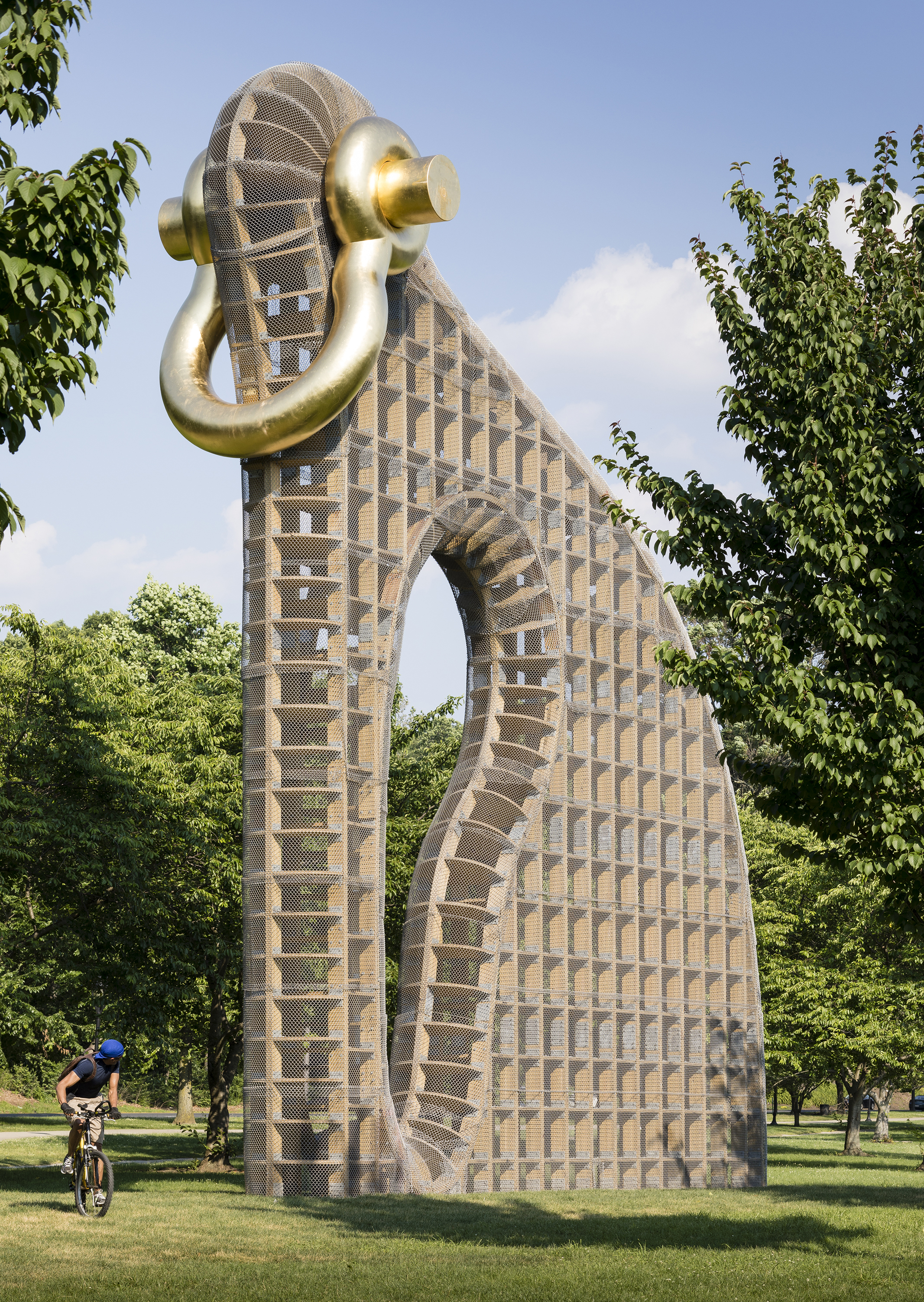 Big Bling was installed along Philadelphia's Kelly Drive, between Fountain Green Drive and the Connecting Railway and Girard Avenue Bridges (see map), and was on view from June – November 2017. The sculpture was located near Daniel Chester French and Edward C. Potter's General Ulysses S. Grant, Frederic Remington's Cowboy, and Carl Milles' Playing Angels, which were installed by aPA in 1898, 1908, and 1972, respectively.
Rising forty feet high and eliciting many interpretations, Big Bling is Puryear's largest temporary outdoor sculpture to date. The colossal multi-tiered wood structure is wrapped in chain-link fence and anchored with a gold-leafed shackle near the top. Layers of laminated timbers and plywood stack together to create a form that is both animal-like and abstract with an amoeboid shape in the center. "I tend not to tell people what they're looking at when they're in the presence of my work," says Puryear. "I trust people's eyes. I trust their imagination."
Philadelphia is home to one of Puryear's early public works, Pavilion in the Trees. Pavilion was conceived in 1981 as part of the Form and Function program of the Fairmount Park Art Association (now the Association for Public Art) and installed at the Fairmount Park Horticulture Center in 1993. Inspired by the universal longing for a tree house, Pavilion consists of an open structure that uses materials similarly found in Big Bling. The work has become a favorite destination to relax and contemplate nature from a bird's-eye view.
Share your photos on Twitter and Instagram using #BigBlingPhilly!
@assocpublicart
ALSO ON VIEW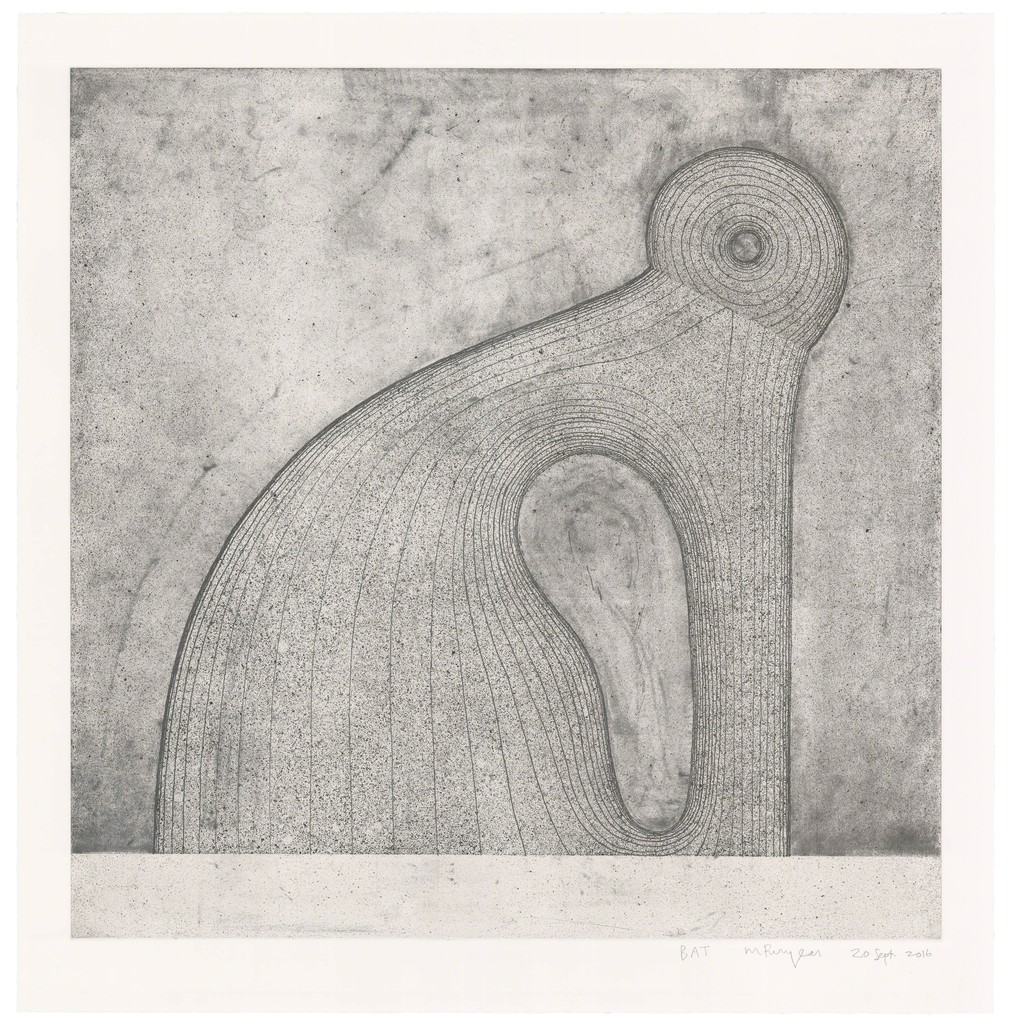 The Philadelphia Museum of Art displayed a recently acquired intaglio print by Martin Puryear, Untitled (State 1), published by Universal Limited Art Editions, Inc. The print was displayed in Gallery 124 of the Museum from Tuesday, June 27, through Sunday, October 15, 2017.
Additionally, in conjunction with aPA, The Print Center exhibited Martin Puryear Prints: 1962 – 2016, guest curated by Ruth Fine. "The forms explored in Puyear's sculpture, often rooted in nature, are equally powerful in his prints," said Ruth Fine. The exhibit was on view September 8 – November 18, 2017. An opening reception was held at The Print Center on Thursday, September 7, 2017. More information at printcenter.org.