Philadelphia – Mayor Jim Kenney joined Council President Darrell Clarke, Philadelphia Parks and Recreation Commissioner Kathyrn Ott Lovell, AIR Communities, and residents to celebrated the opening of Maja Park, a brand new 3.5 acre park located at North 22nd Street and The Benjamin Franklin Parkway. The highlight of the Parkway's newest green space is the recently restored Gerhard Marcks Maja sculpture (pronounced Maya), which was installed by the Association for Public Art (aPA) and will remain under its care. 
Philadelphia Mayor Jim Kenney said, "The Ben Franklin Parkway is Philadelphia's postcard to the world. I am thrilled to welcome the addition of Maja Park to the unparalleled mile of public art and green space that stretches from LOVE Park to the Art Museum steps. Today is another step forward in making sure the Parkway is a welcoming vibrant public space for all to enjoy."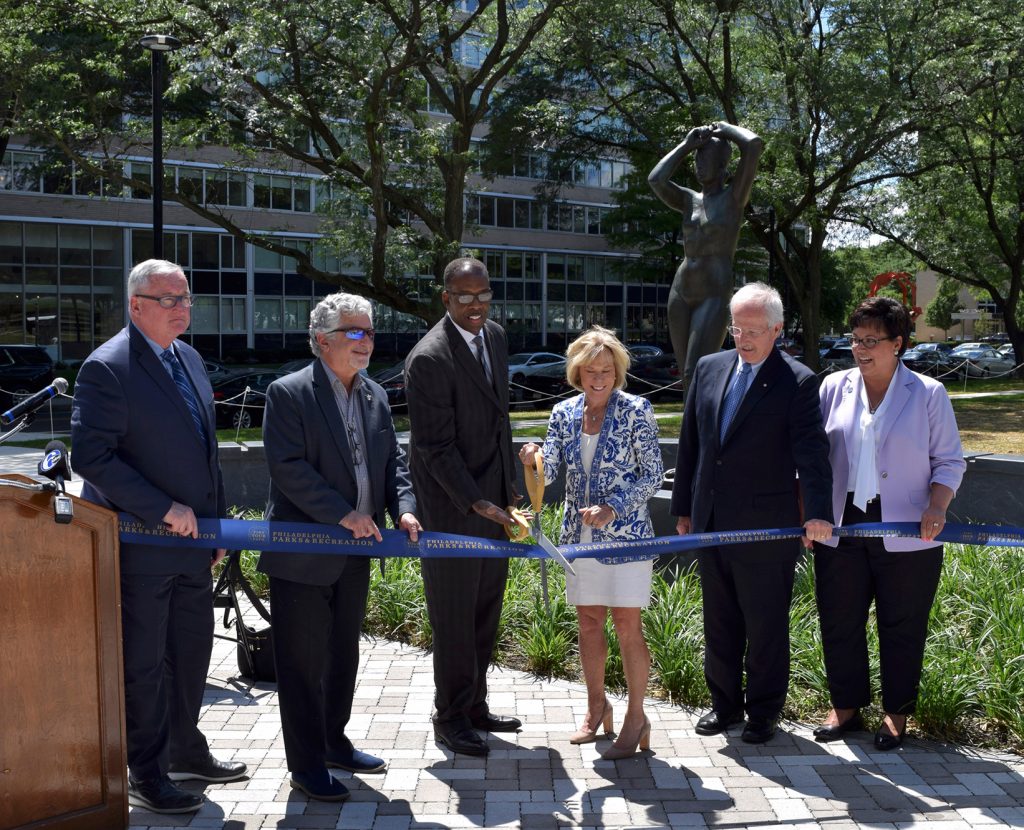 The development of Maja Park was led by AIR Communities (Park Towne Place Museum District Residences) in collaboration with the City of Philadelphia, the Office of Council President Darrell Clarke, and Philadelphia Parks & Recreation, with support from the Commonwealth of Pennsylvania's Department of Conservation and Natural Resources and Department of Community and Economic Development. 
"Philadelphia is home to one of America's most beautiful and iconic rights of way," said Council President Darrell Clarke. "The Parkway's majesty and appeal is made stronger by each new green space and cultural attraction. Maja Park offers both, while providing residents and visitors a more welcoming and vibrant Parkway experience."
Maja Park is the most recent Capital improvement project completed on the Parkway. Other recent projects include: LOVE Park; Parkway streetscape improvements; Sister Cities Park; Shakespeare Park, Von Colln Park; Winter Street Park and Playscape, which is currently under construction.
The Project
Maja Park transformed the underutilized lawn into defined, welcoming spaces for active and passive recreation. Designed by Philadelphia-based landscape architecture firm Ground Reconsidered, the multipurpose space is centered around the Marcks' Maja sculpture, which sits on a pedestal at one end of a new plaza with granite walls across from a trellised area to host informal gatherings and small-scale performances. 
New pedestrian lights and landscaping improvements enhance the experience for residents and passers by. New grass, trees, and shrubs are supported by necessary irrigation and water management systems. 
The adjacent Park Towne Place Street received new asphalt surfacing with new traffic signages, street marking, and bicycle parking. New pedestrian walkways connect the site to the Parkway, and include curb extension bump-outs to ensure ADA accessibility to the park. Once fully seeded, the Maja Park lawn will be available to host small-scale performances and events.  
"This is an exciting day for Park Towne Place and the entire Parkway community," said Patti Shwayder, Senior Vice President and Chief Corporate Responsibility Officer at AIR Communities. "Maja Park is a shining example of how private/public partnerships can make real, positive change in our communities. We are thankful for the opportunity to bring more "park" and less "way" to our residents, neighbors, and the thousands of Parkway visitors each year."
In March 2021, the Association for Public Art (aPA) installed Maja in Maja Park, a location not far from where the work was originally installed by aPA on the Philadelphia Museum of Art's East Terrace. Renovations on the terrace sent the sculpture into storage in 1992, and aPA waited for the right opportunity and appropriate site to reinstall the work.
"Designing Maja Park with the sculpture as the focal point follows a long tradition of incorporating public art into good civic design," said Penny Balkin Bach, Executive Director and Chief Curator of the Association for Public Art. "Sculptures can become landmarks and identifiers that create unique, recognizable and shared images and experiences that shape public spaces. Being able to work with Philadelphia Parks & Recreation, AIR Communities, Ground Reconsidered, as well as Adam Jenkins Conservation and Atelier Fine Art Services to bring Maja back into public view highlights the importance of partnership and collaboration. We're grateful to the City for deciding to name the park after Gerhard Marcks' Maja".
Reimagining the Ben Franklin Parkway
In March 2021, the City released an RFP inviting innovative design teams to develop a public realm plan for  Reimagining the Benjamin Franklin Parkway. The Maja Park ceremonial ribbon cutting takes place during week three of the five-week Ideas Workshop phase of the RFP,  an opportunity for world-class design teams to share their ideas for reimagining the Parkway into a safe, welcoming, pedestrian-centric, vibrant public space. Design teams will present their conceptual ideas for the Parkway redesign in a public presentation at the Barnes Foundation on July 14. 
"Thank you AIR Communities, the Commonwealth of Pennsylvania, and the Logan Square Neighbors for embracing our vision for a greener, more welcoming Parkway," said Kathryn Ott Lovell, Commissioner, Philadelphia Parks & Recreation. "Maja Park is a love letter to the Parkway and the people it carries. This project is a shining example of the benefits all Philadelphians enjoy when the City works with cultural, commercial and community partners to elevate our most treasured public spaces."
###
About The Parkway Redesign
Since the launch of the More Park, Less Way plan in 2013, the City has completed many of the recommendations to improve safety and activate public spaces along the Parkway. The plan outlined improved traffic calming measures as well as ambitious plans to transform Eakins Oval into a pop up park as a critical foundation for re-imaging the Parkway. In that time, the City has invested in…:  
New green spaces 
Created the Winter Street Greenway, currently in progress, which includes a new playscape, play equipment, dog run, and site amenities; 

Constructed Maja Park to create additional opportunities for passive recreation through new walkways, seating areas, performance plaza and installation of the iconic

Maja

sculpture by artist Gerhard Marcks to enliven the previously underutilized Southern side of the Parkway in front of Park Towne Place Residences in partnership with The Association for Public Art (aPA) and Aimco. 

Upgraded the playground with a new sprayground and improved the fields and perimeter of Von Colln Field;
New traffic calming measures
Added soft rumbles, which are raised rumble strips that discourage speeding.

Improved pavement markings to create more buffered areas that people should not drive, ride, or walk within;  

Added more directional indications like arrows and messaging painted directly onto the road surface;

Added more conflict pavement markings indicating where one can expect cars and bikes crossing paths; and

Increased the number of pedestrian crosswalks indicating the best locations for pedestrians to navigate around and over the Oval and Circle.

Installed flexible delineator posts at key locations which help keep users in their lanes and help to slow excessive speeding and erratic lane changes;
New programs and activations
Oval+ Pop Up Activations: Six week summer activations at the Eakins Oval attracted over 700,000 visitors in the first seven years (2013 – 2019).

The 2019 season at The Oval+ featured expanded public amenities and programming along the Parkway's outer lanes via themed blocks informed by resident feedback and inspired by adjacent cultural institutions. More than 40% of visitors to the seasonal pop up said they wanted to see more family related activities at The Oval and along the Parkway. 

Early 2021, with support from the William Penn Foundation, The Mayor's Fund for Philadelphia, PPR, and OTIS posted a

request for proposals

seeking qualified professional firms specializing in urban park design and/or landscape architecture and engineering to develop a world class public realm plan to realize permanent improvements to the Parkway. 
###
Philadelphia Parks & Recreation (PPR) advances the prosperity of the city and the progress of its people through stewardship of nearly 10,200 acres of public land and waterways, and management of 500 recreation buildings, 166 miles of trail, and 250 playgrounds. PPR offers safe, enjoyable recreation, environmental and cultural programs and events throughout Philadelphia's parks and recreation system. PPR promotes the well-being and growth of the city's residents by connecting them to the natural world, to each other and to fun, physical and social opportunities. In 2017, Philadelphia Parks & Recreation Commissioner Kathryn Ott Lovell, set about implementing the park system's first strategic plan: Our Path to 2020 and Beyond. As a result, PPR is undertaking a period of historic change, setting the department on a course to become a modern, equitable and exceptional parks and recreation system. Visit us at www.phila.gov/parksandrec, and follow @philaparkandrec on Facebook, Twitter, or Instagram.
AIR Communities is a real estate investment trust focused on the ownership and management of quality apartment communities located in the largest markets in the United States. AIR is one of the country's largest owners and operators of apartments, with 95 communities in 12 states and the District of Columbia. AIR common shares are traded on the New York Stock Exchange under the ticker symbol AIRC and are included in the S&P 400. For more information about AIR, please visit our website at www.aircommunities.com.
The Association for Public Art (aPA, formerly Fairmount Park Art Association) commissions, preserves, interprets, and promotes public art in Philadelphia. The aPA is the nation's first private nonprofit organization dedicated to creating a "Museum Without Walls" that informs, engages, and inspires audiences. Established in 1872, aPA integrates public art and urban design through exemplary programs and advocacy efforts that connect people with outdoor sculpture. www.associationforpublicart.org Connect with us @assocpublicart on Facebook, Twitter, or Instagram.
---
For media requests, please contact:
Caitlin Martin, Senior Communications & Marketing Manager, cmartin@associationforpublicart.org