At A Glance
The artwork references Batammaliba architecture from Benin and Togo, the teleuk dwellings in Chad and Cameroon, and the restaurant Mammy's Cupboard in Mississippi

Brick House is the first, of 59 public artworks in Penn's collection, by a Black woman to be installed on university grounds

Another edition of Brick House can be seen atop New York's High Line Plinth, at 30th Street and 10th Avenue, through 2021

Simone Leigh is the first artist to be commissioned for the High Line Plinth, and was recently chosen to represent the United States at the 2022 Venice Biennale
On the University of Pennsylvannia's campus at the corner of 34th and Walnut Streets stands Brick House, a 16-foot-tall bronze bust of a Black woman by acclaimed artist Simone Leigh. The 5,900-pound sculpture is the first large-scale artwork in Leigh's Anatomy of Architecture series, a collection that fuses architectural forms from across Africa and the African diaspora with the human body. The woman's torso, a form resembling a skirt or clay house, references Batammaliba architecture from Benin and Togo, the teleuk dwellings of the Mousgoum people of Chad and Cameroon, and architectural elements from the restaurant Mammy's Cupboard in Natchez, Mississippi. The figure is crowned with cornrow braids ending in cowry shells, possibly alluding to their use as currency during the African slave trade or Batammaliba cowry shell divination.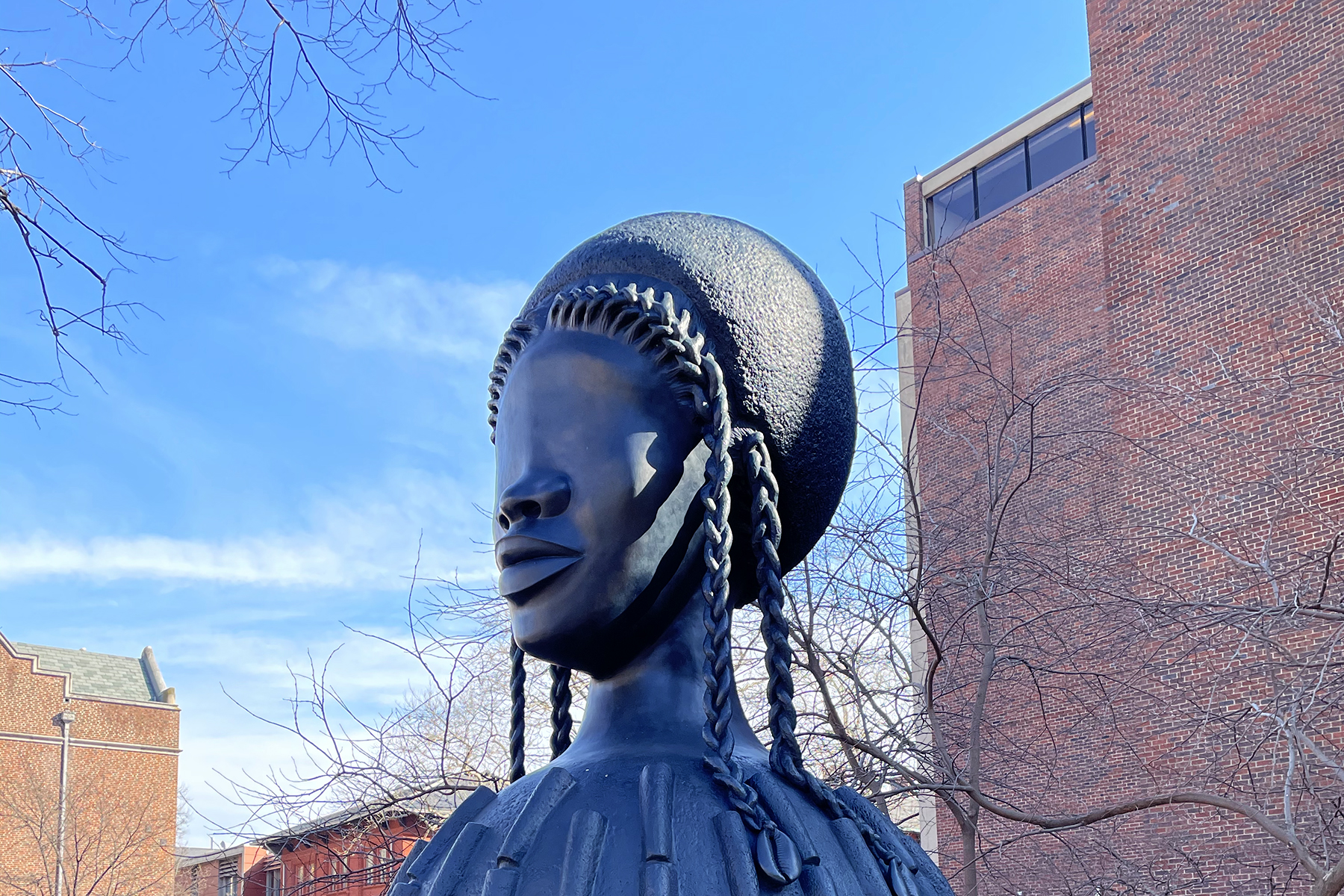 A gift from University of Pennsylvania graduates Glenn Fuhrman ('87) and Amanda Fuhrman ('95), Brick House is the first, of 59 public artworks currently in Penn's collection, by a Black woman to be installed on university grounds. Leigh's sculpture replaces Robinson Fredenthal's Black Forest – which was relocated to a nearby area on campus, near Claudia Cohen Hall – fostering conversations about Black identity and femininity in the United States and the role of architecture in asserting societal values from its prominent location on campus. Another edition of Brick House was installed on the High Line Plinth in New York City.
Born in Chicago, Illinois, Simone Leigh is a contemporary artist whose work spans a variety of media. Through sculpture, video, installation, and social practice, Leigh explores and investigates Black female subjectivity, merging forms and references from diverse historical periods and locations in a way that "collapses time". She is the first artist to be commissioned for the High Line Plinth, and was recently chosen to represent the United States at the 2022 Venice Biennale.
RESOURCES
This artwork is part of the Around University City tour