There are many fantastic events happening on and around the Parkway during Cai Guo-Qiang: Fireflies, including Opera Philadelphia's Festival, The Franklin Institute's Terracotta Warriors exhibit, and Parkway 100 events. See our recommendations below and make a night of it! Fireflies runs September 15 – October 8, 2017, Thursdays through Sundays from 6-10pm.
Fireflies is a major public artwork for Philadelphia by Cai Guo-Qiang, commissioned by the Association for Public Art (aPA) with Fung Collaboratives on the occasion of the Parkway Centennial. Twenty-seven customized pedicabs with hundreds of luminous, colorful lanterns will traverse the Parkway at night, drawing on memories of the traditional lantern festivals of the artist's childhood.
Free rides in the pedicabs begin September 15th, with one-way trips from Iroquois Park to Sister Cities Park and Sister Cities Park to Iroquois Park. Walk-ups are welcome and online reservations can be made here.
Click map to view in Google Maps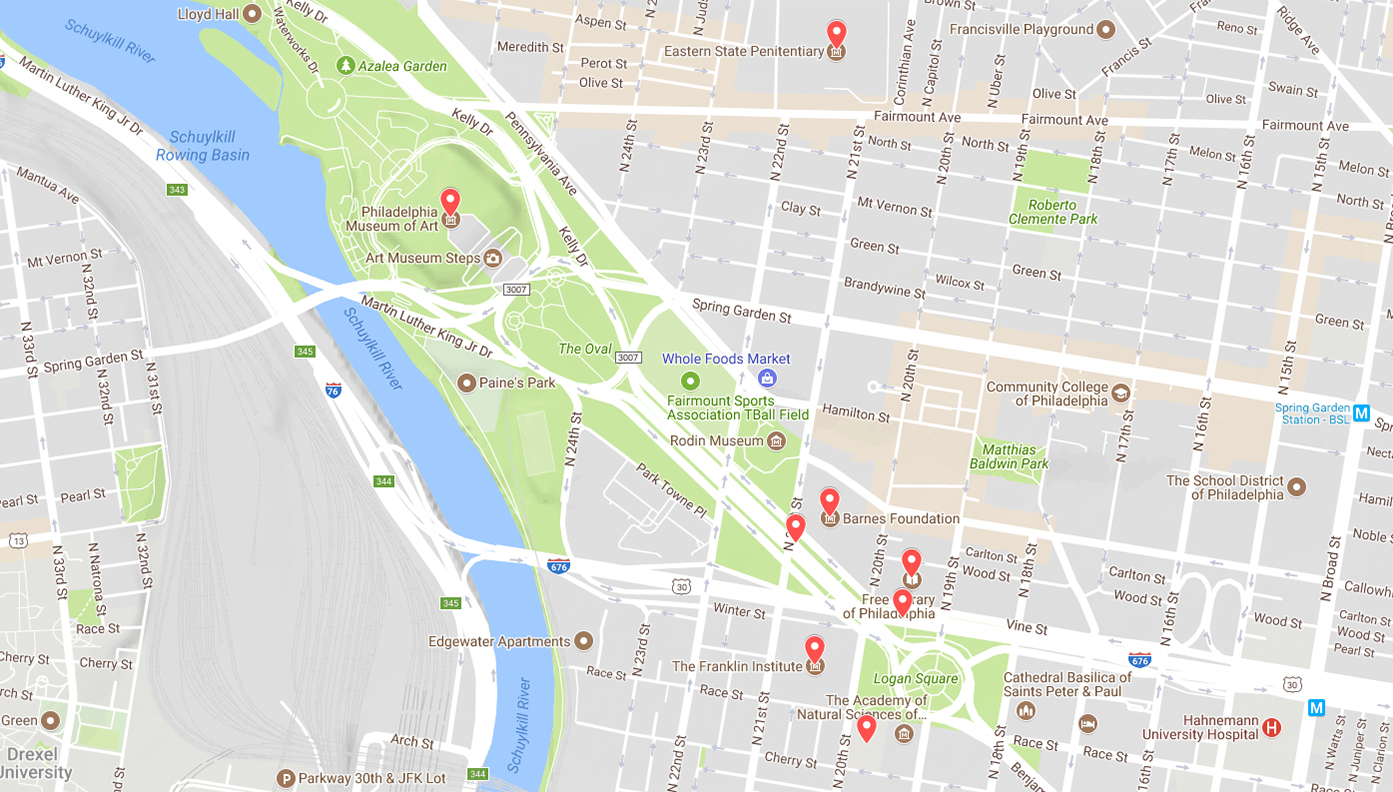 Throughout Philadelphia

FringeArts presents its 21st annual Fringe Festival, a 17-day celebration of contemporary performance with more than 1,000 curated and independently produced shows throughout Philadelphia. Choose from theater, dance, music, visual art, and everything in between! Search for performances and purchase tickets.
September 7-24
Benjamin Franklin Parkway
Celebrate the centennial of the Benjamin Franklin Parkway with more than a year of exhibitions, events, community conversations, and promotions! See a list of Parkway 100 events.
September 8, 2017 – November 2018
1901 Vine Street

Take a peak at the Corridor of Culture: 100 Years of the Benjamin Franklin Parkway special exhibition or reserve tickets to one of the many Author Events at the Library. Authors this season include Stephen Greenblatt, Adam Gopnik with Meg Wolitzer, Salman Rushdie with Claire Messud, and Jeffrey Eugenides. See a full list of Author Events.
Corridor of Culture Exhibition: September 8, 2017 – November 2018
Author Events: September 15, 22, 28 and October 5 & 6
Center City

Restaurants across Center City will offer three-course dinners for discounted rates. See a full list of participating restaurants.
September 10-19
2025 Benjamin Franklin Parkway
Evening events at the Barnes Foundation include Open House: #BIKETOBARNES (September 14), Artist Bash: Drivers of Social Change (September 15), and Opera Philadelphia's Festival's Wake World (September 18 & 19, 23-25).
September 14, 15, 18 & 19, 23-25
2600 Benjamin Franklin Parkway

Enjoy live music and gallery access until 8:45 p.m, with cocktails and tapas-style dishes by Starr Catering. Performers this fall include Linda May Han Oh, Combo Melaza, and Ryley Walker.
September 15, 22, 29 and October 6, 5-8:45PM
1951 Benjamin Franklin Parkway
The official beer garden of Cai Guo-Qiang: Fireflies! Parks on Tap at Shakespeare Park, home of Alexander Stirling Calder's Shakespeare Memorial, provides fresh food, beer on tap, wine, snacks, and non-alcoholic beverages in a festive outdoor environment featuring comfortable seating, clean restrooms and a variety of family-friendly activities. A portion of the proceeds benefits Philadelphia's parks.
Thursdays through Sundays, September 15 – October 8, 5-10PM
1916 Race Street

Attend opening receptions for the Narrative Horizons and Nick Lenker exhibits, as well as Fringe Festival events and a performance of The Loomstrument.
See a full schedule of events

September 15, 16, 22, 23, 28
Benjamin Franklin Parkway

Opera Philadelphia's  Festival is 12 days of 7 operas in 6 different venue across Philadelphia. The Wake World at the Barnes Foundation takes visitors on a fantastic journey, following members of the Opera Philadelphia Chorus through the treasured galleries of The Barnes Foundation. War Stories at the Philadelphia Museum of Art, staged in the Museum's medieval stone cloister and Great Stair Hall, presents a jarring, complex view of war and its costs.
Wake World – September 18 & 19, 23-25; War Stories – September 14 (preview), 16, 17, 19, 21, 23
2027 Fairmount Avenue
Experience one of the country's largest and top-rated haunted attractions inside a massive former prison in Philadelphia's Fairmount neighborhood. Click here for more information, including dates, and prices.
September 22 – November 11 (select dates)
222 N 20th Street

Take a journey through one of the most significant archaeological discoveries in history—and explore the enduring mysteries that remain hidden within its depths. This is the only east coast engagement of a two-city exhibit tour! Click here for tickets.
September 30 – March 4, evening hours on Thursdays, Fridays, and Saturdays