The Association for Public Art (aPA) is working with Philadelphia Parks and Recreation (PPR), Ground Reconsidered, and Aimco to install Gerhard Marcks' Maja (pronounced \MAI-uh\) sculpture in a newly planned park for the Benjamin Franklin Parkway, to be located in front of Park Towne Place Museum District Residences on the south side of the Parkway at 22nd Street. The project recently received approval to proceed from the City's Art Commission. 
>>PRESS RELEASE: Mayor Kenney Breaks Ground, Names New Park "Maja Park"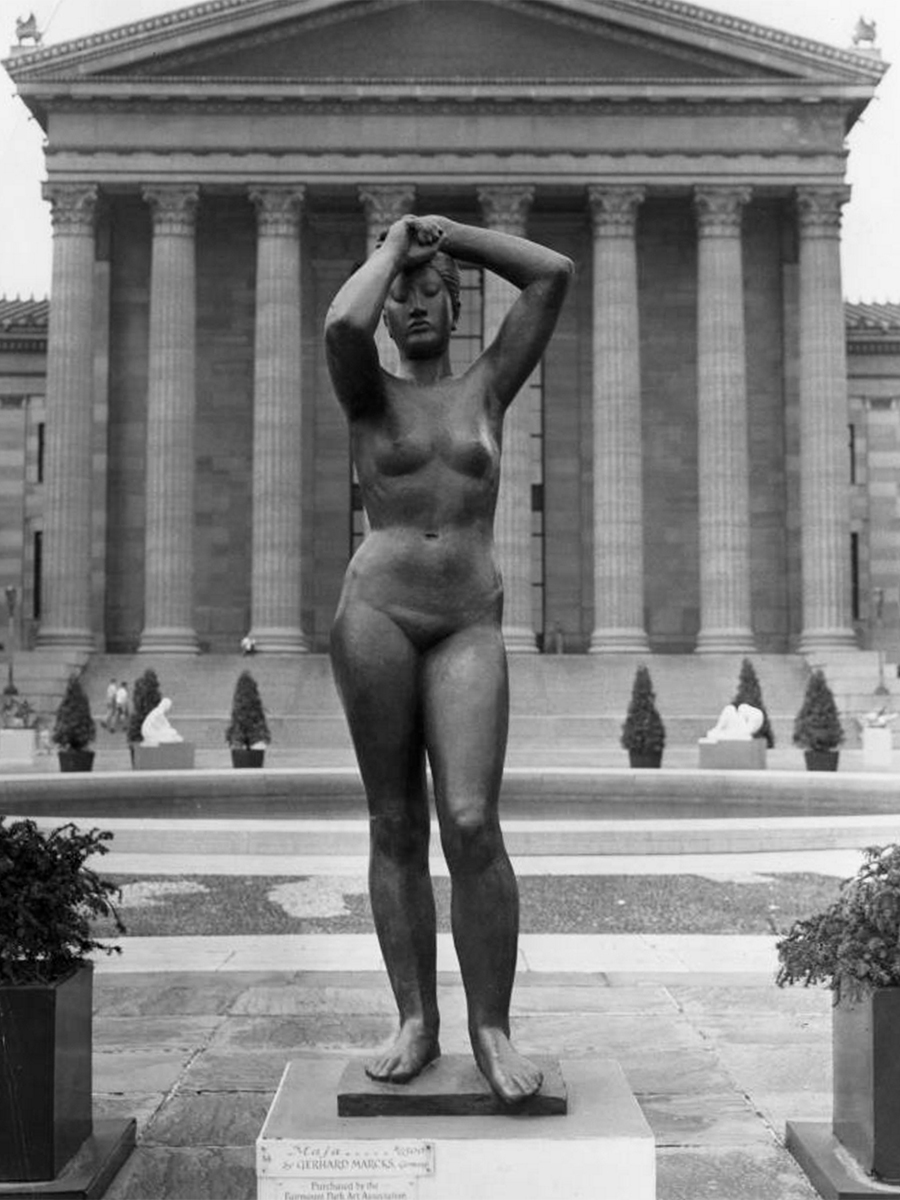 Maja (1942) has been tucked away in storage for more than 25 years; but in its prior life, the sculpture stood on the East Terrace of the Philadelphia Museum of Art for decades.
The Fairmount Park Art Association (now the Association for Public Art) purchased Maja in 1949 as part of its Third Sculpture International Exhibition, installed inside and outside of the Philadelphia Museum of Art. This series of exhibitions in 1933, 1940, and 1949 featured works by hundreds of sculptors from around the world, and was organized by the Association to introduce the public to contemporary sculpture and to identify artists for the Ellen Phillips Samuel Memorial on Kelly Drive. Marcks' Maja was considered a particularly significant sculpture in the third exhibition, which also included works by Alexander Calder, Jacques Lipchitz, Pablo Picasso, and Barbara Hepworth, and was widely seen by sculptors as one of the most important exhibitions in the world.
In 1952, Maja was part of another notable exhibition, Sculpture of the Twentieth Century, organized by the Museum of Modern Art (MoMA) in New York. According to MoMA, Andrew Carnduff Ritchie, Director of the Museum's Department of Painting and Sculpture stated that the exhibit was intended to "give as comprehensive a view as possible of twentieth-century sculpture in all its richness and variety of expression." The Philadelphia Museum of Art was the first venue for the exhibition, which then traveled to the Art Institute of Chicago and culminated at MoMA in 1953. When Maja returned to Philadelphia, the sculpture was installed by the Association on the East Terrace of the Philadelphia Museum of Art until 1992, when it was removed and placed in storage along with other nearby sculptures due to the renovation of the terrace.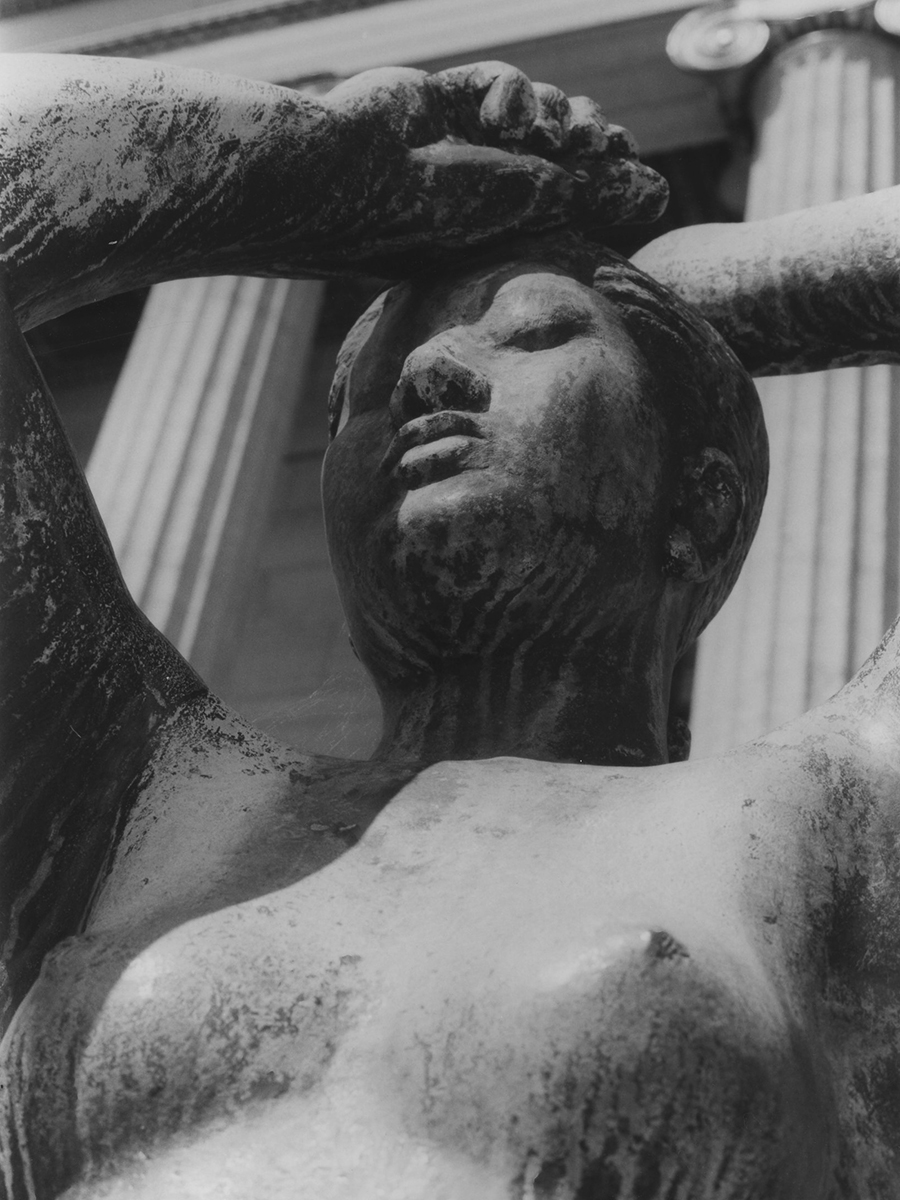 Additional casts of Maja are located at the Franklin D. Murphy Sculpture Garden on the UCLA campus; outside Kunsthalle Emden in Germany; and at the Kunst Museum Winterthur in Switzerland.
Gerhard Marcks (1889-1981) was a German sculptor, printmaker, and designer who helped revive the art of sculpture in Germany during the first quarter of the 20th century. Marcks' sculptures often reveal themes from Christianity and Greek mythology. "His figurative artworks never seem heroic or laden with pathos, but instead reflect humanistic moods and a quiet behavior," observes aPA Assistant Curator Susan Myers. A letter from his friend, artist Lyonel Feininger to Marcks in 1941 described his work: "…Your figures go far beyond mere reflection of nature; they combine sparse outline with very deep characterization."
Marcks held teaching positions at both the Bauhaus (1919-1925) and the Halle School of Arts and Crafts (1925-1933). In 1933, Nazis dismissed Marcks from his teaching post after he tried to protect a Jewish student from persecution; and in 1937, they declared his work "degenerate" – a term frequently used at the time to characterize art that did not support Nazism – barring him from exhibiting and subsequently confiscating and melting down several of his sculptures. He later relocated his studio to Berlin, where he continued to create new sculpture. In November 1943, a bomb destroyed his home and many of his sculptures were left in pieces. Marcks wrote, "Before God every genuine work of art is eternal because its creation is a divine gift. Once it is set in material and the act of creation is completed, it can be left to the process of decay. Any loafer can destroy a work of art but he cannot undo the intellectual act." After World War II, Marcks continued to work, creating noted wood reliefs, prints, and a number of memorials for soldiers and civilians who died during the war. His public works can be found in cities throughout Germany, including Cologne, Hamburg, Mannheim, and Frankfurt. In 1969 and 1971 respectively, The Gerhard Marcks Foundation and House were founded in Bremen, Germany, commemorating his work as an artist.
SOURCES:
• Haftmann, Werner, et al. German art of the twentieth century. Edited by Andrew Carnduff Ritchie, Museum of Modern Art, 1957.
• Rieth, Adolf, et al. "Gerhard Marcks and the Third Reich." The Massachusetts Review, vol. 2, no. 3, 1961, pp. 538–540. JSTOR, www.jstor.org/stable/25086708.