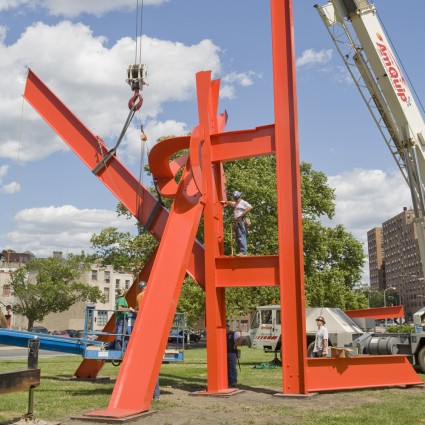 On a beautiful clear day in June, two flat-bed trucks loaded with 17.5 tons of painted red steel waited until morning rush hour eased before crossing Eakins Oval to deliver their cargo to the grassy plot opposite the Philadelphia Museum of Art. Here, two cranes unloaded huge pieces of Mark di Suvero's monumental sculpture, Iroquois.
Iroquois, which arrived in Philadelphia on June 22, 2007, was acquired by the Fairmount Park Art Association with support from art patron and humanitarian David N. Pincus. Installed on the Benjamin Franklin Parkway near Eakins Oval and Spring Garden Street, the monumental sculpture had previously been on temporary display at the Frederik Meijer Gardens and Sculpture Park in Grand Rapids, Michigan and the San Antonio Museum of Art.
Installation of Iroquois (1983-1999) took a small team of workers an entire day to complete using two cranes and a cherry picker. First, the primary pieces of the sculpture that support the central knot element were lifted into the air and gently set on foundations that had been poured earlier. Workers struggled to precisely line up each piece and bolt them together by hand. The artist himself welded the sculpture onto its footings.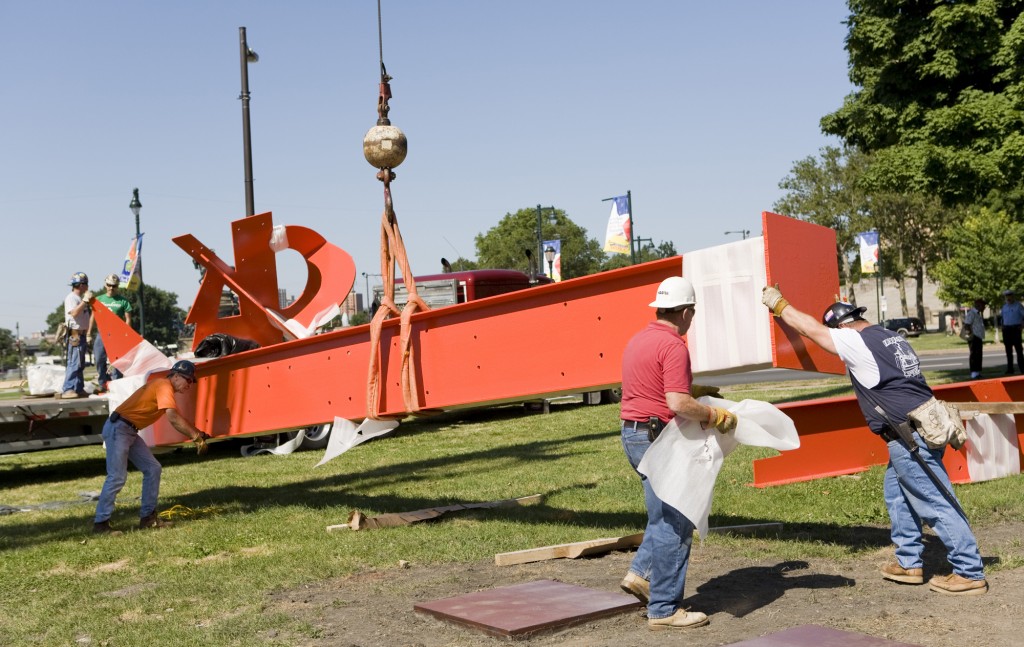 Neighbors and passersby watched all afternoon as additional pieces of red steel floated through the air and were lowered into position. Mark di Suvero directed much of the work from a cherry picker 25-feet in the air. When the final piece was secured into place, many onlookers were surprised and delighted to see that it was a kinetic element designed to swing in the wind. When rush hour came again, evening traffic slowed to get a better look at Philadelphia's newest landmark.